Jewish World Review July 19, 2004 / 1 Menachem-Av 5764

Neil Cavuto
Love America or love to hate America?
http://www.jewishworldreview.com | Tell me, when was the last time you saw a rickety boat leave this country for the shores of Cuba? Or throngs of wayward Americans seeking haven . . . in Mexico?

Keep looking. While you're doing that, let me tell you about this: a gathering. Actually, it was a pretty big gathering, largely of foreign exchange students who had been assembled to air their views on how life is going for them thus far in this country. I thought it would be a rather perfunctory affair, and since I've had exchange students in my house from all sorts of countries, I thought it might be a good event to help support.

Boy, was I mistaken. When talking in their own groups, very few of these students had anything good to say about this country. One claimed we were arrogant. Still another that we were ignorant. More than several insisted we weren't curious. Others touted Michael Moore's documentaries as "brilliant." That was the last straw!

Never mind each and every one of them visiting this country was being sponsored in this country, usually by the same wealthy and sometimes not so wealthy Americans they loved to vilify. That didn't stop them from knocking American culture, American movies, even their American sponsors! "Too divisive, too strident," said one student. I actually agreed with that kid. It was his attitude that had me thinking, "surely you weren't spanked enough as a child."

I mean, is it just me, or does the word "gall" come to mind? All of these kids are being wined and dined while they're here. Good trips. Good restaurants. Good times. Often paid for with good money that isn't theirs! And all because we Americans are silly enough, kind enough and generous enough to share our bounty with those who aren't so fortunate. Most of these kids don't come from much money. This is a once-in-a-lifetime opportunity that they'd never get otherwise . . . unless some fat, lazy American bonehead provided it (sorry, but I took all this personally, and yes, I am fat!).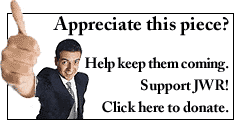 When it was my turn to speak, I made a point of mentioning there are many things we do wrong in this country, that many of us can be too in your face, but when everything hits the fan, no one criticizes us for being too behind your back.

I reminded them that the last time I checked, there weren't flotillas leaving this country for the promise of another country, or scores of Americans who had gotten fed up and were packing up to try their talents elsewhere. No, most who complained here, stayed here, and tried making something of themselves here. Just like most of the kids assembled here wanted to go to school here, maybe get a job here, maybe, if they could swing it, "stay" here. Why? Because things were better here, more promising here, more rewarding here.

And all that despite the boat-load of problems I freely acknowledged we have here. To the student who blasted Iraqi prison abuse, I posed this question: Where did you hear about it? Where did you read about it?

"I saw it on the news," he answered.

"Our news, correct?" I pointed out.

"Yes," he answered.

"So you found out about this American abuse of prisoners from an American station," I clarified. "Because it was an American soldier who told his American colonel, who told his American Defense Department, who freely told the world about it.

"That's something we do in this country," I explained. "We air a lot of our dirty laundry in public in this country. That's what I like about this country."

I asked the kids whether their governments air their dirty laundry in public. Some nodded in agreement, but very few. Many more shook their heads in the negative. Most looked puzzled.

"You know," I said, "there's a lot we do wrong in this country. Never 'fessing up to doing wrong ain't one of them."

I wasn't trying to get preachy with the kids. Most were and are, after all, kids. They hear this American-bashing nonsense from parents and relatives who hate us, and pass it on. It's "in" to bash us. What isn't in is sticking up for us.

I felt compelled to remind them of a little history . . . of a recent World War, for one, and our nation's history of helping deal with butchers who weren't in our backyard, but theirs.

I told them we in this country don't expect a thank you, but we're certainly due more than a screw you!

They understood my English perfectly. Few bothered to look at me directly.

But they had to. After all, this was one event they weren't paying for. Like so many others, it wasn't on their dime. In a sense, it was on mine, and I wanted them to pay . . . dearly.

Or save that, listen closely. Very closely.
Every weekday JewishWorldReview.com publishes what many in Washington and in the media consider "must reading." Sign up for the daily JWR update. It's free. Just click here.


Neil Cavuto is managing editor of Business News at FOX News Channel. He is also the host of "Your World with Neil Cavuto" and "Cavuto on Business." He's the author of "More Than Money : True Stories of People Who Learned Life's Ultimate Lesson". (Click HERE to purchase. Sales help fund JWR.) Comment by clicking here.

07/09/04: Why don't ugly people have charisma?
07/02/04: NOT SO FAST, AL!
06/25/04: SHOW IT! ALL OF IT!
06/21/04: Too nice for his own good?
06/14/04: They always come back
06/04/04: The power of 'thank you'
05/28/04: Why do we tolerate awful people?
05/24/04: Good golly, Ms. Gandhi! Lessons for President Bush
05/17/04: Yes, it's cool . . . to be nice!
05/10/04: Bill and me: The story of the former president who took on the current business anchor!
05/03/04: Cleaning up in life
04/26/04: Ignore that man behind the curtain!
04/19/04: Sorry for not being sorry
04/11/04: Dying . . . to live
04/02/04: The rude CEO
03/30/04: Shut up, move on, watch out!
03/22/04: LET HIM LOOSE!
03/15/04: FREE MARTHA! (Kinda)
03/08/04: Al, how do we love thee?
03/01/04: ISN'T THAT RICH?!
02/23/04: The real issue on tax cuts
02/17/04: Let Atkins rest in peace!
02/15/04: The smallest slight, the biggest headache
02/09/04: Sign it, send it, be done with it!
02/02/04: What a pain in the class!
01/26/04: Pundits punt it
01/19/04: What's wrong with having a temper?
01/12/04: When the applause stops
01/05/04: 2003 — The year of the optimist
12/22/03: Nothing succeeds . . . like success
12/15/03: When the boss takes your call
12/08/03: The day I realized my daughter had grown up
12/01/03: Let's give thank$
11/24/03: Camelot . . . not
11/17/03: Cordially speaking, I hate you!
11/03/03: I can't "wait" to get back at you!
10/27/03: What would we die to know?
10/20/03: Smile while you work
10/13/03: Dull man walking: Why Gray was too gray
10/05/03: Who says we're so depressed?
09/29/03: Thanks, but no thanks
09/22/03: Big Companies vs. Big Government
09/15/03: Terrorists and idiots: Financial lessons learned
09/08/03: Watch out, Mr. President
09/03/03: Tips for Empty Nesters
08/25/03: Friends and hypocrites
08/18/03: When good news goes bad
08/11/03: I'VE GOT YOUR NUMBER!
08/04/03: PHONY BALONEY!
07/28/03: The meaning of a pin
07/21/03: We are what we eat
07/14/03: Don't like it, don't keep it!
07/07/03: The check, and the recovery, is in the mail!
06/29/03: Who says Al's our pal?
06/23/03: The big pitch for the "big get," no big deal!
© 2003, Neil Cavuto