Jewish World Review July 26, 2004 / 8 Menachem-Av, 5764

Michael Ledeen
The 9/11 Vision: Better, but not there yet

http://www.NewsAndOpinion.com | Well, it's better than the Intelligence Committee thing, anyway. You can actually read this one, sometimes with pleasure, which is a rarity for documents of the genre. And it's got lots of information, some of which is a mystery.

To start with, this commission is explicit about Iran's ongoing intimate relationship with al Qaeda. We know — and the report confirms — that Iran was up to its neck in the Khobar Towers bombing in 1996 in Saudi Arabia, and the report cryptically adds "there are also signs that al Qaeda played some role, as yet unknown." But the relationship goes back a good five years, as Sudan brokered an agreement whereby Iran would train al Qaeda terrorists for operations against Israel and the United States. This training took place first in Iran, and, in the fall of 1993, in the Bekaa Valley in Lebanon.

For those of us who have long argued that Iran, and Iranian-sponsored Hezbollah, provided much of the operational inspiration for Osama, it is gratifying to find forthright statements like "Bin Ladin reportedly showed particular interest in learning how to use truck bombs such as the one that had killed 241 U.S. Marines in Lebanon in 1983. The relationship between al Qaeda and Iran demonstrated that Sunni-Shia divisions did not necessarily pose an insurmountable barrier to cooperation in terrorist operations...al Qaeda contacts with Iran continued for many years."

The unsealed indictment of Osama bin Laden in the fall of 1998 charged that al Qaeda had allied itself with Iran, Sudan, and Hezbollah, and that there was an "understanding" between al Qaeda and Iraq, promising that al Qaeda would not attack Iraq and that the two sides would cooperate on various things, including weapons development. Richard Clarke suspected that chemical-weapons projects in Sudan were the result of that agreement.

Recent leaks had already announced the commission's conclusion that many of the 9/11 terrorists had received favored treatment from Iranian border guards — by granting them safe passage and declining to stamp their passports — but the leaks were incomplete. In October 2000, we are told, a senior Hezbollah terrorist went to Saudi Arabia and "planned to assist individuals in Saudi Arabia in traveling to Iran during November.... In mid-November, we believe, three of the future muscle hijackers...traveled in a group from Saudi Arabia to Beirut and then onward to Iran. An associate of a senior Hizbollah operative was on the same flight...the travel of this group was important enough to merit the attention of senior figures in Hizbollah." And it goes on and on: "Later in November, two future muscle hijackers...flew into Iran from Bahrain. In February 2001, Khalid al Mihdhar may have taken a flight from Syria to Iran, and then traveled further within Iran to a point near the Afghan border."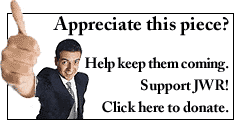 And there is another bombshell, quietly buried on page 149: Khalid Sheikh Mohammed's family lived in Iran for a while in the mid-90s, and KSM himself spent time there as well.

All of this might lead a normal person to conclude the obvious: that Iran was helpful to the 9/11 conspiracy. But no, not really. First of all, the Hezbollah attention to the travelers might have been coincidental; they might have been tracking a different group. And despite the considerable evidence, the commission resorts to the usual CIA CYA language in such matters: "We have found no evidence that Iran or Hezbollah was aware of the planning for what later became the 9/11 attack."

Pfui.

I remember, back in the Eighties, an Arab terrorist flew from Damascus to Istanbul, and went directly to the synagogue there, where he killed many people. When some of us suggested we might find some appropriately mean thing to do to the Syrians, CIA was quick to say that there was no hard evidence linking the Syrian regime to the terrorist attack. By which they meant that we did not have either a tape recording of a conversation in which old man Assad authorized the attack, or a signed affidavit from the Syrian government admitting guilt.

In the real world, it's very rare, verging on impossible, to have such "intelligence" or "evidence." The commission piled up an impressive quantity of it — I should think quite enough to justify Iran's status as charter member in the Axis of Evil, and more than enough to compel deputy secretary of State Armitage to change his tune on the "democratic" nature of the mullahcracy.

So what's the mystery? The mystery is where did the information come from about Iran training al Qaeda terrorists over a long period of time? I don't think that CIA believes that. Yet CIA is presumably the source. Ah, well, as the commission says, "this topic requires further investigation by the U.S. government." Don't hold your breath.

The weakest part of the report concerns what needs to be done to destroy the terror masters. The whole section is written as if the state sponsors were somehow beside the point; the commission focus is entirely on the terrorist groups. This is an odd position, given all the evidence of the deep involvement of countries like Iran, Syria, and Iraq.

It's downhill from there. In a rambling discussion of our many intelligence failures over the years, the commission pretends to criticize Congress, but then only discusses sins of omission — insufficient oversight. Yes, the report mentions the scandals in the 70s, and if you read very carefully you will find clever language that credits Attorney General Levi with drafting guidelines for the FBI that avoided even greater damage (talk about damning with faint praise). But the report fails to make the basic point that Congress had defanged the FBI and CIA. And there is no explicit recommendation that the old strictures be abolished, maybe because many of them have, thanks to the Patriot Act, but that is really not good enough.

The commission has actually come up with an oversight scheme that would almost certainly make things even worse than they have been. They want new oversight committees, with "bipartisan staff" (presumably selected by the Archangel Michael, because nobody in Washington is capable of such an act), bigger budgets, and unlimited tenure. This is a guarantee of corruption. Elected officials with open-ended terms will invariably end up in the pockets of the intelligence community. The best hope for honest congressional criticism is short tenure and revolving staff.

Worse still, the report calls for even more money for intelligence, and an entirely new layer of bureaucracy, the effect of which would be far greater centralization of the whole process.

I think this gets the problem backwards. We need a smaller intelligence community, not a bigger one, because bigger means more homogenized. The Senate Intelligence Committee report complained about "group think," which is the inevitable outcome of a big community that has to agree on final language for finished intelligence. It would be far better, in my opinion, to let real specialists tell the policymakers what they think, and sign their names to their conclusions. That way, if an analyst successfully solved a problem, he could be rewarded. As things stand now — and the matter is even worse if the commission's recommendations are adopted — no one can be rewarded for original thinking, and bad analysis gets blamed on the whole organization.

In short, we should strive for competitive intelligence. Keep the boxes small, let them present their analyses and recommendations, and make the policymakers sort it out. The commission goes through the ritual pieties of keeping policy and analysis separate, but most of such talk is misleading, since every grownup knows that certain conclusions — say, that Iran supported the 9/11 operation — lead inevitably to certain policies — say, that "selective dialogue with Iran" is a joke.

Everyone in Washington is making policy all the time. Live with it.

Other really big problems — above all, the need for a new generation of spies capable of penetrating the terror network — are finessed by calling for future leaders to solve the problems within the proposed context. But, as Reuel Gerecht has long taught us, no bureaucratic fix can possibly undo the terrible damage wrought by more than 30 years of restrictions and the consequent culture of risk avoidance and long-distance spy craft.

Oh, and by the way — as Angleton would be the first to observe — there's hardly a word in here about counterintelligence. If you're going to centralize things even more, it makes it easier for our enemies to penetrate the structure and get...damn near everything. So the commission's scheme cries out for better counterintelligence. If intelligence is going to be across-the-government, well, then, I'm afraid counterintelligence will have to be expanded and improved as well.

At the end of the day, we need officials who are good enough to make the hard decisions, authorize risky actions, listen carefully to dissonance among the analysts and disagreement about proposed operations, and manage the whole thing while protecting civil liberties to the utmost. It won't be easy. If and when our guys get to that point, the structural changes they need to actuate are actually quite simple: They need a big-time purge, what the business world called "restructuring," leading to a smaller, leaner intelligence community where individuals are encouraged to think independently and act courageously.

It's leadership, stupid.
Like this writer's work? Why not sign-up for the daily JWR update. It's free. Just click here.

JWR contributor Michael Ledeen is a fellow at the American Enterprise Institute and author of, most recently, ""The War Against the Terror Masters," Comment by clicking here.

07/20/04: Are you sitting down? Iran is a terrorist state
07/13/04: The Great Intelligence Committee Report: Some mysteries remain unsolved
06/30/04: The Fears of the Terror Masters: If we want a peaceful Iraq we will have to confront the mullahs
06/29/04: The Iraqis and the Neocons: Arab democracy is a work in progress
06/23/04: Ready for $60-a-Barrel Oil?: The Iranian election strategy at work
06/15/04: Iran is making trouble, and finessing it is a dangerous strategy
06/02/04: Reagan Seen Plain: He changed the world 06/02/04: Quattrocchi's Killers: We are dealing with a truly international terror network
05/25/04: The Agency Rides Again: Angleton on Chalabi
05/24/04: Lying into the mirror: Misunderstaning the war on terror
05/18/04: Kristof's Iran
04/19/04: The Iranian Hand: Regime change in Tehran is necessary for peace in Iraq
04/15/04: Dealing with the Libyans: Is Khaddafi about to cash out?
04/08/04: From Tyranny to Freedom: Democracy in Iraq has precedent
03/18/04: Drifting, Dangerously: We must support freedom
03/02/04: Once Upon a Spymaster, Part II: Returning to a conversation
02/24/04: The Great Iranian Election Fiasco: What actually happened; what we must do
02/20/04: Stalinist Mullahs: The Iranian regime is in open battle with its own people
02/11/04: The Jihadis' Primal Scream: Zarkawi's "Yaarrrhhh!"
02/04/04: Inelegant Lies: Making sense out of mullahs
02/03/04: Potemkin WMDs? Really?
01/27/04: The Jihad on Iraq: Bad analysis and bad policy
01/20/04: Our Moment of Vainglory: A p.c. mess
01/06/04: Aftershocks: The West must read the meter in Bam and Tehran
12/02/03: Managing Iraq: We can't continue this way
11/26/03: Back to the Angleton Files
11/25/03: The Turks, Italians & us — never again
11/06/03: Regional Struggle: Fighting narrow vision in Iraq
11/04/03: Unpunished Failure: What are we waiting for?
10/21/03: Curses: Diamonds and Naples
10/15/03: Into the Quagmire: Important days ahead for Iran
09/18/03: The Ayatollahs' bomb: An invulnerability strategy
09/12/03: You can't make peace until the war is won
09/11/03: Ron Paul, dishonorable congressman
09/03/03: The Latest Horrors: Still organized
08/29/03: The Peace Trap: Back to the war, please
08/27/03: Angrier and Angrier: Self-deception, big-time
08/25/03: Iraq's terrorists have friends in high places
07/10/03: The Future of Iran: Armitage might want to rethink that "democracy" line
07/02/03: Looking Toward July 9: Independence Day in Iran?
06/24/03: Iran: Back the freedom fighters
06/17/03: The Iranian Revolution, 2003: Regime change in the air
06/05/03: Academic Standards: A Middle East scholar has his way with the truth.
05/28/03: The Moment of Truth? U.S. policy could determine Iran's destiny
05/15/03: Iran's Path: Stopping the mullahs in their tracks
05/13/03: The Nuclear Axis of Evil: The people solution
05/08/03: Inside the Dark: Applebaum's 'Gulag'
05/06/03: Tough Guy: Powell's curious priority list
05/01/03: Desert Shame Redux: Want a free Iran and a free Syria? We have to fight for it
04/25/03: Timing Is Everything: We have a narrow window in Iraq to win Shiite support
04/15/03: Political war can remove terror masters in Syria and Iran
04/07/03: The Others: We have miles to go in eliminating the Axis
04/02/03: French Lies: Take the foreign minister at his word
03/31/03: Why muzzle Saddam's foes?
03/28/03: The post-war terror threat
03/26/03: All Fronts: Military war, political war, psychological war
03/24/03: More Bad News for Daschle: Taking out terror of all nationalities
03/21/03: The Killer Pneu: Virus terror from China
03/13/03: Iran: Nuclear suicide bombers?
03/11/03: A Theory: What if there's method to the Franco-German madness?
03/05/03: The Iranian-Election Revolt: The people speak. The West won't listen
02/19/03: The willful blindness of those who will not see
02/12/03: The Europeans Know More Than They Now Pretend? They choose to dawdle and obstruct
02/03/03: Monumental failure: Nelson Mandela had promise
01/30/03: Elevation: The president knows what it's all about
01/29/03: No Leader: France's Chirac is all about personal interest
01/28/03: The Axis of Evil Redux: Same place, a year later
01/27/03: The Return of the Ayatollah: Washington could afford a little more attention on Iran
01/13/03: How we could lose
01/09/03: Fish are Better than Women: Gauging U.S. priorities
01/07/03: The Shape of Things to Come: The terror masters are now waiting for us
12/20/02: A Prophecy for the New Year --- Faster, please!
12/16/02: Scud Surrender: The "W" factor
12/13/02: The Heart of Darkness: The mullahs make terror possible
12/12/02: The Real War
12/09/02: Tom Friedman's Reformation: His Iran
11/26/02: How Tyrannies Fall: Opportunity time in Iran
11/22/02: The Blind Leading the Blind: The New York Times and the Iranian crisis
11/13/02: The Temperature Rises: We should liberate Iran first --- now
11/05/02: End of the Road: Iran's Mohammed Khatami, on his way out
10/29/02: The Angleton Dialogues, Contnued: What George Tenet doesn't know
10/24/02: The Iranian Comedy Hour: In the U.S., the silence continues
10/16/02: Sniper, Saboteur, or Sleeper? Channeling James Jesus Angleton
10/01/02: The real foe
09/27/02: The Iranian String Quartet: The mullahs get increasingly nervous
09/25/02: The Dubya Doctrine
09/23/02: Intelligence? What intelligence?
09/12/02: America's revenge: To turn tyrannies into democracies
09/10/02: Iran & Afghanistan & Us: We'll have to deal with the mullahcracy, sooner or later
09/04/02: Iran, according to the Times: All the nonsense that's fit to print
08/21/02: Life and death of Abu Nidal tells us a great deal about our enemies
08/08/02: Can You Keep a Secret?: The media silence on Iran
08/06/02: Fantasy Reporting: The latest disinformation from the Washington Post
08/02/02: Propping Up the Terror Masters: Europe's Solana on tour
07/16/02: Bush vs. the Mullahs: Getting on the side of the Iranian freedom fighters
07/12/02: The State Department Goes Mute: It's official: State has no message
07/09/02: History being made, but the West appears clueless
06/05/02: Is George Tenet endangering peace in Israel?
06/03/02: Ridiculous, even for a journalist
05/20/02: So how come nobody's been fired yet?
05/14/02: Open doors for thugs
04/20/02: Iran on the Brink … and the U.S. does nothing
04/16/02: It's the war, stupid … someone remind Colin Powell
04/08/02: Gulled: In the Middle East, Arafat doesn't matter
04/02/02: Faster, Please: The war falters
03/26/02: The Revolution Continues: What's brewing in Iran
03/18/02: Iran simmers still: Where's the press?
03/05/02: We can't lose any more ground in Iran
02/14/02: The Great Iranian Hoax
02/12/02: Unnoticed Bombshell: Key information in a new book
01/31/02: The truth behind the Powell play
01/29/02: My past with "Johnny Jihad's" lawyer
01/21/02: It's Munich, all over again
01/08/02: What's the Holdup?: It's time for the next battles in the war against terrorism
12/11/01: We must be imperious, ruthless, and relentless
12/06/01: Remembering my family friend, Walt Disney
11/28/01: The Barbara Olson Bomb: Understanding the war
11/13/01: How We're Doing: The Angleton Files, IV
11/06/01: A great revolutionary war is coming
10/25/01: How to talk to a terrorist
10/23/01: Creative Reporting: Learning to appreciate press briefings
10/19/01: Not the Emmys: A Beltway award presentation
10/15/01: Rediscovering American character
10/11/01: Somehow, I've missed Arafat's praise of the first stage of our war on terrorism
10/04/01: What do we not know?
09/28/01: Machiavelli On Our War: Some advice for our leaders
09/25/01: No Room for the U.N.: Keeping Annan & co. out of the picture
09/21/01: Creative destruction
09/14/01: Who Killed Barbara Olson?
08/22/01: How Israel will win this war
08/15/01: Bracing for war
08/09/01: More Dithering Democrats
08/02/01: Delirious Dems
07/31/01: Consulting a legendary counterspy about Chandra and Condit, cont'd
07/19/01: Be careful what you wish for
07/17/01: Consulting a legendary counterspy about Chandra and Condit
07/05/01: Let Slobo Go
05/30/01: Anybody out there afraid of the Republicans?
05/09/01: The bad guys to the rescue
05/07/01: Bye-bye, Blumenthal
04/20/01: Handling China
04/11/01: EXAM TIME!
04/05/01: Chinese over-water torture
03/27/01: Fighting AIDS in Africa is a losing proposition
03/14/01: Big Bird, Oscar, and other threats
03/09/01: Time for a good, old-fashioned purge
03/06/01: Powell's great (mis)adventure
02/26/01: The Clinton Sopranos
02/20/01: Unity Schmoonity: Sharon is defying the will of the people
01/30/01: The Rest of the Rich Story
01/22/01: Ashcroft the Jew
01/11/01: A fitting close to the Clinton years
12/26/00: Continuing Clinton's shameful legacy
12/21/00: Clinton's gift for Bush

© 2001, Michael Ledeen