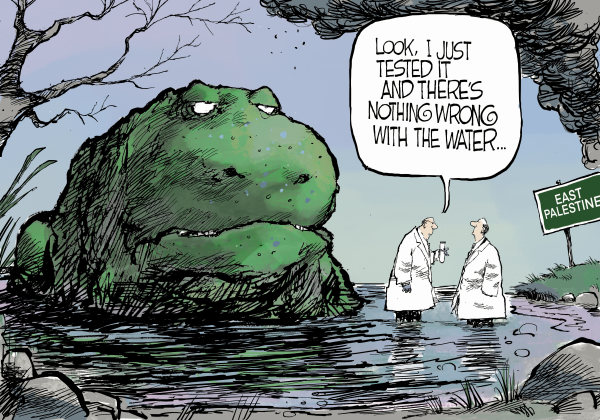 include_once "/home/jwreview/public_html/$theme/includes/sidebar.php"; ?> If you want to know what disenfranchised America looks like, look no further than East Palestine, Ohio.
Poor, sick, forgotten. Left out, powerless, helpless.
While the liberal elite sip champagne at climate fundraisers in LA and DC and New York City, in East Palestine, the terrified residents stock up on bottled water for their kids.
The Biden administration tells them the water and air is fine, don't worry about it. But it smells bad outside. And it's not only the water that doesn't pass the smell test.
The people of East Palestine don't trust the government.
Imagine being trapped by poverty, unable to afford a hotel and having to lose sleep over your child getting cancer or your pets dying.
And Joe Biden is in Kiev.
Democrats have learned nothing from 2016.
These are the Deplorables.
And they won't forget. No matter who the Democrats find for a nominee.
SIGN UP FOR THE DAILY JWR UPDATE. IT'S FREE. Just click here.
It's why Donald Trump — who is scheduled to visit East Palestine this week — is beating Biden and Kamala Harris in the polls, to the disbelief of Democrats everywhere.
Politicians not caring about the disenfranchised — and that includes minority communities — has been going on for decades, but the gap between elected officials and the ordinary person struggling to survive is growing.
Biden, who likes to think he can connect with the average person by saying "buddy" and "pal" a lot, has not come anywhere near East Palestine or declared a federal disaster since the train derailment more than two weeks ago, spilling toxic chemicals into the ground, water and air. Neither has Transportation Secretary Pete Buttigieg, who would rather be doing CNN interviews or hobnobbing with the rich and famous than getting his hands dirty.
Buttigieg had been considered a possible presidential contender in 2024 but he can kiss those hopes goodbye now.
Biden made a "secret" visit to Ukraine rather than go to Ohio, showing where his priorities lie, and enraging his critics.
How will ordinary people react to Biden ignoring them? We'll find out next year.
And it's not just Biden and Democrats who aren't in touch with the average person. Some Republican lawmakers talk a big game but are clueless when they vote to cut benefits and programs for the poor.
Our political leadership in Massachusetts is even worse. Democrats who meet in secret with no accountability or transparency vote to give themselves big pay raises and eliminate term limits, and were forced only by a state law to give voters a tax cut. It was so painful they are now going about dismantling that law.
The good news for the Deplorables across the country is that they can still vote.
(COMMENT, BELOW)
Joe Battenfeld
Boston Herald/(TNS)
Joe Battenfeld is a veteran Boston Herald political columnist and multimedia reporter.
Previously:
•
01/19/23
NCAA finally to confront fake female athletes
•
12/22/22
Jan. 6 committee obsesses after Donald Trump while ignoring a real threat
•
12/15/22
Millions of disgruntled voters fleeing the voter rolls
•
12/15/22
Dems issue ultimatum to New Hampshire on first in the nation primary
•
12/09/22
Once powerful CNN continues to implode
•
11/17/22
Trump's possible path to the Republican nomination in 2024
•
08/25/22
Fauci getting out just in time
•
08/24/22
Can anti-Trump CNN shed its lib bias and win back viewers?
•
08/08/22
Narcissist Nancy and her dangerous ego game
•
08/04/22
Lawmakers putting the 'high' in high school
•
07/13/22
The question is no longer will Biden run for another term, it's whether he can even complete his first term