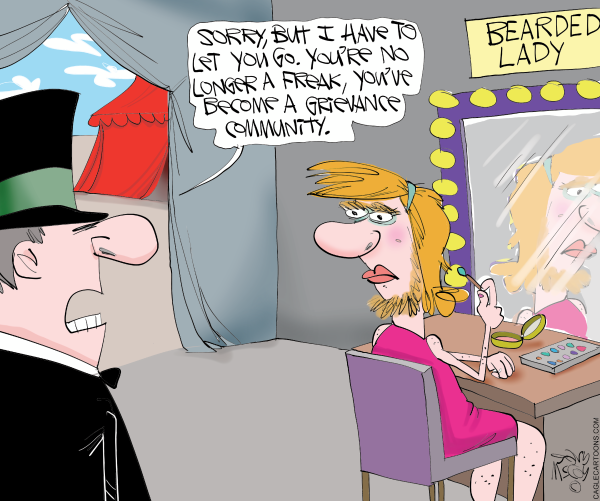 include_once "/home/jwreview/public_html/$theme/includes/sidebar.php"; ?> Former Massachusetts Gov. Charlie Baker will be walking into a buzzsaw of controversy over transgender athletes in his new job as head of the NCAA.
A group of women athletes is now threatening to sue the NCAA over its policy of allowing transgender athletes to compete in sports like swimming and volleyball.
The group claims the NCAA is violating Title IX allowing women to participate equally in all sports by allowing transgender females — athletes that were born biologically as males — to compete against women.
The issue of transgender athletes competing in college sports has sharply divided the country, and the politically moderate Baker could soon find himself squarely in the middle of that squall. And you thought he was walking into a cushy job?
The policy at the NCAA has been in effect since 2010, but more than a dozen states have enacted bills preventing some transgender athletes from competing in sports — making it a hot-button issue across the country.
Sign up for the daily JWR update. It's free. Just click here.
The protests by women athletes last week was aimed at pressuring NCAA leadership to change their policy, but so far the college sports organization is refusing to budge.
Baker, who takes over in March, will be earning every penny of his estimated $3 million salary over this one. The former Republican governor may find himself pining for the good old days when all he had to deal with was COVID and mask mandates.
There are some clues as to how the normally cautious Baker may lead on this issue.
As governor, Baker ran into a controversy in 2016 over the so-called "bathroom" bill which enforced transgender rights in public places like bathrooms, locker rooms and businesses.
The GOP governor balked at signing the bill and was booed off the stage at an event for the LGBTQ community.
"Sign the bill! Sign the bill!" supporters chanted at Baker, who decided to leave the stage rather than continue to be booed.
He eventually did cave and signed the bill, less than a day after it got to his desk, earning criticism from conservatives in his own party.
"I've said many times over the course of this debate for the last 18 months that no one should be discriminated against in Massachusetts because of their gender identity," Baker said at the time. "I believe this compromise legislation extends additional protections to the commonwealth's transgender community and includes provisions to address the public safety concerns that were expressed by some, by requiring the attorney general to issue regulations to protect against people abusing the law."
At the protest last week, former Kentucky swimmer Riley Gaines noted that she lost the women's 500-yard freestyle to Penn's Lia Thomas, the first transgender woman to win a national title.
"We intend to personally tell the NCAA to stop discriminating against female athletes by handing them a petition that we have garnered nearly 10,000 signatures on in just a couple of days," Gaines said.
(COMMENT, BELOW)
Joe Battenfeld
Boston Herald/(TNS)
Joe Battenfeld is a veteran Boston Herald political columnist and multimedia reporter.
Previously:
•
12/22/22
Jan. 6 committee obsesses after Donald Trump while ignoring a real threat
•
12/15/22
Millions of disgruntled voters fleeing the voter rolls
•
12/15/22
Dems issue ultimatum to New Hampshire on first in the nation primary
•
12/09/22
Once powerful CNN continues to implode
•
11/17/22
Trump's possible path to the Republican nomination in 2024
•
08/25/22
Fauci getting out just in time
•
08/24/22
Can anti-Trump CNN shed its lib bias and win back viewers?
•
08/08/22
Narcissist Nancy and her dangerous ego game
•
08/04/22
Lawmakers putting the 'high' in high school
•
07/13/22
The question is no longer will Biden run for another term, it's whether he can even complete his first term