http://www.NewsAndOpinion.com | Google, the planet's search engine (or so it might seem), elbowed its way into the Web-based e-mail business a few weeks back with what was then a stunning announcement: e-mail offering 1 Gigabyte of storage, or 250 times the amount offered by some online e-mail providers. Yahoo has since upped the ante by offering paying customers 2 Gbytes of storage, but Google's offering is free.

Getting a "Gmail" account can require some creativity, or at least good fortune. Unless you are invited to join the service by another user, you'd have to secure someone's invitation via eBay or another online auction. (On July 5, for example, there were 560 eBay auction items with "Gmail invitation" as the subject; pricing ranged from around $10 down to one cent.) I received an invitation from another online service, and signed up for Gmail at once.

Besides the 1 Gbyte of mail storage, Gmail's other claim to fame - or infamy - is the pairing of selected advertisements with a given e-mail. Get a note from your cousin about a family reunion in Orlando, Florida, and expect to see ads, on the right hand side, that mention hotels, airfares and other related items. In practice, this doesn't always happen with incoming mail: graphic messages done in the Web's HTML display style seem to be exempt from the links so far. But the ads don't seem to be obtrusive. Placed on the side, they can be ignored without too much hassle. Yahoo's e-mail service does not have such ads, although mailing from Yahoo's various interest groups do contain ads, keeping the mailing list service free.

Composing Gmail messages is straightforward; you can add a descriptive or humorous "signature" text block if you like. Gmails are sent as "text" messages, and while the service receives and displays HTML-style e-mails, sending them is not an easy option. Attaching files to a Gmail message seems an easy task, and while it took a little over a minute to load a 2.3 Mbyte document file, Gmail didn't choke on a file that size. It arrived quickly at my Yahoo account and downloaded back to my computer just as easily.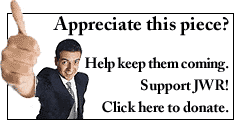 Such a file size, unless you're zipping high-quality images or massive document files around regularly, will probably be an anomaly for most Gmail users. My test showed, however, that Gmail had enough power to function as a primary e-mail for someone, even with the demands of large file transfers.

Correspondence on Gmail can be labeled with any keyword you desire, making it possible to view all e-mails related to "party" or "vacation" with a single click; more than one label can apply to a message, so an e-mail from the "boss" about "vacation" can be found either way. There are no file folders for Gmail. You can create an address book, although there's no feature to import addresses from, say, Microsoft Outlook.

Also missing, for now at least, is the ability to get e-mail from other POP-based e-mail services, which Yahoo offers, combining a bunch of accounts into one place. But Gmail is an ambitious, useful service that may change the way we work with e-mail, particularly if its spam filtering is up to par. Details about the service can be found at http://gmail.google.com.
Find this column useful? Why not sign-up for the daily JWR update. It's free. Just click here.
JWR contributor Mark Kellner has reported on technology for industry newspapers and magazines since 1983, and has been the computer columnist for The Washington Times since 1991.Comment by clicking here.