Jewish World Review August 16, 2004 / 29 Menachem-Av, 5764

John H. Fund
Louisiana North: Why New Jersey is a pit of corruption

http://www.NewsAndOpinion.com | There is a real story in the personal and family tragedy surrounding James McGreevey's decision to resign as New Jersey's governor on Thursday. There's also a story in the difficulties of someone being gay and holding high public office. But the bigger story here isn't about Mr. McGreevey. It's about how the elites of a major state, one with the nation's second-highest per capita income and one of its most educated and skilled work forces, have allowed it to be so poorly governed by both parties over a span of decades.
New Jersey's political corruption has been legendary since the days of the late Mayor Frank Hague, who ran Jersey City for 30 years with such an iron fist that he told federal officials "I am the law." Just two years ago, Sen. Bob Torricelli had to drop his re-election bid after the Senate Ethics Committee detailed his improper relationship with a donor. A spineless state Supreme Court allowed Democrats to replace him on the ballot even though a firm deadline for doing so had passed. The state's politics are awash in allegations of conflicts of interest, raids on public treasuries and corrupt alliances between favored business interests and local officials.
Mr. McGreevey, a former mayor of Woodbridge, became governor in 2002 pledging to "change the way Trenton does business." Ross Baker, a professor of political science at Rutgers, says that McGreevey promise "was the second most unfortunate utterance by a modern politician, after the first President Bush saying, 'Read my lips.' "
Indeed, Mr. McGreevey accomplished the remarkable feat of lowering ethical standards in the state capital. The McGreevey administration was stuffed with hacks and yes-men, and within months two of his aides had to resign after scoring millions of dollars in suspect profits on an outdoor billboard deal. Joseph Santiago, his appointee to head the state police, had to resign after it was revealed he had a criminal record and alleged relationships with mobsters. The governor himself was tape-recorded in one meeting with a principal in a fundraising scandal using the word "Machiavelli," which prosecutors say was a code word for a bribery scheme.
Just last month, prosecutors announced that Charles Kushner, Mr. McGreevey's top donor, was being charged with hiring prostitutes to entrap a witness and obstruct a federal investigation. It was Mr. Kushner who sponsored Golan Cipel, an Israeli poet and PR flack, to enter the U.S. In 2002, the governor appointed Mr. Cipel head of the state's homeland security efforts, starting a chain of events that culminated in Thursday's resignation announcement.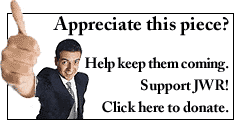 In the end, Mr. McGreevey had become a political shape-shifter, an unprincipled and voracious fund-raiser who was easily the East Coast equal of Gray Davis. To pay off all the favors he owes, his latest $28 billion budget includes a 17% spending hike, the largest in state history. The state's top marginal income tax rate is going up by 41%--to 8.97% from 6.37%--at the same time the two top rating agencies have downgraded New Jersey's bond rating because of repeated borrowing.
"They raised taxes, but instead of balancing the budget, they're borrowing and accelerating spending," says Richard Raphael, executive managing director of Fitch Ratings. Last month, the state Supreme Court declared the latest borrowing tricks unconstitutional.
How did the nation's ninth-largest state compile such a record of mismanagement and corruption? Traditional explanations include the fact that the state is dominated by the huge broadcast markets of New York and Philadelphia, voters get shortchanged on local Jersey news. Others blame the state's Byzantine proliferation of hundreds of self-governing towns, which they say allows the perpetuation of local machines. The electorate also bears part of the blame. Philadelphia Inquirer columnist Alan Caruba says that "something is terribly wrong with voters who have demonstrated a virtual death wish so far as any sensible governance of the state is concerned."

Here are some other culprits:

• The media. Several papers reported on Mr. Cipel's mysterious influence over Gov. McGreevey, but they underplayed the matter. Bob Tennant, editor of the Trentonian, insists that "there was nothing concrete that we could put in the paper" about the nature of the relationship. Others aren't so sure. Steve Adubato, a former Democratic state legislator and current host of a PBS public-affairs show, told Fox News's John Gibson that journalists did not pursue the Cipel story aggressively enough because "we were afraid of being accused of being homophobes and we were wrong for doing that."

• The state's imperial structure. New Jersey's post-New Deal constitution made the state's governor what columnist George Will calls "an American Caesar." As the only statewide elected official, he appoints the attorney general, the treasurer, all the county prosecutors and almost all the judges. When Mr. McGreevey leaves office, state Senate president Richard Codey will become acting governor, but he will also keep his old job, thus allowing him to control both the executive branch and half the legislature.

He will be able to do this because the state also has a bizarre law that allows New Jersey officials to hold two elected positions at the same time. Sharpe James, the closest thing the state now has to Frank Hague, is both mayor of Newark and a state senator. Before Mr. McGreevey became governor he served as both mayor of Woodbridge, the state's sixth-largest city, and in the state Senate. The arrangement invites conflicts of interest and corruption.

• The minority party. Republicans are too often part of the problem in New Jersey, and too rarely part of the solution. In 1991, the party won more than two-thirds of the state Legislature in a voter revolt against then-Gov. Jim Florio's tax increases. In 1993 the GOP won the governorship with a pledge to cut income taxes 30%. After honoring that pledge, Republicans decided that rather than drain the Trenton swamp they would turn it into their own private hot tub.

Spending and state mandates on local government ran rampant, as Gov. Christie Whitman sanctioned a tripling of the state's debt. Her plan to reform auto insurance was strangled in its crib by trial-lawyer Republicans in the Legislature. Under pressure from lobbyists, less than half of the state's Republican legislators honored a party pledge to pass the right of initiative and referendum that voters in 23 other states have. "If I&R had won, the investment lobbyists had made in having legislators see their way would have been threatened," said John Budzash, a founder of Hands Across New Jersey, which collected one million signatures backing I&R, only to have them ignored by legislators. Small wonder that Jersey Republicans saw their legislative majorities shrink in five consecutive elections until they lost control of both houses in 2003.

The party has learned few lessons from that experience. Don DiFrancesco, who served as acting governor for a year after Ms. Whitman's departure, is already talking about making a comeback even though he had to withdraw from the GOP primary in 2001 under an ethical cloud. The party's establishment sometimes seems to spend as much time attacking Bret Schundler, a conservative former Jersey City mayor who was the party's nominee for governor in 2001, as it does Democrats. "In New Jersey, the tax recipients are more organized than the taxpayers," Mr. Schundler says. He is planning another run for governor next year if Democratic plans to scotch a special election to replace Mr. McGreevey succeed.

• The county chairmen. New Jersey is a machine state, and the center of its boss rule are the party chairmen, who dominate local politics in the state's 21 counties. They wield huge influence and can and do usually block the candidacies of independent-minded reformers who want to change things in Trenton. Nearly two-thirds of the GOP county chairmen work for state or local government. In a twist common to dying machines, the county chairmen sometimes seem more afraid of reform than losing to Democrats.
Gov. McGreevey's resignation may create a rare opening for change. Many New Jersey residents of both parties share a disgust at being continually stiffed by the politicians. The current scandals should give them all the indignation they need to demand change.
Every weekday JewishWorldReview.com publishes what many in Washington and in the media consider "must reading." Sign up for the daily JWR update. It's free. Just click here.

Comment on JWR contributor John H. Fund's column by clicking here.

08/02/04: Patriotic liberalism
07/28/04: Caught in the Web: How Democrats mobilized online and other campaign tales
06/28/04: Bad ACTors: If Dems want honest elections, why did a Soros-backed group hire criminals to get out the vote?
06/21/04: This Time, Get It Right: Instead of "lawyering up," both parties should be working to prevent another Florida
06/14/04: Don't Pardon Their French: "Good government" Californians embrace the system that produced David Duke
06/07/04: Freedom's Team: How Reagan, Thatcher and John Paul II won the Cold War
05/25/04: Don't Touch That Dial? Radio hosts worry about the FCC's indecency regulations. What about political speech?
05/18/04: Anger Management: Dems start to realize that a campaign of hate won't beat President Bush
05/11/04: Will Sen. Kennedy turn out to be a political liability for John Kerry?
05/04/04: Buyer's Remorse: Dems start to worry that Kerry can't win
04/27/04: Arlen Specter's personality helps make him vulnerable in today's primary
04/20/04: Arnold Schwarzenegger thinks making laws should be a part-time job. He's right
03/23/04: Bragging of foreign support doesn't win many votes in America
03/16/04: The Vanishing Center: In both political parties, the defense of moderation is no virtue
03/09/04: A JFK-NBC Ticket? If Kerry wants to make things interesting, he'll consider Tom Brokaw for veep
03/02/04: As Virginia mulls a tax hike, all Americans should guard their wallets
02/24/04: Marriage of Inconvenience: Why same-sex nuptials make Democrats nervous
02/10/04: Republican Rot: Is Congress's GOP majority becoming as corrupt as the Democrats were?
02/03/04: Moore Trouble: Alabama's former chief justice may challenge Bush for the Religious Right vote
01/13/04: Rage of a Relic: Paul O'Neill is angry that the world has passed him by
01/06/04: Unintended Consequence: How Terry McAuliffe and James Carville created Howard Dean
09/03/03: The Anti-Dean: Why Hillary opposes the Democratic front-runner
06/27/03: The California jurist who may replace Justice O'Connor
06/02/03: Clinton the Hoover: Bill, Hillary and the Dems' political vacuum
05/27/03: Nerd Nirvana: Students are to the right of the faculty even at the U of Chicago
05/16/03: GOPers gain in the land of Humphrey and Mondale
04/28/03: With the war won, it's time for Bush to master the Senate
04/04/03: Is "diversity" on campus even a goal worth pursuing?
03/05/03: Sunday morning with the BBC
02/28/03: Shut Up, They Explained: If you can censor this, thank a teacher
02/21/03: Unmitigated Gaul: Saddam isn't the only dictator with whom Jacques Chirac is cozy
02/18/03: Growing number of black officials breaking ranks by calling for a more honest approach to race relations
01/31/03: Half and Half: Republicans have achieved parity among American voters
11/11/02: Sobering Thoughts: The GOP's cup runneth over? No, it's half empty
10/31/02: Blue Gray: California's governor answers a Nobel Prize winner with obscenities
10/14/02: Bad Hair Day: Did Montana Dems exploit antigay prejudice?
10/11/02: The kill-everything senate
09/30/02: Schroeder did what it took to win--but at what cost to Germany?
08/22/02: Buh-Bye Bob, So Long Cynthia : No amount of shouting could've saved Barr or McKinney
07/29/02: GOP: Get Over Panic --- Dems are vulnerable on corporate scandals, too
07/17/02: Not Just an Average Joe: A black GOPer may give Rep. Eliot Engel a run for his money
07/15/02: The McCain Mutiny-II
07/01/02: Opening the Schoolhouse Door: The politicians can't stop school choice now
06/20/02: The Body' Bows Out --- American politics will be duller without Jesse Ventura
06/06/02: It's time for President Bush to stand up to California's senators
05/16/02: A Court Intrigue: Procedural funny business in a racial-preference case
05/14/02: Thin moral ice: New revelations from a skater's Stasi files recall an oppressive era
05/09/02: Newark, Zimbabwe!?
05/02/02: Will Terror Leave Us No Choice? Teachers unions try to use Sept. 11 as an excuse for bad schools
04/23/02: The New Nixon? Al Gore plots his comeback
04/16/02: 'I, Uh, I Have No Comment': A union plays dirty in opposing an antitax initiative
03/31/02: Don't Just Do Something, Stand There!: Filibusters can help the Senate GOP get things done
03/14/02: Red-Light District: It's time to draw the line on gerrymandering
02/21/02: Slippery Slope: Can Dick Riordan beat California's Democratic governor?
02/14/02: Reform School: The Shays-Meehan incumbency protection act
02/07/02: Arizona Highway Robbery: Politicians make a grab for campaign cash
01/31/02: Disfranchise Lassie: Even dogs can register to vote. We need election reform with teeth
01/17/02: Dr. King's Greedy Relations: Cashing in on a national hero's legacy
01/10/02: Oil of Vitriol
01/04/02: The little engine that couldn't--and the senators who don't want it to
12/24/01: E-mail and low-cost computers could be conduits for a learning revolution
12/13/01: How Gore could have really won
12/07/01: Let our students keep their cell phones
12/04/01: Why the White House gave the RNC chairman the boot
11/12/01: A Winsome Politician: She won an election in a majority-black district--and she's a Republican
11/01/01: Bush Avoids Politics at His Peril
10/30/01: Cocked Pit: Armed pilots would mean polite skies
10/24/01: Chicken Pox: Hardly anyone has anthrax, but almost everyone has anthrax anxiety
10/11/01: Will Rush Hear Again? New technology may make it possible
10/04/01: Three Kinds of pols
08/24/01: Lauch Out: Who'll replace Jesse Helms?
08/08/01: Tome Alone: Clinton's book will probably end up on the remainder table
08/03/01: Of grubbing and grabbing: Corporation$ and local government$ perfect "public use"
07/31/01: Affairs of State: The Condit case isn't just about adultery. It's about public trust and national security
07/14/01: The First Amendment survives, and everyone has someone to blame for the failure of campaign reform
07/12/01: He's Still Bread: Despite what you've heard, Gary Condit isn't toast --- yet
07/12/01: Passing Lane: Left-wing attacks help boost John Stossel's and Brit Hume's audiences
06/25/01: Man vs. Machine: New Jersey's GOP establishment is doing everything it can to stop Bret Schundler
06/15/01: A Schundler Surprise? Don't count out "the Jack Kemp of New Jersey"
06/06/01: Memo to conservatives: Ignore McCain and maybe he'll go away
05/29/01: Integrity in Politics? Hardly. Jim Jeffords is no Wayne Morse
05/22/01: Davis' answer to California's energy crisis? Hire a couple of Clinton-Gore hatchet men
05/07/01: Prematurely declaring a winner wasn't the networks' worst sin in Florida
04/23/01: How to fix the electoral process --- REALLY!
04/11/01: A conservative hero may mount a California comeback
03/30/01: Can the GOP capture the nation's most closely balanced district?
03/09/01: Terminated
03/06/01: Leave well enough alone
02/22/01: Forgetting our heroes
02/15/01: In 1978 Clinton got a close look at the dangers of selling forgiveness
02/12/01: Clinton owes the country an explanation --- and an appology
02/06/01: How Ronald Reagan changed America
01/16/01: Why block Ashcroft? To demoralize the GOP's most loyal voters
01/15/01: Remembering John Schmitz, a cheerful extremist
12/29/00: Why are all Dems libs pickin' on me?
Dubya's 48% mandate is different than Ford's
12/13/00: Gore would have lost any recount that passed constitutional muster
11/13/00: The People Have Spoken: Will Gore listen?
10/25/00: She's really a Dodger
09/28/00: Locking up domestic oil?
09/25/00: Hillary gives new meaning to a "woman with a past"
09/21/00: Ignore the Polls. The Campaign Isn't Over Yet
©2001, John H. Fund