Jewish World Review Sept. 3, 2003 / 6 Elul, 5763

John H. Fund
The Anti-Dean: Why Hillary opposes the Democratic front-runner.

http://www.NewsAndOpinion.com | While Hillary Clinton swears she isn't running for president, she certainly isn't happy about Howard Dean becoming the Democratic frontrunner. The Clintons — 'along with Terry McAuliffe, their hand-picked chairman of the Democratic National Committee — 'could become some of the biggest behind-the-scenes obstacles to Mr. Dean's insurgent candidacy.
The fevered speculation last week that Hillary, seeing polls showing softening support for President Bush, just might make a last-minute parachute entry into the 2004 race was based on poor reading of the tea leaves. The evidence was the fact that several e-mail postings on Sen. Hillary Clinton's Web site urged her to run now and the news that she is meeting with political strategists about her future. Then it turned out that the meeting was one of a series she routinely holds and Mrs. Clinton herself told reporters on Friday: "I am absolutely ruling it out."
Some of the media speculation about a Hillary run is generated by potential Democratic candidates who aren't running in 2004. Hank Sheinkopf, a Democratic consultant who worked on President Clinton's 1996 re-election campaign, told the Associated Press "There are those in my party who might like to see her go, so she can get knocked off [by Mr. Bush], opening up a different field in 2008." He added that "so long as she's in the way, anybody who wants to run [in 2008] can't consider it."
Similarly, it's clear that many of allies and supporters of Bill and Hillary Clinton don't want Howard Dean to be the party's 2004 standard bearer. Sen. Evan Bayh of Indiana, chairman of the Democratic Leadership Council, dismissed Mr. Dean's fiery speeches against the Bush White House by asking, "Do we want to vent or to govern?" Al From, the founder of the moderate DLC, was instrumental in promoting Mr. Clinton as a candidate back in 1992. He now says that Mr. Dean belongs to the party's "McGovern-Mondale wing" and that he would repeat their failed candidacies by being swamped in the popular vote. The Clintons may not be keen on a Democrat winning the White House in 2004, but a Bush blowout might weaken the Democratic Party for 2008 when Mrs. Clinton is expected to run.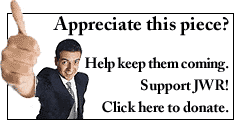 But Clinton supporters have other reasons to be leery of a Dean candidacy. In June, the Drudge Report noted that Mr. Dean had confided to associates that he intended to change the leadership of the Democratic National Committee if he became the party's nominee. A Dean adviser told Drudge that "it is important . . .to mark a new beginning, cut ties from the past." Mr. Dean feels that Mr. McAuliffe, who served as Mr. Clinton's finance chairman in the 1996 election, has not performed well under pressure and was the architect of last year's disastrous off-year election results in which the Democrats became the first party out of power to lose seats in a mid-term election in over 60 years. Mr. McAuliffe is so controversial among Democratic activists that recently he has not been signing the patry's fund-raising mail. A no-name deputy now signs the direct mail appeals for funds. Mr. McAuliffe still has the confidence of Bill and Hillary Clinton, but his circle of admirers beyond that is limited.

Joe Trippi, Mr. Dean's campaign manager, disputed the Drudge account saying "No one from the Dean campaign leaked anything to Drudge. This report is like a National Enquirer headline." Doesn't sound like an unequivocal denial to me. Mr. McAuliffe has gone out of his way not to criticize Mr. Dean since the Drudge item, but privately is aware of the fact that Mr. Dean is the only one of the Democratic candidates who is hostile to his remaining as chairman.

Of course, among average voters the reasons for Mr. Dean's popularity have little to do with his strained relations with the Clinton wing of the party. Activists are simply not excited by the current field of nine candidates. Sen. John Kerry is too aloof. Rep. Richard Gephardt has run before and lost. Sen. John Edwards is too untested. Sen. Joe Lieberman backed the war in Iraq, a black mark with any serious anti-Bush Democrat. Howard Dean is the improbable beneficiary of this dissatisfaction because his fiery anti-Bush speeches convey the image of an outsider and a straight-shooter, exactly the kind of stance that propelled Sen. John McCain into serious contention for the 2000 GOP presidential nomination.

Many of the same pundits who ignored Mr. Dean's long-shot candidacy for so long now seem convinced he is leading an unstoppable juggernaut. "Right now, Dean is in the driver's seat. I'm almost ready to say that Dean has the ticket to Boston as the challenger Democrat," says pollster John Zogby, whose latest survey shows Mr. Dean leading Sen. Kerry by more than two to one in New Hampshire, the nation's first primary state. "He is running away with this election if somebody doesn't stop him," says Morton Kondracke of the Fox News Channel.

This is all twaddle. Mr. Dean hasn't been seriously tested in debates or had his first campaign crisis. Watch this Thursday's Democratic debate in New Mexico as all of his rivals gang up on him. Mr. Dean's problem is that he may have peaked too early. His March performance on NBC's "Meet the Press" showed he can wilt and contradict himself when subjected to a constant barrage of criticism. Many of the people who are showing up at Dean fundraisers aren't completely sure of why they like him, beyond the fact that they see him as the most vociferously anti-Bush candidate in the race. Michael Wolff, the liberal media columnist for New York magazine, wrote about a Dean fundraiser he attended recently in Manhattan that was filled with names he knew. "Howard Dean was being embraced by my people," he wrote. But "you had the undercurrent, the ultimate upset scenario, on the back breath of the room. Howard Dean was nothing so much as Gene McCarthy, and everyone here was really waiting for Bobby Kennedy, who, of course, was Hillary. It's in the air."

Anti-Bush partisans may be having their joy ride with Howard Dean, but it's clear they are secretly pining for Hillary. Once they are absolutely convinced she won't answer their calls, I have no doubt many of them will grow tired and skeptical of Mr. Dean. That doesn't mean he can't win the nomination, just that the obstacles blocking his way — 'including the hostility of Team Clinton — 'will likely remain.

Every weekday JewishWorldReview.com publishes what many in Washington and in the media consider "must reading." Sign up for the daily JWR update. It's free. Just click here.

Comment on JWR contributor John H. Fund's column by clicking here.

06/27/03: The California jurist who may replace Justice O'Connor
06/02/03: Clinton the Hoover: Bill, Hillary and the Dems' political vacuum
05/27/03: Nerd Nirvana: Students are to the right of the faculty even at the U of Chicago
05/16/03: GOPers gain in the land of Humphrey and Mondale
04/28/03: With the war won, it's time for Bush to master the Senate
04/04/03: Is "diversity" on campus even a goal worth pursuing?
03/05/03: Sunday morning with the BBC
02/28/03: Shut Up, They Explained: If you can censor this, thank a teacher
02/21/03: Unmitigated Gaul: Saddam isn't the only dictator with whom Jacques Chirac is cozy
02/18/03: Growing number of black officials breaking ranks by calling for a more honest approach to race relations
01/31/03: Half and Half: Republicans have achieved parity among American voters
11/11/02: Sobering Thoughts: The GOP's cup runneth over? No, it's half empty
10/31/02: Blue Gray: California's governor answers a Nobel Prize winner with obscenities
10/14/02: Bad Hair Day: Did Montana Dems exploit antigay prejudice?
10/11/02: The kill-everything senate
09/30/02: Schroeder did what it took to win--but at what cost to Germany?
08/22/02: Buh-Bye Bob, So Long Cynthia : No amount of shouting could've saved Barr or McKinney
07/29/02: GOP: Get Over Panic --- Dems are vulnerable on corporate scandals, too
07/17/02: Not Just an Average Joe: A black GOPer may give Rep. Eliot Engel a run for his money
07/15/02: The McCain Mutiny-II
07/01/02: Opening the Schoolhouse Door: The politicians can't stop school choice now
06/20/02: The Body' Bows Out --- American politics will be duller without Jesse Ventura
06/06/02: It's time for President Bush to stand up to California's senators
05/16/02: A Court Intrigue: Procedural funny business in a racial-preference case
05/14/02: Thin moral ice: New revelations from a skater's Stasi files recall an oppressive era
05/09/02: Newark, Zimbabwe!?
05/02/02: Will Terror Leave Us No Choice? Teachers unions try to use Sept. 11 as an excuse for bad schools
04/23/02: The New Nixon? Al Gore plots his comeback
04/16/02: 'I, Uh, I Have No Comment': A union plays dirty in opposing an antitax initiative
03/31/02: Don't Just Do Something, Stand There!: Filibusters can help the Senate GOP get things done
03/14/02: Red-Light District: It's time to draw the line on gerrymandering
02/21/02: Slippery Slope: Can Dick Riordan beat California's Democratic governor?
02/14/02: Reform School: The Shays-Meehan incumbency protection act
02/07/02: Arizona Highway Robbery: Politicians make a grab for campaign cash
01/31/02: Disfranchise Lassie: Even dogs can register to vote. We need election reform with teeth
01/17/02: Dr. King's Greedy Relations: Cashing in on a national hero's legacy
01/10/02: Oil of Vitriol
01/04/02: The little engine that couldn't--and the senators who don't want it to
12/24/01: E-mail and low-cost computers could be conduits for a learning revolution
12/13/01: How Gore could have really won
12/07/01: Let our students keep their cell phones
12/04/01: Why the White House gave the RNC chairman the boot
11/12/01: A Winsome Politician: She won an election in a majority-black district--and she's a Republican
11/01/01: Bush Avoids Politics at His Peril
10/30/01: Cocked Pit: Armed pilots would mean polite skies
10/24/01: Chicken Pox: Hardly anyone has anthrax, but almost everyone has anthrax anxiety
10/11/01: Will Rush Hear Again? New technology may make it possible
10/04/01: Three Kinds of pols
08/24/01: Lauch Out: Who'll replace Jesse Helms?
08/08/01: Tome Alone: Clinton's book will probably end up on the remainder table
08/03/01: Of grubbing and grabbing: Corporation$ and local government$ perfect "public use"
07/31/01: Affairs of State: The Condit case isn't just about adultery. It's about public trust and national security
07/14/01: The First Amendment survives, and everyone has someone to blame for the failure of campaign reform
07/12/01: He's Still Bread: Despite what you've heard, Gary Condit isn't toast --- yet
07/12/01: Passing Lane: Left-wing attacks help boost John Stossel's and Brit Hume's audiences
06/25/01: Man vs. Machine: New Jersey's GOP establishment is doing everything it can to stop Bret Schundler
06/15/01: A Schundler Surprise? Don't count out "the Jack Kemp of New Jersey"
06/06/01: Memo to conservatives: Ignore McCain and maybe he'll go away
05/29/01: Integrity in Politics? Hardly. Jim Jeffords is no Wayne Morse
05/22/01: Davis' answer to California's energy crisis? Hire a couple of Clinton-Gore hatchet men
05/07/01: Prematurely declaring a winner wasn't the networks' worst sin in Florida
04/23/01: How to fix the electoral process --- REALLY!
04/11/01: A conservative hero may mount a California comeback
03/30/01: Can the GOP capture the nation's most closely balanced district?
03/09/01: Terminated
03/06/01: Leave well enough alone
02/22/01: Forgetting our heroes
02/15/01: In 1978 Clinton got a close look at the dangers of selling forgiveness
02/12/01: Clinton owes the country an explanation --- and an appology
02/06/01: How Ronald Reagan changed America
01/16/01: Why block Ashcroft? To demoralize the GOP's most loyal voters
01/15/01: Remembering John Schmitz, a cheerful extremist
12/29/00: Why are all Dems libs pickin' on me?
Dubya's 48% mandate is different than Ford's
12/13/00: Gore would have lost any recount that passed constitutional muster
11/13/00: The People Have Spoken: Will Gore listen?
10/25/00: She's really a Dodger
09/28/00: Locking up domestic oil?
09/25/00: Hillary gives new meaning to a "woman with a past"
09/21/00: Ignore the Polls. The Campaign Isn't Over Yet
©2001, John H. Fund