Jewish World Review June 10, 2004 / 21 Sivan, 5764

Editors of Merriam-Webster's Collegiate
Dictionary, Tenth Edition
'The devil to pay'; 'crack', as in 'a crack marksman'; 'the dog that didn't bark'

http://www.NewsAndOpinion.com | Dear Editor:
I've been told that the word ``devil'' in the expression ``the devil to pay'' does not refer to the theological ``devil'' but to some nautical term. Can you shed any light on this?
—S. B., Skokie, Ill.
Dear S.B.:
We are often told that the expressions ``the devil to pay'' and ``between the devil and the deep (blue) sea'' do not refer to Satan but to a perfectly innocent nautical devil. This ``devil'' is a seam in a ship's hull, on or below the waterline.
``The devil to pay'' is supposed to be a short form of ``the devil to pay and no pitch hot.'' This interpretation depends on a homonym of the verb ``pay'' which means ``to apply pitch.''
Unfortunately for the nautical explanation, both expressions are attested much earlier than is the requisite sense of ``devil.''
We first find ``the devil to pay'' in a poem written about 1500. The couplet, rendered in modern English, goes ``It would be better to stay at home forever than to serve here to please - or pay - the devil.''
We have no evidence for the longer ``the devil to pay and no pitch hot'' until 1828.
``Between the devil and the deep sea'' goes back at least to 1637. Robert Munro, in ``His Expedition with the Worthy Scots Regiment called Mac-Keyes Regiment,'' wrote, ``I, with my partie, did lie on our poste, as betwixt the devill and the deep sea.''
The ``devil'' in a ship's hull, on the other hand, is first reported in William Henry Smyth's ``Sailor's Word-Book: An Alphabetical Digest of Nautical Terms,'' compiled about 1865. It is true that nautical terms are likely to enjoy a long oral use without being written down. But three and a half - or even two - centuries seems rather too long to be an acceptable assumption for the nautical explanation. It is more likely that this proverbial ``devil'' is the Devil himself.
Dear Editor:
Where do we get the word ``crack,'' as in ``a crack marksman''? Is it related to the word ``crackerjack''?
—G.M., Fairfield, Conn.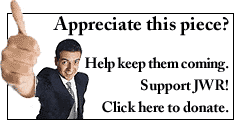 Dear G.M.:
The adjective ``crack,'' defined in Merriam-Webster's Collegiate Dictionary, Eleventh Edition, as ``of superior excellence or ability,'' first came into English in the late 1700s, long before ``crackerjack'' or ``crackajack'' arrived on the scene. (That word, a noun meaning ``a person or thing of marked excellence,'' was first seen in print a hundred years later.) The adjective ``crack'' is actually derived from a sense of the noun ``crack.''
If asked to define the noun ``crack,'' most people would come up with such familiar meanings as ``a fissure'' or ``a weakness or flaw.'' The adjective derives instead from an old British slang use in which ``crack'' means ``a thing or person of superior excellence or ability.'' This sense is a play on the verb ``crack up,'' meaning ``to praise.'' We usually use this sense of ``crack up'' in negative constructions, as in ``Riches aren't everything they are cracked up to be.'' (``Crack up,'' in turn, is related to the use of the verb ``crack'' to mean ``to say or utter'' in contexts like ``crack a joke.'')
The complimentary sense of the noun ``crack'' is now rare, but it lives on in the familiar adjective ``crack.''
Dear Editor:
What does the phrase ``the dog that didn't bark'' mean and where did it come from?
—B.N., Fair Lawn, N.J.
Dear B.N.:
``The dog that didn't bark'' describes a nonaction or nonevent that is significant precisely because it ``didn't'' happen.
The phrase comes from a story featuring probably the most famous fictional detective in the world, Sir Arthur Conan Doyle's Sherlock Holmes. In the story ``Silver Blaze,'' a valuable racehorse is stolen from a stable guarded by a watchdog. Holmes and Dr. Watson have an exchange in which Holmes says that he wishes to draw Watson's attention to ``the curious incident of the dog in the night-time.''
When Watson remarks that ``the dog did nothing in the night-time,'' Holmes replies, ``That was the curious incident.'' In other words, the dog, which should have barked, did not; the thief, therefore, was someone the dog knew.
Appreciate this column? Why not sign-up for the daily JWR update. It's free. Just click here.

Readers may send questions to Merriam-Webster column, P.O. Box 281, 47 Federal St., Springfield, Mass. 01102. Comment by clicking here.

06/03/04: 'Surrounded on three sides'; sleuths
05/18/04: 'Of the first water'; horses and horseradish; more
05/06/04: 'Historic' v. 'historical'; 'prestigious' = 'trickery'?; 'can of corn' as sports phrase
04/27/04: Derivation of 'bozo'; 'elt'; 'spill the beans'
04/21/04: Meaning of "budget'' in the word "fussbudget''; "bleeding hearts''; "skycap''
04/01/04: "Thin red line''; "doak"; "level playing field"
03/22/04: "King Canute"; "vodka"; "Cheese it. The cops!''
03/16/04: "Carrot and stick''; "hue and cry''; Where did the term "flea market'' originate?
03/09/04: Going "haywire"; "close, but no cigar"; "mahatma"
03/01/04: "Roundheel'' and "well-heeled''; "milquetoast"; "sick as a dog''
02/26/04: "Charley horse"; "`Foolproof''; "cracker-barrel''
02/17/04: "Dunce''; titles "Mr.'' and "Mrs.''; "under the weather''
02/10/04: "Turnpike''; "dead reckoning''
02/02/04: "Mutt"; "lobby" in its political sense; "procrustean bed"
01/27/04: "Decimate"; "duende"; a dessert "junket"?
01/14/04: Is "MacGuffin" related to all the "Mac" and "Mc" words we've been hearing about recently?; "afghans" and "Afghans"; "since Hector was a pup"
01/09/04: Confused about the word "hearsay"; "Burgle"; "waiting in line" or "waiting on line"?
12/31/03: The past tense of "plead''; Is "old adage'' redundant?; Where did "lounge lizard'' come from?
12/15/03: "Ostracize" and "oyster''?; Where does the "mentor'' come from?; "jeopard''
12/02/03: "Karats'' and "carats'' — meaning of and difference between; why apostrophe in "'cello''?; "hell-bent for leather''
11/18/03: "Hoosegow,''; why the little finger is called the "`pinkie''; difference between "lady'' and "dame''
11/13/03: 'Take it on the lam'; 'decorum'; 'you look like the wreck of the Hesperus'
11/03/03: Origin of "hypnosis"/"hypnotism"; "all right" or "alright"; emote
10/28/03: "Blue plate special"; how to use "hoi polloi''; "Peck's Bad Boy''
10/20/03: Who was the person the artist who first used "silhouette" as an art form?; why are they called migraine headaches?; origin of "keep one's shirt on"
10/13/03: "Grey'' in "greyhound'' has nothing to do with the color?; "at loggerheads''
09/29/03: Where does the word "karaoke" comes from?; people or persons?; "synecdoche"
09/23/03: Using "eke'' correctly; fedora; why do we call an especially flattering biography a "hagiography''?
09/10/03: Why do we call a zero score in tennis "love''?; "biannual'' or "semiannual''?; Is there any difference between "further'' and "farther''?; dilemma of using "dilemma''
09/02/03: "Out loud'' rather than "aloud''; "pushing the envelope''; "without rhyme or reason''
08/25/03: "Cheesy''; "hold a candle''
08/11/03: "Halcyon days''; Why isn't "sacrilegious'' spelled "sacreligious''?; "red light'' and "green light'' as expression — which came first, the inaction or the signals?
08/04/03: "Votive'' candles; "cosmeticizing"; "potluck''
07/28/03: Why 'debt' has a 'b' in it; "south moon under''; why "Rx'' is used for prescriptions
07/21/03: "Romance" & "Rome"?; punching & clocks; "conversate"
07/14/03: "Lukewarm''; Where did we get the word "wig'' for a fake head of hair?
07/09/03: Why doesn't "Arkansas'' rhyme with "Kansas''? ; "Catawampus"; "Jimmie Higgins work"
06/30/03: "Foozle"; author who wrote an entire novel without using a certain letter of the alphabet?; "kith and kin"
06/23/03: "On the fritz"; "knuckle down''
06/17/03: How did "lazy Susan'' come to be used for the rotating tray?; woolgathering'' as synonym for "idle daydreaming''; "in harm's way''
06/09/03: "Clotheshorse"; a god named "Ammonia"?
05/29/03: With kid gloves; "receipt'' = "recipe''?; from soup to nuts
&copy2004 Merriam-Webster Inc.
Distributed by Knight Ridder/Tribune Information Services