Dr. Laura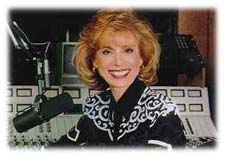 National Prayer Breakfast inspires public servants
(JWR) --- (http://www.jewishworldreview.com) I BELIEVE I AM THE FIRST "talk-show host" to read from the Holy Scriptures at the National Prayer Breakfast, which takes place each year in Washington, D.C. This year marked the 47th consecutive time this event has taken place. The concept began almost half a century ago as a casual meeting of congressmen laying down their political swords and picking up the Bible. The intent was to refresh their minds and souls with respect to what was supposed to be their true goal and true allegiance.
Their Bible study and prayer was to remind them that their ultimate goal is righteousness, compassion and justice, and that their true allegiance is to G-d and to G-d's expectations and commandments. The reason this concept worked and grew (weekly congressional Bible study is led by a chaplain) is because there was no micro-interpreting of biblical Scriptures or denominational declarations of superiority. It's all about the basics, which are mutually understandable and important to all who respect and honor G-d.
Especially because I am a formal convert to Judaism (although I have Jewish blood through my father's side) after a virtual lifetime of religious ignorance and abstention (actual atheism required more thought than I had given it), it was a particular honor to me to stand and read from the Holy Scriptures in front of more than 4,000 members of government, dignitaries, heads of state and citizens throughout the whole world through C-SPAN.
It took me two months to decide on which Scriptures I would read in the allotted three minutes of time. Friends and colleagues joked about what I could possibly choose that wouldn't touch on the presidential scandals. Others hoped I would use this opportunity as a hammer. However, the intent of these prayer meetings is to cleanse souls of rancor and revenge. That is not to say that all issues of accountability for wrongdoing are erased by the forgiving and conciliatory tone of some Scripture readings. It is to say that we cannot be so totally absorbed in anger and outrage that we lose our focus and our fairness.
It is also to say that in spite of the trials and tribulations of everyday life, we must not become so enthralled with a crusade that we ignore our souls and our other responsibilities in life.
I finally chose Deuteronomy 8 because I thought it so profoundly shook us out of our often self-righteous arrogance as human beings who sometimes confuse "walking with the L-rd" with becoming a G-d. G-d is speaking through Moses to the people to clarify and remind them of their relationship to G-d. "He subjected you to the hardship of hunger and then gave you manna to eat, which neither you nor your fathers had ever known, in order to teach you that man does not live on bread alone, but that man may live on anything that the L-rd decrees."
The passage continues by describing the wonders of life and the Earth given to us by G-d to enjoy and from which to create almost whatever man is capable of dreaming. Then, there is the warning against each of us declaring that "My own power and the might of my own hand have won this wealth for me." G-d reminds us to "Remember that it is the L-rd your G-d who gives you the power to get wealth ."
This passage is about gratitude and respect. And how often do we contemplate not only the blessings from G-d, but our blessings through the love, support, trust, assistance and kindness we get from others? Not often enough.
So here I am at the president's 47th Annual Prayer Breakfast, this little Jewish girl from Brooklyn, reading the words of G-d. It was a moment that choked me up. It was a moment I will never forget. It was a moment that joined us all at the heart. It was a moment that I hope moved hearts toward those qualities that can bring peace to souls and countries.
Any complaints about me or others being there when the president had "done naughties" or when there were world leaders of questionable character or past evil actions, missed the point and intent of this event. It wasn't to erase culpability or accountability or consequences. The point of this event was to inspire the aspiring righteous, as well as the naughty and the evil, to connect with the ultimate good.