Jewish World Review August 12, 2004 / 25 Menachem-Av, 5764

Bob Tyrrell
Missing Nixon

http://www.NewsAndOpinion.com | A brilliant article by Jonathan Aitken in London's Sunday Times, of August 1 prepared me for the torrent that was surely going to hit America a week later with the 30th anniversary of Richard Nixon's resignation, August 9. Aitken, a distinguished writer and biographer of the 37th president, reminded readers of the incomparable drama fevering the last days of the Watergate president. "End career as a fighter." Nixon had scrawled on one of his yellow legal pads hours before he planned to bow out on August 1, 1974. His valiant daughter, Julie, however intervened with a scrawled note of her own: "Dear Daddy, I love you. Please wait a week or even ten days before you make this decision. Go through the fire for just a little bit longer. You are so strong! I love you." And so he waited until August 9.

Aitken seems to have expected a 30th anniversary distinguished by intelligent reflection or, as he wrote, "an objective assessment of the man and his record," for "the hate-filled passions that he exacerbated because of Vietnam and Watergate have diminished with time." I expected more vituperation. Those who consider the name of the 37th president a hyphenate, as in the "disgraced-Richard-Nixon," have with the passage of time gained so many additional complaints, for instance, his coarse language on the White House tapes, his intrigues in Chile, his dilatoriness about the plight of the whooping cranes. As it turned out, both Aitken and I were wrong. The 30th anniversary of Nixon's resignation passed with hardly a siren going off.

How does one explain it? Think of all the luridities of Watergate that could be repeated, the Constitutional Crisis, the Paranoid Loner staying up all night in the White House, his trigger finger so close to the nuclear bomb — Kissinger, just down the hall! Next the Nixon maniacs would repeat all the lessons we are supposed to have learned from Watergate: no president above the law, the need for an Independent Counsel, and, my favorite, "a president does not lie to the American people." That supposedly is what did Nixon in. He lied to the American people. What precisely he lied about is difficult to recall, but whatever he lied about brought him to the precipice of impeachment. Nixon was reluctant to bring the country into that hellish ordeal, and so he resigned on August 9, 1974.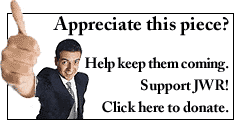 Nixon shouldered the blame for whatever the congeries of wrongs that composed Watergate were. He did not marshal his dwindling forces in the Congress and abroad in the country for a last gasp defense. He had indeed lied, though how serious or unusual his lies were I leave to historians. Presidents from Franklin Roosevelt to Lyndon Johnson with few exceptions in between, had encouraged cover ups and lied about it when necessary. Only one other president has ever found himself in the condition Nixon was in 30 years ago prefatory to his resignation. He too had lied and obstructed justice. But he was not about to shoulder the blame. Rather he would whip up his supporters to defend him. Faced with impeachment for wrongs he obviously had committed, he would bring the country to what he and Nixon both saw as Constitutional Crisis. Then he blamed prosecutors for his plight.

In the wake of the Nixon resignation there is no enduring controversy dividing the nation. He lied. He shouldered the blame. And historians will judge him on that and on all the other things Nixon did, for instance, the opening to China, détente, arms control negotiations. Bill Clinton lied too. He deceived his cabinet, prosecutors, a grand jury, and the nation. He put members of his party and his government in the intolerable position of admitting that had he misbehaved as charged he had committed grave and probably impeachable offenses. Then he prevailed on them to contradict themselves and defend him to the end. Rather than shouldering the blame Clinton palmed it off on others, brought the nation to the brink, and created an enduring controversy with hatreds that will last a generation.

Quite possibly the intense enmity that embitters politics today — and this presidential election in particular — is a malign byproduct of the Clinton impeachment, an impeachment that never would have taken place had the President shouldered the blame for his own conduct.

Thus I end with a question? Is it possible that the media let the 30th anniversary of Nixon's resignation pass unnoticed because a comparison between his behavior and Clinton's would be inescapable? The media have forgiven Clinton after his every scandal. Could they ever forgive him for behaving more loutishly than the disgraced-Richard-Nixon?
Every weekday JewishWorldReview.com publishes what many in Washington and in the media consider "must reading." Sign up for the daily JWR update. It's free. Just click here.

JWR contributor Bob Tyrrell is editor in chief of The American Spectator. Comment by clicking here.
08/05/04: Is boxing down for the count?
07/30/04: The cranky convention
07/22/04: France is on the march — so don't dare get out of line
07/15/04: Who's to Run the CIA?
07/08/04: Heroes and celebs: Don't ruin latest 'star'
07/01/04: Gentlemen do not begin a government in the middle of the week
06/24/04: If they only mastered the art of lying
06/18/04: Fie on the French and Germans
06/10/04: Reagan on the Rock
06/03/04: Once again the conservative fuddy duddies are vindicated
05/28/04: Rev. Al eats up City Hall
05/20/04: Pasty prison pastimes
05/13/04: Loss of perspective
05/06/04: Right in the Krischer: Rush Limbaugh's tormentor has yet to hear from everyone on the First Amendment right
04/29/04: It is 1992 all over again, and I rejoice
04/15/04: There seems to be two George W's
04/08/04: Kennedy & Kerry
04/01/04: Sen. Jean Francois' fun and games are only starting — poor Dems
03/25/04: What really explains the rancor arising in this election year?
03/19/04: College daze
03/11/04: The understandably confused are confused
03/04/04: Hillary, the loyalest of the loyal
02/19/04: Hannity's optimism
02/12/04: The moron vote
02/05/04: At least Lieberman stood for something
01/29/04: Surprised by the government vendetta against Rush?
01/15/04: Eight Angry Men
01/09/04: Doc, the greatest swim coach of all time
01/02/04: It's lying time again
12/29/03: Alternative "Person of the Year"
12/18/03: Dean and me
12/11/03: Long live Bob Bartley
12/04/03: "Hit 'em when they're down!"
12/01/03: The Wright Stuff
11/13/03: How wrong the naysayers and the utopians have been
11/06/03: Will I be banned from America's campuses?
10/30/03: They don't care about restraint
10/24/03: "The Reagans" and the evidence of a historic life
10/17/03: The Moron Vote
10/09/03: The politics of groping and the groping of politics
10/03/03: Is there a witch doctor in the house?
09/26/03: Funny Girly-Boy
09/18/03: Send Arafat to Paris!
09/15/03: The soi-disant party of Latinos comes down hard on a successful Latino
09/05/03: Placating the carpers
08/29/03: A melange of one-issue enthusiasts will win?
08/07/03: Angry partisans
07/31/03: Why no 'holy cities ' in America?
07/25/03: They underestimate not only the president, but the American people
07/18/03: The irascible, bigoted Harry Truman was a product of his times
07/11/03: A grand affair of hot colors and surprisingly sedate audience participation
07/04/03: In search of anti-Americanism and the perfect bullfight
06/26/03: Calling on London
06/20/03: Too upsetting for the evening news?
06/12/03: Rain(es)ing Clintoon myths
06/05/03: Hillary-ous is pathetic
05/29/03: Shakedown
05/22/03: End of the last great persecution of the 20th century?
05/15/03 :'Grey' turns to grim at Times
05/08/03: The only intellectual force in Western history to gain moral superiority by being wrong
05/01/03: Dinning with Tom Wolfe: More lessons in nusual aspects of American life, hitherto ignored
04/28/03: Ambuscade at scholarly frontier
04/21/03: Stars in search of a galaxy
04/10/03: Baghdad Bob and Tom Daschle
03/31/03: When the media itself becomes the story
03/20/03: Revealed! Estrada is a gifted linguist -- a Japanese-American fluent in Spanish
03/14/03: Genuinely in charge
03/10/03: Stalin and Saddam
03/05/03: They just cannot stomach a protracted alliance with the Bushies
02/25/03: Identity gridlock
02/18/03: People calling Dean a fruitcake are underestimating his political savvy
02/13/03: The new political establishment
01/30/03: The time is now
01/27/03: Witnessing self-love by people completely incapable of self-criticism
01/21/03: Of course our kiddies are depressed
01/13/03: Why is it that Official Washington still believes that a tax reduction means a revenue reduction?
01/02/03: Missing Moi
12/27/02: The grizzled and menacing-looking senator in Confederate drag is … a Dem
12/24/02: Uprooting Christianity in the Holy Land
12/20/02: Under fire, Lott showed an ignobleness that is embarrassing
11/26/02: Bartley's enemies have been routed
11/14/02: Clarence Thomas and the segregationist Mississippi sheriff
11/07/02: I muffed up
10/31/02: Is the American university turning its back on change, on progress?
10/24/02: So why aren't the Dems buoyant?
10/17/02: Mourning the loss of the "yellow-belly"
10/10/02: American politics at its most ignominious
10/03/02: A man above the law, a bully
09/26/02: Is Bob Greene a victim of an anti-Clinton backlash?
09/19/02: I knew Mafiosi and …
09/12/02: Chickens and poseurs
09/05/02: Sympathizing with the Europols
08/29/02: 9-11 did not change us forever
08/22/02: Public persons frivoling with serious matters
08/15/02: Beachcombing among the fat of the land
08/08/02: They pave the way for corruption, not personal responsibility
08/01/02: Believing the unbelievable
07/25/02: The congressional posse comitatus
07/18/02: Cosmopolitan Arab fashion
07/11/02: What the prez actually knows
07/04/02: The vindication of a truly original thinker
06/27/02: The perfect book for Hillary
06/20/02: To say that they were ordinary is not to slight them
06/13/02: Daschle must begin to act like an adult
06/06/02: Lack of "intelligence" --- and sheer stupidity
05/30/02: Revealing a carefully guarded media secret
05/23/02: In these times, thank Heaven for Clinton!
05/16/02: Fast Times at the Church of the Nativity
05/09/02: "Name the Prettiest Suicide Bomber"
05/02/02: Vindication for the Boy Scouts
04/25/02: A topic almost no other columnist will touch
04/18/02: 'Conventional Wisdom' --- and those who defy it
04/11/02: Let the Sun shine in
04/05/02: Hooded men of color in sheets
04/01/02: A McCain-Feingold Act for Hollywood
03/21/02: Yakkin' on Yates
03/15/02: No role for Paul Volcker in Enron: the movie
03/07/02: My membership in the Communist Party U.S.A.
02/27/02: This award is bestowed by 'contrarians'
02/21/02: Mike Tyson: Made for Washington?
02/14/02: Enron as underdog?
02/07/02: Freed from the presence of money -- hard or soft -- most politicians would be just as bad
01/31/02: Needed: Bush to make a preemptive strike against his enemies …. Ones who'd like to see him fail even during war
01/24/02: Hucksters will move on to make their next marks
01/17/02: Debonair prez should begin to do the High Life
01/10/02: Move over Twinkies --- "the acne medicine made him do it!"
01/03/02: Leaving the Nazis looking comparatively humane
12/27/01: A "self-made journalist"
12/20/01: Calamities and unanticipated benefits
12/13/01: America's grief ought not to give comfort to those who caused it
12/06/01: Leahy, the strict civil libertarian!? A short-term exploiter of the Constitution is more like it
11/29/01: Welcome to Afghan, Maryland?
11/26/01: So, why don't more folks hate us?
11/15/01: America's quagmire and other certainties
11/09/01: No longer the smug statists, the prodigal Keynesians?
11/01/01: The New Seriousness
10/25/01: Bright lights and the Taliban
10/18/01: Is bin-Laden propaganda from Western intelligence?
10/12/01: No yellow ribbons
10/05/01: Bubba's back --- again!
09/28/01: Exposing peacetime's frauds
09/21/01: So protected, we're vulnerable
09/14/01: At Barbara Olson's home
09/11/01: Duh! All conservatives are racists
08/31/01: Arafat's terrorists have created their own hell
08/24/01: Time for some political prophecy
08/16/01: They claim to be doing so much good
08/10/01: Visiting the source of the White House braintrust
08/03/01: Morality and reality
07/31/01: Blinded by success?
07/24/01: The latest Kennedy capitulation in Massachusetts
07/13/01: Talk about tawdry
07/06/01: Delighting in the Dictator
06/29/01: The G-dphobes
06/21/01: Fashionable Washington is sempiternally in a stew
06/15/01: The limits of hypocrisy
06/08/01: Flagging our general apathy

© 2001, Creators Syndicate