Jewish World Review May 20, 2004 / 29 Iyar, 5764

Bob Tyrrell
Pasty prison pastimes

http://www.NewsAndOpinion.com | It is happening all over again. Media excess, politicians' bathos, exuberant piety — all are conspiring to transform a serious matter into a launching pad for horse laughs.

Last week, I tendered my judgment regarding the irregularities at Abu Ghraib prison. Lifting a line from Sen. Joe Lieberman, I called them "immoral." They are a breach in American military standards that ought to be punished. The punishment has now begun with the sentencing of Spc. Jeremy Sivits to the maximum penalty of the law, one year in the hoosegow. Six more of his moron accomplices are about to be meted out justice. Yet the press's frenzy continues.

American Nick Berg is filmed being beheaded by Islamofascists, and the story fades to the back pages of the news. A roadside weapon is found in Iraq containing the ingredients of a weapon of mass destruction, and it is ephemera. Yet the story of Abu Ghraib remains headline news.

The politicians are shocked. Hearings are scheduled. This must never happen again. The military and the pols go into a mad rush to pass prison reforms ensuring that, indeed, it will never happen again. The burlesque puts me in mind of the journalistic and political excess of the 1970s, when certain irregularities practiced by our intelligence services led to an earlier mad rush to reform. The consequence was the hamstringing of intelligence that, after 9-11, has been widely lamented by American elites. Still, no one has taken responsibility.

Truth be known, the elites of the 1970s caused the hobbling of our intelligence services, and I have no doubt that overreaction to the Abu Ghraib scandal will hamper intelligence gathering and prison control in the future. Yet, for now, we have to sit back and allow the blowhards to feel good about themselves.

I do wish, however, that they would stop lecturing us on the sanctity of the Arab male body. I have no doubt that among the Iraqi male population there are many goody-two shoes and possibly many middle-aged virgins. However, at Abu Ghraib it seems you have men more expert at roadside ambush, murder and perhaps rape than at chastity and good works.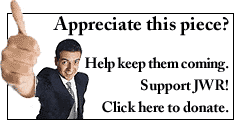 It was probably a mistake for our military to send the horny boys and girls of the fabled 372nd Military Police Company to that Iraqi hoosegow. They appear to be lifetime subscribers to Hustler magazine. The reports that the 372nd's Sabrina, Lynndie and Megan collaborated with their four he-man associates to coerce the Iraqi prisoners to simulate intercourse and to masturbate are repulsive. Yet I dissent from the widely held notion that this sort of lasciviousness is all that alien to the Arab male, especially the Arab male with a hankering for violence.

May I refer fellow skeptics to a first-person report on the folkways and mores of Arab prisoners at Guantanamo written by Matt Labash in early 2002? Writing in The Weekly Standard, he reported asking Marine jailers "if they've seen anything weird." The Marines, continues Labash, "laugh sheepishly, looking at each other. Finally, Sgt. Josh Westbrook, who sports a forearm tattoo of flaming baby heads, steps up. 'They know they're being watched,' he explains, 'so they'll stare at you, and while they stare at you, they'll, uh, masturbate.'"

The Marines believed that their Islamic fundamentalist masturbators were particularly avid "to embarrass the female Army guards."

"The weirdness doesn't end there," reports Labash. "They've also eaten their toiletries and urinated on equipment. 'The other day,' says Westbrook, 'one of the guys tried to do a naked cartwheel.' In the most bizarre twist," writes Labash, "Lance Cpl. Devin Klebaur says a few have also been known to 'put toothpaste in their ass.'"

It sounds to me as though we sent the 372nd to the wrong prison. Yet perhaps we have here another news story that, like the news story of Berg's death and of sarin gas being discovered in Iraq, is underreported.

Women soldiers in Arab prisons bring unnecessary difficulties. One of the reforms that ought to be contemplated after the news of recent weeks is that women soldiers should be kept out of men's prisons. Another reform that might be contemplated after the fate of women soldiers during the invasion of Iraq is that women should be kept out of front-line combat.

For now, we shall have to content ourselves with the prudish patter about the Arab male body that rarely sees the light of day and never knows the onanist's pastime — unless a Weekly Standard reporter is around.
Every weekday JewishWorldReview.com publishes what many in Washington and in the media consider "must reading." Sign up for the daily JWR update. It's free. Just click here.

JWR contributor Bob Tyrrell is editor in chief of The American Spectator. Comment by clicking here.
05/13/04: Loss of perspective
05/06/04: Right in the Krischer: Rush Limbaugh's tormentor has yet to hear from everyone on the First Amendment right
04/29/04: It is 1992 all over again, and I rejoice
04/15/04: There seems to be two George W's
04/08/04: Kennedy & Kerry
04/01/04: Sen. Jean Francois' fun and games are only starting — poor Dems
03/25/04: What really explains the rancor arising in this election year?
03/19/04: College daze
03/11/04: The understandably confused are confused
03/04/04: Hillary, the loyalest of the loyal
02/19/04: Hannity's optimism
02/12/04: The moron vote
02/05/04: At least Lieberman stood for something
01/29/04: Surprised by the government vendetta against Rush?
01/15/04: Eight Angry Men
01/09/04: Doc, the greatest swim coach of all time
01/02/04: It's lying time again
12/29/03: Alternative "Person of the Year"
12/18/03: Dean and me
12/11/03: Long live Bob Bartley
12/04/03: "Hit 'em when they're down!"
12/01/03: The Wright Stuff
11/13/03: How wrong the naysayers and the utopians have been
11/06/03: Will I be banned from America's campuses?
10/30/03: They don't care about restraint
10/24/03: "The Reagans" and the evidence of a historic life
10/17/03: The Moron Vote
10/09/03: The politics of groping and the groping of politics
10/03/03: Is there a witch doctor in the house?
09/26/03: Funny Girly-Boy
09/18/03: Send Arafat to Paris!
09/15/03: The soi-disant party of Latinos comes down hard on a successful Latino
09/05/03: Placating the carpers
08/29/03: A melange of one-issue enthusiasts will win?
08/07/03: Angry partisans
07/31/03: Why no 'holy cities ' in America?
07/25/03: They underestimate not only the president, but the American people
07/18/03: The irascible, bigoted Harry Truman was a product of his times
07/11/03: A grand affair of hot colors and surprisingly sedate audience participation
07/04/03: In search of anti-Americanism and the perfect bullfight
06/26/03: Calling on London
06/20/03: Too upsetting for the evening news?
06/12/03: Rain(es)ing Clintoon myths
06/05/03: Hillary-ous is pathetic
05/29/03: Shakedown
05/22/03: End of the last great persecution of the 20th century?
05/15/03 :'Grey' turns to grim at Times
05/08/03: The only intellectual force in Western history to gain moral superiority by being wrong
05/01/03: Dinning with Tom Wolfe: More lessons in nusual aspects of American life, hitherto ignored
04/28/03: Ambuscade at scholarly frontier
04/21/03: Stars in search of a galaxy
04/10/03: Baghdad Bob and Tom Daschle
03/31/03: When the media itself becomes the story
03/20/03: Revealed! Estrada is a gifted linguist -- a Japanese-American fluent in Spanish
03/14/03: Genuinely in charge
03/10/03: Stalin and Saddam
03/05/03: They just cannot stomach a protracted alliance with the Bushies
02/25/03: Identity gridlock
02/18/03: People calling Dean a fruitcake are underestimating his political savvy
02/13/03: The new political establishment
01/30/03: The time is now
01/27/03: Witnessing self-love by people completely incapable of self-criticism
01/21/03: Of course our kiddies are depressed
01/13/03: Why is it that Official Washington still believes that a tax reduction means a revenue reduction?
01/02/03: Missing Moi
12/27/02: The grizzled and menacing-looking senator in Confederate drag is … a Dem
12/24/02: Uprooting Christianity in the Holy Land
12/20/02: Under fire, Lott showed an ignobleness that is embarrassing
11/26/02: Bartley's enemies have been routed
11/14/02: Clarence Thomas and the segregationist Mississippi sheriff
11/07/02: I muffed up
10/31/02: Is the American university turning its back on change, on progress?
10/24/02: So why aren't the Dems buoyant?
10/17/02: Mourning the loss of the "yellow-belly"
10/10/02: American politics at its most ignominious
10/03/02: A man above the law, a bully
09/26/02: Is Bob Greene a victim of an anti-Clinton backlash?
09/19/02: I knew Mafiosi and …
09/12/02: Chickens and poseurs
09/05/02: Sympathizing with the Europols
08/29/02: 9-11 did not change us forever
08/22/02: Public persons frivoling with serious matters
08/15/02: Beachcombing among the fat of the land
08/08/02: They pave the way for corruption, not personal responsibility
08/01/02: Believing the unbelievable
07/25/02: The congressional posse comitatus
07/18/02: Cosmopolitan Arab fashion
07/11/02: What the prez actually knows
07/04/02: The vindication of a truly original thinker
06/27/02: The perfect book for Hillary
06/20/02: To say that they were ordinary is not to slight them
06/13/02: Daschle must begin to act like an adult
06/06/02: Lack of "intelligence" --- and sheer stupidity
05/30/02: Revealing a carefully guarded media secret
05/23/02: In these times, thank Heaven for Clinton!
05/16/02: Fast Times at the Church of the Nativity
05/09/02: "Name the Prettiest Suicide Bomber"
05/02/02: Vindication for the Boy Scouts
04/25/02: A topic almost no other columnist will touch
04/18/02: 'Conventional Wisdom' --- and those who defy it
04/11/02: Let the Sun shine in
04/05/02: Hooded men of color in sheets
04/01/02: A McCain-Feingold Act for Hollywood
03/21/02: Yakkin' on Yates
03/15/02: No role for Paul Volcker in Enron: the movie
03/07/02: My membership in the Communist Party U.S.A.
02/27/02: This award is bestowed by 'contrarians'
02/21/02: Mike Tyson: Made for Washington?
02/14/02: Enron as underdog?
02/07/02: Freed from the presence of money -- hard or soft -- most politicians would be just as bad
01/31/02: Needed: Bush to make a preemptive strike against his enemies …. Ones who'd like to see him fail even during war
01/24/02: Hucksters will move on to make their next marks
01/17/02: Debonair prez should begin to do the High Life
01/10/02: Move over Twinkies --- "the acne medicine made him do it!"
01/03/02: Leaving the Nazis looking comparatively humane
12/27/01: A "self-made journalist"
12/20/01: Calamities and unanticipated benefits
12/13/01: America's grief ought not to give comfort to those who caused it
12/06/01: Leahy, the strict civil libertarian!? A short-term exploiter of the Constitution is more like it
11/29/01: Welcome to Afghan, Maryland?
11/26/01: So, why don't more folks hate us?
11/15/01: America's quagmire and other certainties
11/09/01: No longer the smug statists, the prodigal Keynesians?
11/01/01: The New Seriousness
10/25/01: Bright lights and the Taliban
10/18/01: Is bin-Laden propaganda from Western intelligence?
10/12/01: No yellow ribbons
10/05/01: Bubba's back --- again!
09/28/01: Exposing peacetime's frauds
09/21/01: So protected, we're vulnerable
09/14/01: At Barbara Olson's home
09/11/01: Duh! All conservatives are racists
08/31/01: Arafat's terrorists have created their own hell
08/24/01: Time for some political prophecy
08/16/01: They claim to be doing so much good
08/10/01: Visiting the source of the White House braintrust
08/03/01: Morality and reality
07/31/01: Blinded by success?
07/24/01: The latest Kennedy capitulation in Massachusetts
07/13/01: Talk about tawdry
07/06/01: Delighting in the Dictator
06/29/01: The G-dphobes
06/21/01: Fashionable Washington is sempiternally in a stew
06/15/01: The limits of hypocrisy
06/08/01: Flagging our general apathy

© 2001, Creators Syndicate