Jewish World Review Oct. 26, 2000 / 27 Tishrei, 5761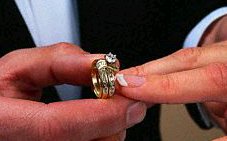 Doing Something to
Boost Marriages
By Dr. Wade F. Horn
http://www.jewishworldreview.com -- THE U.S. CENSUS BUREAU recently released a report titled, "Child Support for Custodial Mothers and Fathers." The report contains discouraging news disguised as encouraging news. First, the encouraging news.
The proportion of custodial parents employed in full-time, year-round jobs increased from 46 percent in 1993 to 51 percent in 1997, including 47 percent of custodial mothers and 77 percent of custodial fathers. Add in custodial parents who worked part-time, and nearly eight in 10 custodial mothers and nine in 10 custodial fathers were employed in 1997.
As a result, the percentage of custodial parents living in poverty declined. In 1997, 29 percent of custodial parents lived in poverty, down from 33 percent in 1993. Moreover, the proportion of custodial parents participating in at least one public assistance program (Medicaid, food stamps, public housing or rent subsidy, cash welfare or general assistance) also declined, from 41 percent in 1993 to 34 percent in 1993. Clearly, welfare reform's emphasis on work is having its intended effect.

The other encouraging news in this report is that more custodial parents are receiving the child support they are owed. Of the 7 million custodial parents due child support payments in 1997, 67 percent received either part or full payment -- a much greater percentage than the oft quoted figure of about 20 percent. Moreover, the proportion of custodial parents who received the full amount of child support due increased from 34 percent in 1993 to 41 percent in 1997. Apparently, policies aimed at getting tough on "deadbeat" noncustodial parents are having their intended effect as well.
So, you ask, where's the discouraging news?
Here it is: According to the Census Bureau report, the total number of children under the age of 21 living in households where a biological parent is absent continues to grow. In 1993, there were 13.7 million custodial parents. By 1997, that number had grown to 14 million. The increase in the number of custodial parents translates into 23 million children under 21 years of age currently having one of their biological parents living elsewhere.
What this report really tells us is this: When it comes to public policy, what you pay for is what you get. When you spend money helping custodial parents get jobs and enforcing child support obligations, more custodial parents get jobs and receive child support.
The opposite, however, is also true. When public policy does nothing, nothing happens. That has been the case when it comes to marriage. Public policy has done nothing to either encourage marriage or increase marital stability. As a result, the number of children growing up in intact, two-parent married households continues to decline.
Don't get me wrong. I am not suggesting the government stop encouraging custodial parents to become and stay employed. Nor am I suggesting we abandon efforts to ensure that non-custodial parents pay child support. I am, in fact, a strong supporter of both welfare-to-work policies and child support enforcement. When can't just ignore children who are growing up in single- parent households.
Nevertheless, there is a problem with the current emphasis on helping custodial parents get jobs and enforcing child support orders and it is this: The more successful we are in accomplishing these things, the more we delude ourselves into thinking we have solved the problem.
The problem, however, is not just that too few custodial parents are employed and too few non-custodial parents pay child support, but that too many children live in homes absent one of their biological parents in the first place.
Neither welfare-to-work nor child support enforcement, while important, does anything to reduce the number of children growing up in broken homes. To do that, we also must focus on encouraging marriage.
But, you say, we don't know how to encourage marriage; at least we know something about encouraging work and enforcing child support orders.
I agree. Our knowledge of how to encourage marriage is pretty thin. One thing we know for certain, however, is that if you don't do anything to encourage marriage, you don't get any increase in marriage. Since doing nothing isn't working, maybe its time to try something.
We could, for example, get rid of the marriage penalties inherent in both the U.S. tax code and the Earned Income Tax Credit. We also could fund low- or no-cost premarital education services for low-income couples contemplating marriage. A public awareness campaign extolling the virtues of marriage also might help.
But, you argue, there is no evidence that any of this will work. Quite true. We'll never really know, however, unless we try. As the Census Bureau report attests, doing nothing has not succeeded in reducing the number of children born out-of-wedlock or living in broken homes. Perhaps doing something will. bet.
---
JWR contributor Dr. Wade F. Horn is President of the National Fatherhood Initiative and co-author of The Better Homes and Gardens New Father Book. Send your question about dads, children or fatherhood to him C/O JWR

10/16/00: Being a good dad to child of divorce
09/06/00: Following "The Rule" for a Better Marriage
07/13/00: For Culture Awareness No Plus in Viewing TV
06/28/00: Make Punishment Fit Offense, Be Consistent
05/30/00: Single moms should not natter at misbehaving children
05/11/00: How Dads Can Deal With the New-Baby Blues
05/03/00: Fathering lessons from John Lennon
04/09/00: Use Welfare Money to Promote Marriage
03/30/00: Preschool Not A Must for Academic Success
03/16/00: President's Program for Fathers Misses Mark
03/10/00: Seeing Men as "The Problem" is Worrisome Attitude
02/22/00: House Rules Can Help Blended Families Adapt
02/09/00: NOW: Pro-fatherhood funding is unconstitutional
01/24/00: Time With Children Is Investment in Future
01/05/00: Save the Dads
12/15/99: Good News and Bad About Parenting Duties
12/08/99: If the U. N. gets its way, 'nanny state' will no longer be hyperbole
11/30/99: Boys to Men: Add a Dose of Masculinity
11/22/99: Out of Home, But Not Out of Children's Lives
10/26/99: Male maternity leave?
10/14/99: All-Day Kindergarten Not Well-Suited For All
10/06/99: Broken Relationships Can Be Fixed, Slowly
09/29/99: When the step-mom is the saint
09/02/99: Homosexual Son Needs Love, Support of Parent
08/25/99: Shining a Light in the Darkness
08/19/99: There's No Excuse for this Column
08/12/99: Male Nurturing Deficit a Major Gripe For Wives
07/30/99: Time to Penalize Those Who Sell Trash to our Youth
07/23/99: Moms Want Help From Dads --- Sort Of
07/15/99: NEWS FLASH! Mothers and Fathers Are Different
07/07/99: Lunacy 101: Questioning the Need for Fathers
06/30/99: Enforce House rules on Youth Using 'Net
06/24/99: IRS, Welfare Discourages Low-Income Marriages
06/15/99:'Male Abortion': A Fiction to Shirk Responsibility
06/08/99: No Way to Ease Pain of Split-Up on Young
06/02/99: Reassure Child Before Making A Business Trip
05/24/99: Recognize and Nurture Child's Gifted Abilities
05/06/99: Terrible Twos Signify Time of Important Growth
04/28/99: When a Son BecomesToo Clingy With Dad
04/21/99: Baffling Conclusions About Child Sex Abuse
04/12/99: Teen Deserves Support for No-Sex Stance
03/22/99: Fatherhood hype
03/15/99:Contributions of Dads Cover Many Fronts
03/04/99:Little Girl's Cry for Love of Dad Should be Heard
02/18/99: Divorcing with a 'tude
02/11/99: Basics Remain the Same for Single, Custodial Dads
02/05/99: Failure Today Can Lead to Success Tomorrow
01/14/99: Child Need Limits, Rules as well as Love
01/05/99: Top Ten 'Dad' Movies
12/22/98: Silly, Dangerous Ideas About Child Rearing
11/18/98: Problems Develop When Others Do Parents' Job
10/21/98: Government punishes marriage, pushes cohabitation
10/16/98: Television draws teens into vast wasteland
10/08/98: Sibling Conflict Not A Scream For Parents
9/29/98: Dads, moms both get job done with babies
9/23/98: Sleep tight -- and right!
9/09/98: Daddy?
9/03/98: How much should we tell the kids about The Bill-n-Monica Show?
8/25/98: Having class-clown son is no joking matter
8/05/98: When a marriage goes stale
6/29/98: Do bad 'authority-figures' make good parents?
6/24/98: When to tell the truth
6/17/98: An ode to a dad who stuck around
6/11/98: No-fault divorce and the partner who "wants to make things work"
5/28/98: The oys and JOYS of fatherhood
5/21/98: When child-support becomes a 'catch-22'
5/15/98: Why 'shacking-up' for marriage's sake fails
5/6/98: Collision with a pathetic reality
4/26/98: It's time parents learned to 'Just Say No!'

© 2000, Dr. Wade F. Horn