Jewish World Review Jan. 14, 1999 /25 Teves, 5759

Child Need Limits, Rules
as well as Love
By Dr. Wade F. Horn
Q: My husband and I had our only child, Bill, when I was 36 and my husband was 47. Our son is very spoiled. One reason he is so spoiled is that I give him whatever he wants because my husband ignores him. Our son is very fresh and annoys my husband to the point where he threatens to hit him. When this happens, our son says, "Go ahead hit me. I want you to hit me."
Although my husband does not hit him, their relationship is very poor. Anytime I ask my husband to take our son out, just the two of them, my husband tells me no, saying that he doesn't want to take that "brat" out anywhere because he doesn't deserve it. But then he will turnaround and hand our son a twenty dollar bill as a weekly allowance without asking him to do anything for it.
I have suggested that my husband and our son see a therapist together, but he says he doesn't need one. Things have gotten so bad, I have even thought about separating from my husband and getting an apartment for Bill and myself. How can I get the two of them to be friends?
A: Three things children need from their parents are love, limits, and consistency. Love helps kids feel wanted and valued. Limits teach them important lessons about what is acceptable and what's not. And consistency helps kids feel safe and secure.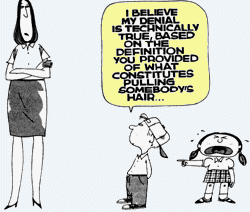 Three things children don't need from their parents are indifference, indulgence, and inconsistency. Indifference makes kids feel as if they don't matter. Indulgence results in children feeling incompetent, for if they are never required to work hard or put forth effort (to earn an allowance, for example), they never develop confidence in their ability to overcome challenges and difficulties. And inconsistency makes children feel like the world is an unpredictable and chaotic place.
Unfortunately, your son is getting an unhealthy dose of the things he doesn't need, and not enough of the things he does.
The remedy is not for your husband to become your son's friend, but for him to become his father. In fact, your son seems to be begging for this to happen. When, for example, he says to your husband, "Go ahead! I want you to hit me," he's not really asking your husband to physically strike him, but to place limits on his behavior and to express interest in him.
At the same time, he also needs you to become his mother. You seem to feel the problem rests in the relationship between your husband and your son. That's why you believe it is your husband and son -- and not you -- who need to see a therapist.
But this ignores your role in this situation. The fact is your indulgence is as destructive as your husband's indifference. And both of you are far too inconsistent in the way you treat him.
The first thing that needs to happen is for you and your husband to understand how desperately your son needs the two of you to begin acting like parents. As a start, you and your husband need to come up with a list of household rules that are clear and specific. Then you need to list the consequences that will happen when your son both obeys and disobeys the rules. After that, you must work as a team to implement the household rules.
Although children want desperately for their parents to establish clear rules and set limits on their behavior, don't expect your son to jump up and down with joy when you first inform him of these new household rules and the consequences that go along with them. It's much more likely that your son will react with a shrug of the shoulders or even defiance.
If either of these reactions occur, remain calm and re-iterate (once not a million times) that these are the new household rules which you and your husband will be implementing because as his parents you believe this will make things go better at home.
Then proceed with implementing the rules.
Most of all, have confidence that by establishing clear household rules you will be giving your son what he desires most -- parents who work together to provide him with consistency and stability, and who are not afraid to set limits when his behavior gets out-of- bounds.
Over time, you will notice your son's behavior slowly become less erratic and demanding. And as things start to calm down, there will be increasing opportunities for positive interactions with him as well.
If, however, the two of you find it impossible to develop these household rules on your own, you and your husband -- not your husband and son -- may need the help of a therapist. If so, choose a therapist who will work with you to develop more effective parenting skills and a specific plan of action.
During the course of their lifetimes, our children will have many opportunity to make friends. What they need from us is not another friend, but for us to act like parents. That means giving them lots of love, but also a willingness to consistently set limits.
When we fail to do so, our children feel adrift in an unpredictable and lonely sea. Even when we do, we can not shield them from all turbulence. But it does provide them with some shelter when it storms.
---
JWR contributor Dr. Wade F. Horn is President of the National Fatherhood Initiative and co-author of The Better Homes and Gardens New Father Book. Send your question about dads, children or fatherhood to him C/O JWR

01/05/99: Top Ten 'Dad' Movies
12/22/98: Silly, Dangerous Ideas About Child Rearing
11/18/98: Problems Develop When Others Do Parents' Job
10/21/98: Government punishes marriage, pushes cohabitation
10/16/98: Television draws teens into vast wasteland
10/08/98: Sibling Conflict Not A Scream For Parents
9/29/98: Dads, moms both get job done with babies
9/23/98: Sleep tight -- and right!
9/09/98: Daddy?
9/03/98: How much should we tell the kids about The Bill-n-Monica Show?
8/25/98: Having class-clown son is no joking matter
8/05/98: When a marriage goes stale
6/29/98: Do bad 'authority-figures' make good parents?
6/24/98: When to tell the truth
6/17/98: An ode to a dad who stuck around
6/11/98: No-fault divorce and the partner who "wants to make things work"
5/28/98: The oys and JOYS of fatherhood
5/21/98: When child-support becomes a 'catch-22'
5/15/98: Why 'shacking-up' for marriage's sake fails
5/6/98: Collision with a pathetic reality
4/26/98: It's time parents learned to 'Just Say No!'

© 1998, Dr. Wade F. Horn