Jewish World Review August 1, 2003 / 3 Menachem-Av, 5763

Dan Abrams
Why is the outgoing president of one of the most influential legal organizations advising attorneys not to represent certain clients?
http://www.NewsAndOpinion.com | Lawrence Goldman, president of the prestigious National Association of Criminal Defense Lawyers, is advising the members not to defend any of the Guantanomo detainees who may be tried at military tribunals.
But it's not because he has some moral reservations about representing people who likely set their sights on destroying this nation. It's because he doesn't like the rules.
Goldman wrote, "The rules regulating counsel's behavior are just too restrictive to give us any confidence that counsel will be able to act zealously or professionally."
What a copout. Why can't the lawyer still be zealous and professional, even if the lawyers are not what they're accustomed to? He's upset that among other things, in these cases a guilty verdict can be rendered with just a two-thirds vote. That the lawyers have to get security clearance, sign certain documents, and the government can monitor attorney-client conversations.
But, yes, those are restrictive rules, no question. All of the protections afforded to defendants in our system don't apply in these tribunals. But that's not a reason to advise defense lawyers not to get involved at all. So next, if they don't like a judge's ruling, they'll advise a lawyer to pull out? And what happens if a new law is passed they don't like?
What a bad precedent to set. If they want to complain about the rules, complain or challenge the rules any way they can. But what will this accomplish apart from ensuring that the defendants don't get the highest quality civilian representation permitted under the rules.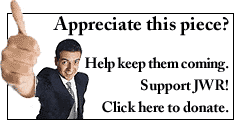 Every weekday JewishWorldReview.com publishes what many in Washington and in the media consider "must reading." Sign up for the daily JWR update. It's free. Just click here.


JWR contributor Dan Abrams anchors "The Abrams Report," Monday through Friday from 9-10 p.m. ET on MSNBC TV. He also covers legal stories for "NBC Nightly News with Tom Brokaw," "Today" and "Dateline NBC." To visit his website, click here. Comment by clicking here.

07/31/03: Class action lawyers get huge fees while their clients get squat
07/30/03: Why it makes no sense to keep the public and the victims in the dark about a key section of the 9/11 report from Congress
03/27/03: Homeland Security update
03/20/03: Did I misunderstand the French?
03/18/03: No longer shielded from reality
03/17/03: Franco-phobic nonsense sweeping the nation
03/14/03: An exception to my "be extra tough on terrorists" rule
03/13/03: Whiner Assad still doesn't get it
03/11/03: What a new deadline for Iraq should really mean
03/10/03: The dishonest arguments against war with Iraq
03/07/03: On Iraq, the administration seems undeterred. It seems, there is no other way out
03/05/03: The so-called human shields in Iraq, now coming back from Fantasyland
03/04/03: Michigan backing off of mandatory minimum sentences for certain drug crimes
03/03/03: Why military tribunals could be the best optione of defining them as military
02/28/03: Is prez signaling a return to the American Bar Association ratings for prospective judicial candidates?
02/26/03: And now the "don't-blame-me" attitude is extending to mass deaths
02/10/03: Avoid politicizing the shuttle disaster
01/29/03: A litany of violations? That Saddam has not disarmed is already a given
01/23/03: Why the feds should not give up on the prosecution of alleged 20th hijacker in a federal court
01/22/03: What was Powell thinking?
01/21/03: Human rights groups still don't get it when it comes to the new war on terror
01/16/03: Yet another reason why we shouldn't trust the Saudis
01/13/03: Why the administration should share intelligence with U.N. inspectors
01/10/03: From a special punishment to a garden variety one
01/08/03: Should victims of a terror attack sue the city?
01/06/03: The "Jackpot Jury" syndrome continues
12/30/02: It's the holidays, let me order my wine!
12/20/02: The judge who dropped the ball in the battle over who owns Barry Bonds' 73rd home run ball, valued at nearly $2 million
12/19/02: Requiring Pakistani and Saudi male visitors to register with the INS
12/18/02: Why many seem to misunderstand Iraq's international obligations
12/17/02: Shouldn't there be a standard for what would trigger a war with Iraq?
12/13/02: Judge Rose by what he did on the field
12/12/02: Manhattan prosecutors making a mistake in the Central Park jogger case
12/11/02: Why our government refuses to fully cooperate in the prosecution of a possible 9/11 conspirator
12/10/02: Hezbollah, not a terrorist organization, says Canada
12/09/02: The world's cynical view of America
12/04/02: Why we need to stop electing judges
11/27/02: Why men should be able to sue women who lie about who's the daddy
11/26/02: Training lawyers to be touchy-feely
11/25/02: The story of a real American hero
11/22/02: In Illinois, academics lawyers, judges hurting their pro-life cause
11/15/02: A close reading of Iraq's letter of acceptance makes it clear that Saddam will almost certainly refuse to live up to its terms
11/14/02: Al Jazeera: A state-sponsored mouth-piece
11/13/02: Should Moussaoui be sent to a military tribunal?
11/12/02: Should human rights activists complain about the detainees' treatment?

© 2002, MSNBC