Jewish World Review May 13, 2004 / 22 Iyar, 5764

Lloyd Grove
The young (and snarky) JFK; Did Ford have a better idea?; more
http://www.jewishworldreview.com | NEW YORK — John Fitzgerald Kennedy was assassinated four decades ago, but the JFK myth is alive and well.

Today, the Smythe autograph dealers in lower Manhattan will auction off 35 unpublicized JFK relics valued at $25,000 — from the collection of the late Henry James Jr., who befriended Kennedy when both were at Stanford University before World War II — that shed new light on JFK's barbed sarcasm and his less-than-enlightened attitudes toward women.

In a handwritten letter to his pal, Kennedy recounted — with gimlet-eyed irony but little attention to spelling and grammar — his experiences at an academic conference in Riverside, Calif.

"Arising at 5:30, I hit the road for the old Mission Inn, with my eyes a bright red, cheeks grey and nose purple, after a refreshing drive from old L.A. in the pouring rain," Kennedy scribbled in December 1940. "Entering the breakfast room, I met my fellow rapporteurs, who turned cold fishy eyes and intellectual foreheads on me. On my left sat . . . a pasty blonde who could have done with a bath — a P.H.D. from Cal. On my right, my roommate, a double for the role of Lonnie in Of Mice, who turned out to be a P.H.D in Geography. . . . There was little conversation at breakfast, a question of where I (had) gotten my P.H.D., and then sort of a horrified silence when I told them I was merely a B.S. from Harvard and auditing courses at Stanford . . .

"Luncheon was another meal full of good fellowship. Mr. Blank asked me if I had read Europe in the Spring by Clare Booth. I said yes — and said 'Not too good, very emotional, a typical womans book.' There was another instant of silence. . . . However, I would like to report that I have now won the group over, first by assiduously reading their doctors thesis, and looking wide-eyed & boyish the rest of the time. . . . I don't think it would be unfair to say that I have become the Toast of the Institute and my coronation became complete when I kissed lightly and politely, the least ugly of the P.H.D.'s, just to test the extent of my popularity."

Typical politician.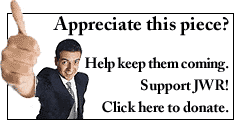 DID FORD HAVE A BETTER IDEA?

Automobile industry gadfly Arianna Huffington suspected something was fishy when organizers of this week's pro-green "LOHAS 8 Forum Agenda" — for "lifestyles of health and sustainability" — abruptly disinvited her from giving Wednesday morning's keynote address.

Huffington, who last year spearheaded a controversial ad campaign against Detroit-built gas-guzzling SUVs, was scheduled to be paired with Ford Motor Co. executive Tim O'Brien, whose company is underwriting the Los Angeles conference to the tune of six figures.

Huffington told me: "I wonder if somebody at Ford told them to cancel me. I don't think that was one of Ford's better ideas."

O'Brien didn't return my phone call. Conference organizer Brad Warkins Tuesday acknowledged Ford's largess but said enigmatically: "It's not philanthropy. Nothing comes for free." Warkins declined to say if Ford demanded that Huffington be cancelled and said she has been invited to speak on Friday instead.

But Huffington called the new invitation "a fig leaf."

"We have been in discussions for the past four months. They have known for a long time that I have to be in New York to go on the 'Today' show for my book," titled "Fanatics and Fools."

Meanwhile, actor-environmentalist Ed Begley Jr. was scheduled to introduce Huffington and O'Brien with 8:30 a.m. "welcome remarks."

But on Tuesday, after I told Begley about the Huffington cancellation, he decided to drop out. Begley told me that when he phoned LOHAS organizers for an explanation, he couldn't get a straight answer.

"I suddenly find myself unavailable — that is my very brief comment," Begley said. "They couldn't explain to me why Arianna was disinvited, so I'm not commenting on why I'm unavailable. The truth is, I have to go to the airport to pick up my half-sister in my Toyota RAV 4. She doesn't land till 10 a.m., so now I'll have plenty of time."

THE BRIEFING

GREEK TO THEM?: We couldn't resist quizzing folks at Monday's star-studded "Troy" premiere, "If you were a Greek god or goddess, who would you be?" Some answers: Sean Bean, who plays the wily Odysseus: "Probably Zeus. He seemed to be able to do whatever he wanted to do. He seemed like quite a gentleman." Garrett Hedlund, who plays Achilles' cousin Patroclus: "Poseidon." Will Smith: "I'd be Negros." Ashley Olsen: "I don't know." U2's Bono: "I am a Greek god." And a very earnest Chris Noth: "I'm only going to leave you with this, and you'll have to go look it up and do a little research. The struggle between Apollo and Dionysus is the struggle that is the most interesting." Makes you think, don't it?

MAYBE THIS KID HAS A FUTURE ON BROADWAY: The high-powered crowd at Monday night's Dramatists Guild awards dinner was riveted when Stephen Sondheim — who never, ever performs — joined Nathan Lane at the Hudson Theater for a rousing rendition of Sondheim's "Comedy Tonight" from "A Funny Thing Happened on the Way to the Forum."


Comment by clicking here.

05/07/04: Teresa on TV; Joan Rivers: "C-Class" at best; red-faced apology; more
05/05/04: Burger brouhaha over meat movie; the Age of Adu; what a difference an indictment makes; more
04/23/04: Ahoy, Katie!; Barbara and Martha, together again!; unreality TV?; more
04/21/04: Things don't go better with Coke?; swipes from the grave; "Mami" to the rescue; more
04/16/04: Does this 'Apprentice' need some etiquette lessons?; Kerry's laff-riot stepson; fully baked?; more
04/14/04: Dick Clark's diabetes; Barbara Walters' $6 Million book; reality (television) bites; more
04/09/04: S-e-x and the Koran; PETA targets Beyonce; more
04/08/04: Stephen King vs. ABC; trapping the love rat; Liv-ing it up; more
04/02/04: Don't mess with Brooke Hogan's dad; lawyers dancing on the head of a pin?; Trump vs. Trump?; more
04/01/04: D'OH! "Simpsons" actors in dispute with Fox; Diane Sawyer and Janet Jackson won't be bosom buddies; Condi and Maxim?
03/31/04: Hair-raising day on Wall Street; Foxy lady loses 50 Cent; How do you say "party animal" in Hebrew?; Rev. Al and Janet Jackson; more
03/26/04: Bye, bye Banfield; from porn to politics?; more
03/24/04: The perils of film criticism; Dole-ing out compliments; but what about a cure for career lag?; more
03/19/04: Trump trumps everything; Mario vs. Joe; Trudeau pays up; more
03/17/04: Remembering Hillary %*&$#! Clinton; PUT AWAY THAT KRYPTONITE!; more
03/12/04: OOPS!, did Jayson Blair do it again?; skewing Young; more
03/10/04: The laugh that dare not speaks its name; Mistaken identity? NAH!; Is this a great country or what?
03/05/04: Bush vs. Kerry: a Skull session; Kramer vs. The Times, scorch session; enthusiasm curbed; (Tina) Brown-nosing?
03/03/04: Oscars memorialize Hitler's fave filmmaker; baubles, bangles and Kelly Osbourne; moonwalking through cyberspace; more
02/27/04: Regan rebellion; Ed Limato strikes again!; tears for Tom; more
02/26/04: McCain predicts a nasty campaign; the misdirected missive; Janet Jackson, the interview; more
02/20/04: Introducing the Kerry sisters; cyberflap!; Snoop Dogg v. O'Reilly?; more
02/18/04: John Kerry's Friendster?; On the mend?; food for fraughtm; more
02/13/04: John & Carolyn, redux; Zell Miller shows the flag; kill Quentin?; more
02/11/04: HE FEELS BAD!; Dick Cheney, still not dead; more
02/06/04: Glittering Grammys; a laurel for Janet; Haryl's heart
02/04/04: Shriver quits NBC; "Marshmallow" Mike Tyson?; Super Bowl propriety?; MTV's next production?; more
01/30/04: The political forehead front; Alies meets Franken; the art of the hype; arrested career development?
01/28/04: Eyebrow-raising politics; call him indescribable; Woods vs. Williams; more
01/23/04: Eyebrow-raising mystery; who's punk'd anyway?; don't curb your enthusiasm; more
01/21/04: Ridiculous lives of the self-important stars; long arm of the law; all's fair in love and literature
01/16/04: Global warming at a glacial pace; targeting pop culture; Is 'the price of loyalty' too high?
01/14/04: Busting on the "cult buster"; Sarsgaard thinks globally; one angry woman; more
01/08/04: Sitcom star won't be excused from Blake murder trial; fierstein on fire; Drudge & Blumenthal, together again
01/07/04: Bono hits a brick wall; Britney, before the nuttiness; the Arianna primary; more
01/02/04: Where have you gone, Joe DiMaggio!?; "Bachelor" bruises; Returning to the scene of the crime?
12/31/03: Disaster for the defense; no-war Omar; the shoe must go on; more
12/19/03: Bob Shapiro's free commercial?; Are sophisticated and hip New Yawkers easily duped?; Positive Saddam fallout?; Ratty insult?
12/17/03: Magic Mystery Tour?; Russell Simmons battles ink by the barrel; Would it have killed her to say 'get well soon'?; no Gest room
12/12/03: Karenna defends her dad; now she tells us!; say it ain't so, Mo!; more
12/10/03: Man & wife, interruptus; pepperoni has feelings, too; more
12/05/03: The knives are out; Who's sorry now?; JWR in the news
12/04/03: The war of the gest-minnellis; something borrowed, something cashmere; fashion trendsetter, nailed!
12/03/03: Colombian grace under pressure; Lord of the Screwups; more
12/02/03: Curb your anti-Semitism?; fame fatigue?; bowing to pressure?; more
12/01/03: Dennis the Menace strikes again; first literary feud of the holiday season; Norma Jean & Hef in heaven?; the fog of McNamara; more
11/26/03: Catherine Crier raps Jacko's TV defender, refuses on-air hint of racism; At 50, Tina's in full cry; STAY OUT OF HER WAY!; more
11/25/03: The mogul strikes back?; go ahead, make Harvey's day; more
11/24/03: Georgette's pilfered baubles; prosecutor of pop?; absent but not missed?; Norman Mailer's prescription for education reform; more
11/20/03: Is a movie career in store for Maria Bartiromo?; People for the Unethical Treatment of Humans?; more
11/19/03: Scientologists on Razor's edge?; picking a winner?; source on a hot tin roof?; more
11/18/03: Clay Aiken neuters PETA?; THEM'S FIGHTIN' WORDS!; a mural for Joe
11/17/03: When networks attack!; leaky Fawcett; forget the Paris Hilton video!; more
11/13/03: Publicity hounds; Prophetic priest; Dumb and Dumber
11/12/03: Not so Rosie; do you believe in miracles?; catalogue of sins; My Heart Belongs to Koppel
11/10/03: Gen. clark on the Subway diet; life of the party; MTV's Dumb and Dumber?; the hug issue; but does the $6,000 shower curtain convey?; red faces at Buckingham palace?
11/06/03: Let them eat pita?; verbal jousting; pretenders to the throne?
11/05/03: Will Harvey Weinstein and Gregg Easterbrook now be pals?; crazed Quentin; more
11/04/03: Herding off the hipsters; more
11/03/03: Dean's tell-all on himself?; Lisaraye vs. Mya?; the odd couple; no need to panic; just don't call him "Scooter"!; Rosie scenarios
10/30/03: Autumn of the editor?; Cynthia Nixon's split may be costly; 'Burning' questions
10/29/03: Ah-nold, unauthorized!; a dilemma for Melissa Gilbert? not even Frank Gifford can help him now!; nobody wanted Elizabeth Hurley
10/28/03: It's Cher calling!; Brown Alert
10/27/03: Paparazzi uncensored!; where's Aaron Brown?; postcards from the middle; invasion of the party snatchers?; House flooded when not afire?; suspenders of disbelief?
10/23/03: Ace up Howard Dean's sleeve; Woody's ordeal; Paul Simon's kid makes good; the non-beginning of a beautiful friendship?
10/22/03: Showing the flag; Joe Frazier, smokin'!; see Carville bruised-up — sort of
10/21/03: Morris & Jaci's charm offensive; Hell hath no fury; Wintertime for Hitler
10/20/03: Isn't it rich?; men (and the occasional woman) behaving badly; peacenik John Lennon supporting the U.S. military?; courageous Connie
10/16/03: George Clooney and intolerable Drudgery; Cameron goes native; and you thought the war in Iraq was nasty?; now it can be revealed; star wars?
10/15/03: Kerik into the breach?; holiday pander?; "the Dink" corrects the record; more
10/14/03: Madge gets mad, lips are sealed; the candidates who listen; he who hesitates is Beatty
10/13/03: Clothes, but no cigar; New Yorkers put a Sox in it; mad at Matalin?; more
10/09/03: Gray Davis goes to the movies; Ali Wentworth, working blue; Law & Order?; pot of gold at the end of the rainbow room?
10/08/03: Art-time for Hitler; the actress who hates movies; lying "Liam"
10/07/03: Pond scum of the rich and famous
07/24/03: Ali and George, living it up; Mel Gibson's Washington power play
07/21/03: White House smear?
07/17/03: Yet another intern scandal; it's her party and she can pay if she wants to
07/14/03: On the auction block: JFK'S boxer shorts; love bytes the maestro
07/10/03: A hairy situation at Homeland Security; Van Susteren v. Orth
06/30/03: Rep. Patrick Kennedy: I've never worked a (bleeping) day in my life; Drudge's dressing down; Ken Lay's Kerry connection
06/26/03: Rapping the beat
06/23/03: Another Watergate scandal?; AL GORE TV!
06/19/03: Tony Snow, rocker?; that won't be crow on Mr. Carlson's plate
06/16/03: Missing dog, ransom demand, Hollywood ending
06/12/03: Giving both parties the needle
06/09/03: WHAT DID SHE KNOW, AND WHEN DID SHE KNOW IT?
06/05/03: Incoming from Barbara Bush?
06/02/03: Bob Dole's plan for fighting unemployment
05/29/03: Newt's new novel
05/27/03: Hitchens & Blumenthal, together again; He still believes in a man called Hope
05/09/03: Close, but no cigar; Romeo & Juliet with a happy ending?; Geraldo to help Heebs?
05/05/03: So Bill Gates and Tom Brokaw walk into a coffee bar . . .; hotel hell; more

© 2003, Creators Syndicate