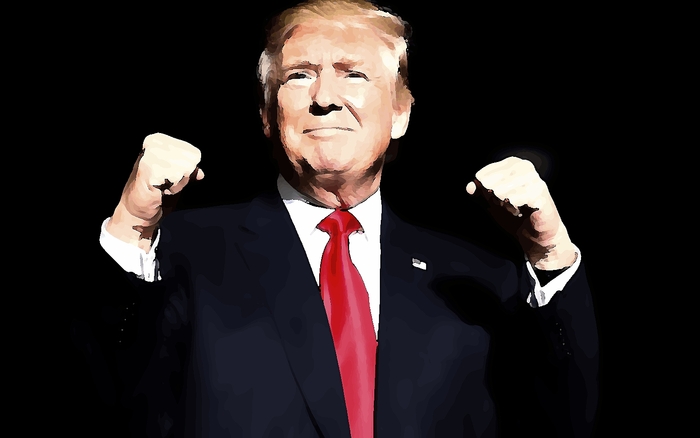 It took grit and gumption for Donald Trump to call out House Republicans.
Maybe he did not fully comprehend the risks of criticizing the very lawmakers who he needs most to advance his agenda, but two tweets from the president-elect were pivotal to saving the Office of Congressional Ethics from being declawed and neutered. The bottom line is that there will be more rigorous oversight of lawmakers than there would have been otherwise, because he chose to speak up when he could have stayed silent.
Yet so many on the left are so determined to deny Trump any victory, or even legitimacy, that they won't give him any credit for challenging his own party - even when they agree with his aim and wanted the outcome.
In that way, the move offered a window into how difficult it will be for Trump to govern in the year ahead: to get eight Democrats for major initiatives in the Senate, especially, but also to pick off House Democrats for an infrastructure package that may repel deficit hawks on the right.
As Senate Minority Leader Chuck Schumer, D-N.Y., told CNN in an interview that aired last night, "The only way we're going to work with him is if he moves completely in our direction and abandons his Republican colleagues."
Think about how Schumer would have responded if Mitch McConnell made that statement about a President-elect Hillary Clinton. . .
Trump tweeted, "With all that Congress has to work on, do they really have to make the weakening of the Independent Ethics Watchdog, as unfair as it"...
"........may be, their number one act and priority. Focus on tax reform, healthcare and so many other things of far greater importance! #DTS"
• Yes, Trump technically criticized the timing of the House GOP's move - not the substance of it. Yes, his wording was mealy-mouthed. Yes, many ethical questions swirl around him too. Yes, thousands of people were already calling House offices to complain to their lawmakers before Trump tweeted. All these points are relevant, but they don't mean that the intervention was irrelevant.
A few Republicans claimed that Trump had nothing to do with the decision to scuttle the change. Liberal writers cited them as evidence. But of course they would say this. Who wants to publicly acknowledge that they just kowtowed to Trump?
• There really is something to the idea of "Trump Derangement Syndrome." He operates so far outside the norms of how business has always been done in Washington, and his manner seems so gauche, that he provokes a visceral, occasionally irrational, reaction in serious, normally sober-minded people. Recall Ruth Bader Ginsburg's attacks on Trump last summer, which the justice subsequently apologized for. Or that Hunter College professor who got escorted off a JetBlue flight last month after screaming "your father is ruining the country" at Ivanka as she traveled with her three kids for the holidays.
• Normally smart analysts are so personally uncomfortable with Trump that they are unable to see how savvy and astute some of his moves have been from a political perspective. Even two months after the election, neutral stories about the president-elect can still provoke hundreds of liberal activists to email that we are "normalizing" Trump.
• Most Americans, who have day jobs and are not watching their Twitter timelines all day, have a very impressionistic view of politics. That's why the Carrier deal, while problematic for a myriad of reasons, was such a political coup for Trump. Same with the attacks on Boeing and all the jobs announcements. Regardless of whether he deserves credit - in many cases he does not -- he looks like a man of action.
• Calling out his own party on ethics is very on-brand for Trump. Millions of people gravitated to him because they wanted an outsider. They bought into an early riff in his stump speech that because he used to buy off politicians with campaign contributions, he knows how to go after the corrupt ones. Many believe that he will close the loopholes which he has taken advantage of over the years. Helping to preserve the OCE is a talking point Trump can use through November 2020.
• Jesse Ferguson, one of the lead spokesmen for Hillary Clinton's presidential campaign, warns his party against obstructing Trump for obstruction's sake. "Simply opposing Trump because Republicans opposed Obama isn't a winning political strategy for Democrats," he explains in a USA Today op-ed. "If one thing is crystal clear from the last 36 years - since Reagan's election in 1980 - it's that the more voters hate government, the more Republicans benefit. That's their strategy. We can't play into it. To quote Admiral Ackbar, 'It's a trap.' If our only plan is to make government nonfunctional like Republicans did to us, then we will end up invalidating the basic progressive thesis: that government action can improve people's lives. We can't win the public debate in elections about a progressive agenda if we end up proving the central hypothesis of the conservative agenda - that government can't get things done - to be true instead."
More Washington Post team coverage of the Day One donnybrook:
• Ten Post reporters fed a TICKTOCK about the chaos in the Capitol: As Trump tweeted, Republican House leaders were meeting in Paul Ryan's office contemplating just how the day had gotten away from them - and what they might do to salvage it. "Ryan would soon be sworn in for another term as speaker, and his wife and children, dressed up for the occasion, lingered outside. House Majority Leader Kevin McCarthy (R-Calif.) told the leaders that the rules legislation with the ethics amendment would have trouble getting the 218 votes needed to pass - and they decided it must be scrapped. The leaders called an emergency meeting of Republican House members in the Capitol basement. McCarthy pointedly asked the members whether they had campaigned last fall on decimating the ethics office - or on repealing President Obama's health-care law and changing the tax code. The windowless room fell silent, according to several lawmakers in attendance. McCarthy gave them an ultimatum: Reverse course now, among fellow Republicans, or take a public floor vote. He asked for unanimous consent to remove the rules change - and shortly after noon, he got it."
• Noting that nearly two-thirds of House Republicans have never served with a GOP president, Dana Milbank compares leading the conference to having 239 children. "And if this fractious bunch can't agree without a brouhaha on the routine matter of a rules package, wait until they get to tough stuff, such as replacing Obamacare and funding the government," Dana opines.
• "The Trump effect has landed forcefully on Capitol Hill," Paul Kane writes in a smart analysis. "By aiming his social-media fire hose on fellow Republicans - even as he assembles a Cabinet filled with billionaires and insiders - Trump made clear that he intends to continue giving voice to the anti-establishment outsiders who propelled him . . . That may give Trump leverage over those members of the Republican conference who have claimed the 'outsider' mantle for the past six years, a period when the most conservative Republicans have gained stature back home by flouting leadership . . . They operated on the assumption that the only likely political penalty was a primary challenge from the right. Now, their party's leader wields a Twitter account with 18.5 million followers. As he prepares to enter the Oval Office in little more than two weeks, Trump is far more popular in their districts than they are. He employs as his chief strategist the former leader of Breitbart News, a conservative media outlet that has included among its top targets the skewering of Republicans not deemed suitably conservative. . .
"As a result, the first day of the 115th Congress served as a sort of beta test of how some Republicans will react when Trump sics his media power on them. If the most conservative flank tries to buck Trump on a pricey infrastructure deal, how will they handle the heat from Trump's Twitter feed? If moderate Republicans try to block his moves on health care, will they withstand the heat if Trump goes to Breitbart to attack them by name? On Tuesday the answer came fast: Run for cover."
• David Weigel relays that many Democrats are frustrated that they did not get more credit for organizing and mobilizing opposition to the rule changes. Among them: Rep. Keith Ellison, a candidate for DNC chair.
Ellison tweeted, "Democrats and activists organized against @HouseGOP closing the ethics office. They stopped it - not a tweet from @realDonaldTrump."
• Jena McGregor, an expert on leadership, says Republicans like Rep. Bob Goodlatte blundered by ignoring the power of first impressions: "If you want to send a message, the first one is the most crucial. . . . To put weakening that capability at the top of any agenda sends a strong signal about what's important. This is why new CEOs give so much attention to what their first moves will be at the top. Why new leaders talk about spending their first few weeks in power listening to their employees or their constituents. . . . It sets a tone for the tenure or the term that gives people a sense of what's on the horizon. It draws the battle lines for the coming months and years, puts a stake in the ground for what the priorities are, and provides a point of reference that people will repeatedly turn back to for measuring progress and achievements. It tells people what leaders think is most important."
• Robert L. Walker, a former chief counsel and staff director of the Senate and House ethics committees, writes in an op-ed published by The Washington Post that the OCE needs changes but not the ones Republicans proposed.
Two other smart takes:
• "What we've learned from GOP's ethics fiasco," by Politico's Jake Sherman and John Bresnahan: "A new day in Washington? Not even close. Five political dynamics have become abundantly evident: The GOP is still willing to defy its leadership. . .but leadership is willing to strike back. . . . Republicans aren't immune to overreach. . . . Trump isn't interested in Hill shenanigans - and could make members of Congress pay. . . . Shortsightedness could be an issue."
• The New York Times reviews previous efforts by lawmakers to avoid being held accountable by an independent watchdog. From Eric Lipton and Matt Flegenheimer on A1: "In 2011, Representative Melvin Watt, a North Carolina Democrat who later left Congress to join the Obama administration, tried to cut the agency's budget by 40 percent, a proposal that failed on a 302-102 vote. The House Ethics Committee, the only body that has the power to actually punish lawmakers, also frequently clashed with the office, which serves more as a grand jury that investigates allegations and issues findings to the Ethics Committee of probable cause of misdeeds. For example, the committee tried in 2015 to force the Office of Congressional Ethics to shut down its investigation into allegations that nine House lawmakers' trips to Azerbaijan in 2013 had been improperly paid for, in part, by a foreign government entity. Some of the lawmakers also accepted improper gifts during the trips, including rugs and crystal."
A big loophole: "House rules require the Ethics Committee to act on recommendations by the Office of Congressional Ethics within 90 days, with the expectation that it will either formally clear the targeted lawmakers or create investigative committees to determine if rules or laws have been violated. But in recent years, the committee has increasingly relied on a loophole that allows it to informally continue to review allegations without closing a case, a step it has taken in 21 of the 68 cases referred since 2009. Most frequently, that means an end to the matter, at least as far as the public is aware, even though the Ethics Committee never formally announces that it has closed the investigation. As of this week, cases in such a limbo include allegations against Representatives Mark Meadows, Republican of North Carolina; Roger Williams, Republican of Texas; Markwayne Mullin, Republican of Oklahoma; Cathy McMorris Rodgers, Republican of Washington; Bobby L. Rush, Democrat of Illinois; and Luis V. Gutierrez, Democrat of Illinois."