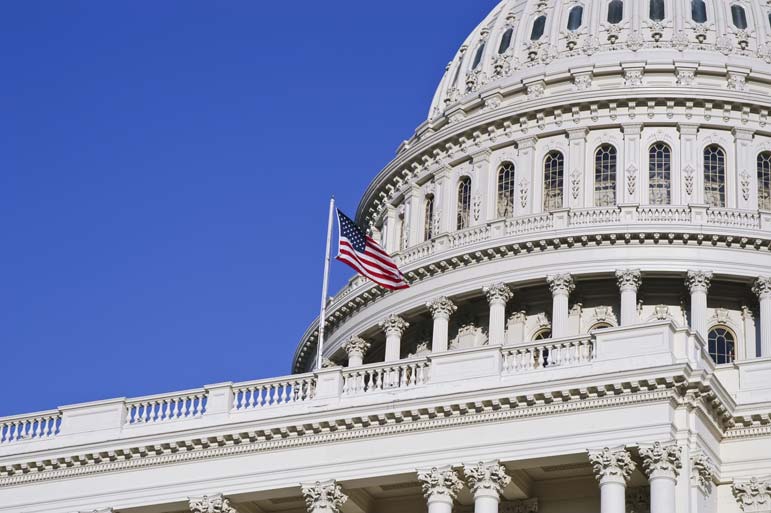 The Centers for Disease Control and Prevention decided on Sunday that people aged 75 and older, along with essential frontline workers, should be next in line to get the Covid-19 vaccine — a significant change from its earlier proposal , under which elderly Americans would have been forced to wait until after tens of millions of non-healthcare workers and people with preexisting medical conditions got their shots.
That initial proposal was a blunder: The data confirm overwhelmingly that age is a far greater risk factor for dying of the virus than preexisting conditions, and it would have been inexcusable to make Americans in the 80s and 90s wait for less vulnerable people to go first merely because they are obese or diabetic.
Meanwhile, a considerably less vulnerable population is going first: members of Congress and other federal officials. Why? Because, according to National Security Council spokesman John Ullyot, "continuity-of-government protocols established in executive policy" so specify.
Congress may not command much respect among voters, the overwhelming majority of whom consistently express disapproval for the way it does its job. If half of Congress called in sick for three months, Americans wouldn't notice the difference. But that never seems to stop senators and representatives from holding themselves out as an elite class entitled to platinum-caliber pay, perks, and privileges. That includes cutting in line to be sure they get the Covid vaccine before your elderly loved ones do.
Which explains those pictures released last week, the ones that showed not only House Speaker Nancy Pelosi and Senate Majority Leader Mitch McConnell (who actually are elderly) getting their vaccines, but scores of younger members as well, including Alexandria Ocasio-Cortez, Marco Rubio, and Chris Murphy. Thirty- and fortysomethings are not remotely close to being a high-risk category for Covid, and members of Congress are almost by definition nonessential workers. For them to get vaccinated while their eighty- and ninetysomething constituents must wait is outrageous.
And typical.
In so many ways, members of Congress shove to the front of the line, living large on the public dime. Open the Books, a respected nonprofit, nonpartisan organization that researches and publicizes spending at all levels of government, calculates that the perquisites of serving in Congress cost American taxpayers more than $1.3 billion last year. In a recent report, it laid out some of those benefits and bonuses — from salaries that are quintuple the US median to lavishly subsidized foreign and domestic travel to some of the most generous pensions in America.
The whole infuriating report is worth reading. But for those who want the TL;DR version, Forbes published a summary by Adam Andrzejewski, the founder and CEO of Open the Books. Some excerpts:
SALARY: The House Speaker makes $223,500, Majority and Minority Leaders earn $193,400, and the President Pro Tempore makes $193,400. Regular members earn $174,000. [The median income for a full-time American worker, by contrast, is just under $36,000 per year, according to the Federal Reserve.]
Outside income is restricted to eliminate conflicts-of-interest. However, we found significant loopholes in the ethics laws. Who knew that powerful members can be employed by federal contractors based in their districts?
Sign up for the daily JWR update. It's free. Just click here.
For example, during a 13-year period, Vanderbilt University employed Representative Jim Cooper (D-TN) and paid him $250,000 in total salary (2005-2018). The university received $2.6 billion in federal contracts, grants, and direct payments from 2014-2018. The powerful congressman serves on the Budget Committee and on Oversight and Government Reform. Located in his district, Vanderbilt's executives and employees are Cooper's #1 campaign contributor ($135,261).
Congressional pensions are another extraordinarily lucrative perk. Retired senators and representatives do not, as is sometimes thought, collect their congressional salaries for life. But retirement pay can be strikingly generous. Like other federal workers, members of Congress can qualify for a pension in addition to Social Security benefits. Congressional pensions vest after just five years of service, and can be paid out as early as age 50. "For each year of service," Andrzejewski writes, "a member's annual pension increases by about $2,000," so that after just six years of service, a member is entitled to a pension of approximately $12,000 per year. Of course, most members of Congress serve longer than that, and their pensions reflect it.
According to the Census Bureau, the average Social Security recipient nets around $15,000 a year in benefits. But a member of Congress who retires after 20 years in the House and/or Senate can expect to average $59,000 annually in pension benefits. Exactly how much a particular retired member is collecting, however, is usually impossible to find out. As Andrzejewski notes, "federal pensions are legally classified as 'private information' and not subject to Freedom of Information Act disclosures. So taxpayers help fund and fully guarantee the payouts, but have no right to see who receives how much."
It doesn't stop there:
TRAVEL: Since 2005, members of Congress and their committee staffers have embarked on 16,367 trips. During this period, the top destinations were Israel, United Kingdom, France, Germany, and United Arab Emirates.
Last year, the US House spent $4.3 million on overseas travel. Our auditors combed through the disclosures and found some pricey trips taken in the summer of 2019.
Rep. Ed Perlmutter (D-CO) spent $23,000 on a one-week trip to Australia. Rep. Frank Pallone (D-NJ) spent $75,000 on an eleven-day trip to Italy, Morocco, and France. Rep. Richard Hudson (R-NC) spent $14,357 in transportation costs to Germany, Niger, Nigeria, Mali, and France on a one-week trip. . . .
Committee staffers get approved for travel too. Three Appropriations Committee staffers flew to Mozambique and Malawi on a seven-day trip at an airfare/transportation cost of $54,600, or $18,177 per person. Five Armed Service Committee staffers flew to Japan and Australia on a five-day trip at an airfare/transportation cost of $103,493, or $20,698 per person.
And still more perks:

The pin — which gets members around the lines; the license plate — which allows free parking sometimes in illegal zones; 72% subsidized health insurance; a $25-per-month on-site Capitol Hill gym membership with a swimming pool, sauna, steam room, and paddleball.
There is an on-site beauty salon and dedicated subway to shuttle members around the Hill. Taxpayers spent $10 million over the last five-years on elevator doormen whose job it is to hit the buttons and hold doors.
Furthermore, Congress exempted themselves from certain federal laws, i.e. the Freedom of Information Act, safety and health investigatory subpoenas, [and] protections against retaliation for whistleblowers.
Add to that free air travel to their home states, hundreds of days per year when Congress isn't in session, free parking at Washington's airport, plus free postage, offices, and furnishings. And, as of last week, free inoculations against Covid-19, well before most Americans will be able to get similar protection.
"It could probably be shown by facts and figures that there is no distinctly native criminal class except Congress," Mark Twain observed. That was in 1897. Imagine what he would say today. =