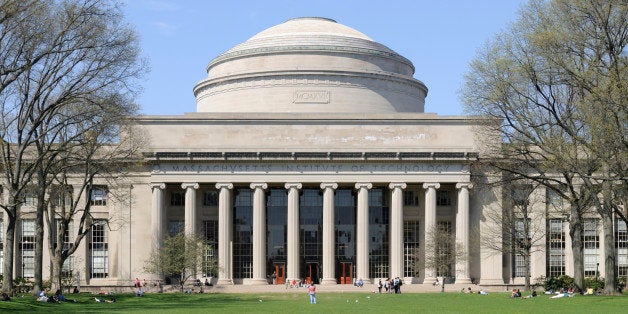 A research organization controlled by the Russian government has invested tens of millions of dollars into establishing a relationship with the Massachusetts Institute of Technology. How much do we know about what it's getting for its money?
"The Russian government is infamous for initiating large-scale hacks against foreign governments and corporate entities and for ignoring international cybersecurity norms," observes the US Department of Education in a recent report . It does so in part through entities like the Skolkovo Institute of Science and Technology, also known as "Skoltech," which it created in 2010 for the purpose of "empowering Russia's technology sector." Critical to its mission is facilitating "exchange and cooperation" with American academics in "key technology topics," including "communication infrastructure, energy research, manufacturing, and space technology."
On its face, Skoltech resembles an American graduate research facility. But it is decidedly a project of the Russian government. "Its board of directors consists of high-ranking Russian government officials," the Education Department notes. Any American institution that teams up with Skoltech is "conducting sensitive research in conjunction with an adversarial government. . . . [T]he public should be aware of such partnerships that concern national security."
So why exactly has MIT accepted more than $51 million from Skoltech since 2014?
The Russian government, like the Soviet government before it, has long viewed US campuses as prime targets of opportunity for espionage and the obtaining of valuable research data. "Dating back to the Soviet era, Russian spies have sought to take advantage of academia's lax security, collaborative, global culture, and revolving door with government," noted the investigative journalism website ProPublica in a 2018 story on Russian penetration of American universities. "In that respect, little has changed since 1938, when Semyon Markovich Semyonov became the first Soviet agent to enroll at Massachusetts Institute of Technology, and made contacts vital to stealing scientific secrets."
According to ProPublica, American higher education remains wide open to such operations: "US universities, ever-sensitive to their finances and global relationships, have largely ignored the threat of foreign espionage: They're ramping up enrollment of full-paying international students as well as opening campuses abroad, which are often subsidized by the host countries."
MIT's connection to Skoltech has proved highly lucrative. Between March 2014 and February 2016, the university received five gifts, totaling $51.5 million, that are attributed to the Skolkovo Foundation in a federal government database of foreign contributions to US universities. In December 2019, MIT also accepted $30 million for a "contract" — no other description is given — from an unnamed Russian source.
Those donations were first reported last month by Christian Schneider in The College Fix, a nonprofit news organization that helps train beginning journalists.
Sign up for the daily JWR update. It's free. Just click here.
"The Education Department report was issued after the department uncovered nearly $6.5 billion in foreign contributions which American universities failed to disclose," Schneider wrote.
On September 26, 2019, Department of Education Principal Deputy General Counsel Reed Rubinstein sent MIT President L. Rafael Reif a letter requesting an accounting of the school's "gifts, contracts, and/or restricted and conditional gifts or contracts from or with all foreign sources." In addition, Rubinstein requested documents specifically related to MIT's relationship with Skoltech.
Moreover, Rubinstein requested documents related to MIT's relationship with Kaspersky Business Lab, a Russia-based cybersecurity company.
In its report, the department notes Kaspersky's suspected ties to the Russian government. The US government grew so suspicious of Kaspersky that in 2017, the Department of Homeland Security expunged Kaspersky products from US government servers due to "ties between certain Kaspersky officials and Russian intelligence and other government agencies."
"Kaspersky alleges independence from the Kremlin, but credible documentation continues to suggest otherwise," writes the Education Department in its report. . . .
In 2017, 2018, and 2019, MIT and Kaspersky partnered to offer a "Cybersecurity Insight" seminar at which attendees could learn about "current cybersecurity technologies, trends, and management practices." MIT, which celebrates its association with Skoltech in feel-good publicity stories , maintains that its joint ventures with the Russian organization "remain aligned with our core mission and values." Quoting Richard Lester, the associate provost for international activities, it defines those values as "helping to solve the world's greatest problems, and working with colleagues around the world who share our curiosity and commitment to rigorous scientific inquiry and to free and open exchange."
I asked an MIT spokesperson whether the university shares the government's concern that partnering with Skolkovo may raise national-security concerns, and whether the school has guardrails in place to make sure that Skolkovo or Russian operatives cannot steal data and technology that could be used against the United States. Her response was a serene assurance that MIT is "committed to engaging with the world effectively and responsibly," and a referral to the university's broadly worded review process for projects funded by China, Russia, and Saudi Arabia.

But is a wholly internal review process capable of spotting and thwarting the next Semyon Markovich Semyonov? Is MIT certain that it can collaborate with Skoltech and Kaspersky, while guaranteeing that its research operations, faculty, and administrative resources remain impervious to attempts at illicit penetration by the Russian government? I don't doubt that the university is comfortable with an arrangement that has added more than $50 million to its coffers in the last few years (to say nothing of that unexplained $30 million Russian "contract" last December). Should that be enough for the rest of us?
MIT conceded in January that several of its top administrators and faculty members were guilty of "collective and significant errors in judgment" when they accepted at least $850,000 from convicted sex criminal Jeffrey Epstein, while bending the rules to keep the donations secret. Those errors "resulted in serious damage to the MIT community," the university admitted — but only after its hand was forced by scandalizing revelations in the media.
There is no connection, of course, between MIT's involvement with Epstein and its involvement with a technology institute controlled by the Kremlin. But if the school's prudence and vigilance could go so badly awry when a mere $850,000 was involved, what "errors in judgment" might occur when tens of millions of dollars are at stake? =