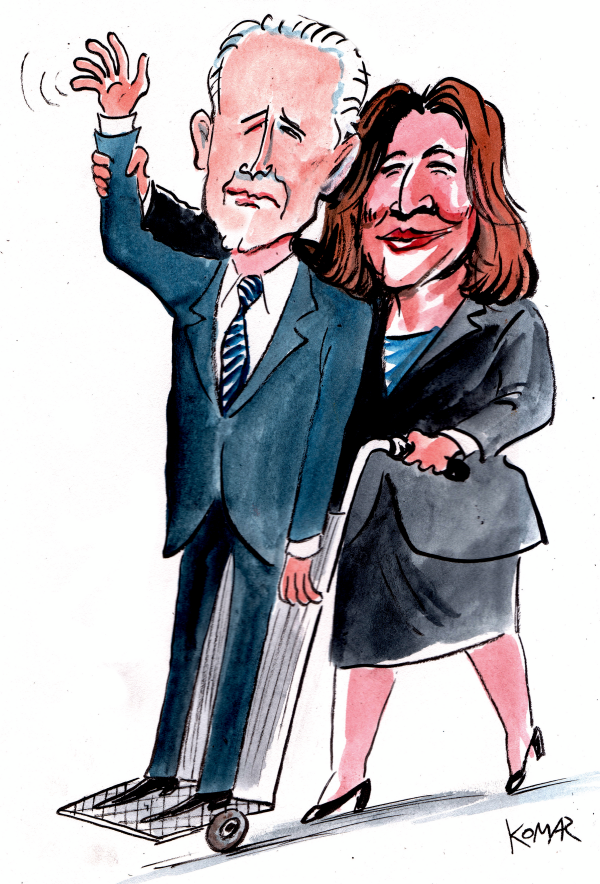 On Twitter last week, I entered a mild demurral to the much-trumpeted declaration that Kamala Harris's election as vice president is an event of monumental historic significance. My benign remark engendered a fusillade of slurs and scorn, largely of the "only-a-white-male-could-be-so-ignorant" variety. Life is too short to waste time debating zealots via tweet — especially zealots who express themselves in racist and sexist terms — so I left the slurs unanswered. But the point I was making seems to me worth developing, so here it is for Arguable readers, expanded from the 280-character limit that Twitter imposes on even the most sagacious observations.
As you know unless you've been hiding out on Osiris-Rex — that's the NASA probe that just snagged a piece of rock from Bennu, an asteroid 200 million miles away — the election of Harris means that for the first time the United States will have a vice president who is a woman and the child of black and Asian immigrants. ( Her father came to America from Jamaica, her mother from India.) This is noteworthy and interesting, and it is "historic" in the sense that it hasn't happened before. But is it history-making in the ecstatic, tectonic, world-altering sense of headlines like these?
New York Times: "Kamala Harris Makes History as First Woman and Woman of Color as Vice President"
Los Angeles Times: "Landmark Ascent for Harris"
CNN: "Harris bursts through another barrier, becoming the first female, first Black and first South Asian vice president-elect"
Yahoo News: "Kamala Harris, shattering racial and gender barriers, makes history as first woman vice president"
Boston Globe: "'A beautiful thing:' Kamala Harris breaks the White House glass ceiling and makes history" It is indeed "a beautiful thing" that in the United States in 2020, a nonwhite woman can be elected vice president on a ticket that gets 75 million votes. Beautiful — but also, by now, a nonsurprising fact of American life. If this were 1920 or even 1970, Harris's election would represent an electrifying and astonishing breakthrough. But in 2020? When women of color serve as senators and representatives, mayors and governors, judges and chiefs of police, Cabinet secretaries and ambassadors? Harris is the first black (or multiracial) woman to become vice president, but she is far from the first to win election to high office, and her victory changed nothing fundamental about how Americans see their country.

Anyone who kept up with the election campaign knows that many voters expressed reluctance to vote for Joe Biden because of his age. But did any voter anywhere, let alone a sizable bloc of voters, resist supporting Harris because of her sex or race? I follow politics pretty closely, and I never saw any hint of opposition to Harris on the grounds that she wasn't white or male. The willingness of Americans to support candidates who don't share their color or gender is old, old news by now.

In an interview 14 years ago, Secretary of State Condoleezza Rice unhesitatingly told a reporter that "a black person can be elected president." In a Gallup Poll some months later, asked whether they would vote for a qualified black candidate nominated by their party, 93% of respondents said yes . Any doubt about that was dispelled when voters elected Barack Obama in 2008, and reelected him four years later. Obama won his party's nomination by defeating Hillary Clinton, but she came back in 2016 to become the first female major-party presidential candidate, winning 67 million votes. She fell short in the Electoral College, but nailed a solid popular-vote majority.

After Obama's and Clinton's breakthroughs — not to mention the vice presidential campaigns of Geraldine Ferraro in 1984 and Sarah Palin in 2008 — the election of Kamala Harris in 2020 is not exactly a transformative moment in American politics. On the contrary, it is what we have come to expect.

Besides, is acceding to the vice presidency — "a resting place for mediocrities," in the words of Democratic historian Arthur Schlesinger Jr. — really such an impressive accomplishment?

It is indeed "a beautiful thing" that in the United States in 2020, a nonwhite woman can be elected vice president on a ticket that gets 75 million votes. Beautiful — but also, by now, a nonsurprising fact of American life. If this were 1920 or even 1970, Harris's election would represent an electrifying and astonishing breakthrough. But in 2020? When women of color serve as senators and representatives, mayors and governors, judges and chiefs of police, Cabinet secretaries and ambassadors? Harris is the first black (or multiracial) woman to become vice president, but she is far from the first to win election to high office, and her victory changed nothing fundamental about how Americans see their country.

Anyone who kept up with the election campaign knows that many voters expressed reluctance to vote for Joe Biden because of his age. But did any voter anywhere, let alone a sizable bloc of voters, resist supporting Harris because of her sex or race? I follow politics pretty closely, and I never saw any hint of opposition to Harris on the grounds that she wasn't white or male. The willingness of Americans to support candidates who don't share their color or gender is old, old news by now.

In an interview 14 years ago, Secretary of State Condoleezza Rice unhesitatingly told a reporter that "a black person can be elected president." In a Gallup Poll some months later, asked whether they would vote for a qualified black candidate nominated by their party, 93% of respondents said yes . Any doubt about that was dispelled when voters elected Barack Obama in 2008, and reelected him four years later. Obama won his party's nomination by defeating Hillary Clinton, but she came back in 2016 to become the first female major-party presidential candidate, winning 67 million votes. She fell short in the Electoral College, but nailed a solid popular-vote majority.

After Obama's and Clinton's breakthroughs — not to mention the vice presidential campaigns of Geraldine Ferraro in 1984 and Sarah Palin in 2008 — the election of Kamala Harris in 2020 is not exactly a transformative moment in American politics. On the contrary, it is what we have come to expect.

Besides, is acceding to the vice presidency — "a resting place for mediocrities," in the words of Democratic historian Arthur Schlesinger Jr. — really such an impressive accomplishment?

Harris has been elected to the job, in the technical sense that she shared the Democratic ticket with Biden. But it was Biden who attracted the overwhelming majority of the ticket's 75 million votes, whether from voters who wanted him to be president or from voters anxious to prevent Donald Trump's reelection. Like all vice presidential candidates, Harris was invited along for the ride. She didn't become Biden's running mate by showing herself to be a strong opponent during the race for the Democratic nomination — on the contrary, she ran a woefully incompetent campaign and flamed out before the first primaries. She ended up on the ticket because Biden promised to select a woman as his No. 2, and came under intense pressure to select one who wasn't white. (I thought Florida congresswoman Val Demings would have been the best choice.)





In other words, Harris was an affirmative action hire . Her previous barrier-busting wins — she was San Francisco's first nonwhite district attorney, and California's first nonwhite attorney general and US senator — were genuine distinctions that she ran for and earned on her own. But the only reason she will become vice president is because Biden picked her for the job. It's nothing to sneeze at, of course. But it's not a dramatic political stunner, either.


"While I may be the first woman in this office, I will not be the last, because every little girl watching tonight sees that this is a country of possibilities," Harris said in her victory speech on Nov. 7 . But in an America where women and racial minorities wield power in Congress and on the Supreme Court, as generals in the armed services and secretaries of state, does Harris's election really send "every little girl" any message that they haven't been sent before?

"As a female, I don't need Kamala Harris to be vice president to think I could be vice president, nor did I need Hillary Clinton to be a presidential nominee to think I could achieve that also," writes Alyssa Ahlgren, a 20something columnist for Alpha News:



As a little girl, I didn't grow up thinking I couldn't be president because an evil systemic patriarchy would do everything in its power to prevent it. I thought I couldn't be president because I figured it would be pretty hard to be a professional hockey player and leader of the free world. [Ahlgren was a collegiate hockey star at the University of Wisconsin.]

As a woman living in the freest, most prosperous country in the world, where opportunities are endless to anyone fortunate enough to call themselves an American, I don't have this skewed perception that I can't achieve something solely based on my reproductive organs.

The idea that an achievement is more important because of the color of your skin, your ethnic background, who you love, or any characteristic outside of merit is shallow and baseless in modern America.



It is demeaning, not empowering, to measure every aspect of an American's achievement in terms of intersectional grievances and identity politics. Of all the things that can be said about Harris's elevation to the vice presidency, Ahlgren argues her physical and racial characteristics are the least meaningful:



Women and minorities are more than capable of success on their own merit and to suggest that their inherent characteristics are what make an achievement "historic" or "special" is condescending and offensive. I don't need an old white man to hand me an opportunity because of my gender. I don't need an old white man to give me shortcuts. I don't need Kamala Harris to succeed to know I can.



Bottom line: America is happily past the day when it was stop-the-presses news to see women and racial minorities at the highest levels of influence and authority. Harris's election is a joyful occasion for her supporters, but it only confirms what most of us already knew: This is a country where any little girl can grow up to scale the heights of power. A nonwhite daughter of immigrants will be the next vice president. It's a "beautiful thing," but it's hardly a bombshell. =
Columnists
Toons
Lifestyles
© 2022 Boston Globe