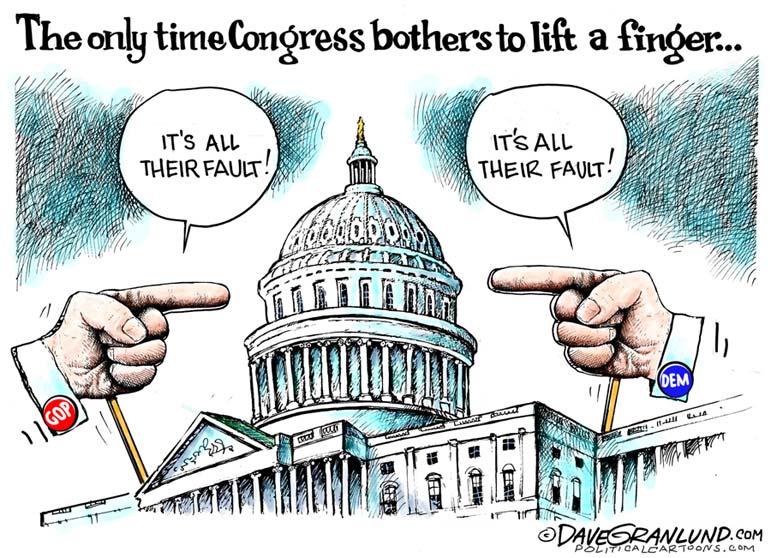 Donald Trump and his liberal media critics rarely see eye to eye. But as they headed into last week's midterm elections, the president and much of the press were in apparent agreement on what it will mean to have a Congress divided between a Republican Senate and a Democratic House of Representatives.
"This is really an election between greatness and gridlock," Trump told a rally in Fort Myers, Fla. Unlike some presidential pronouncements, this wasn't an off-the-cuff remark. Trump warned repeatedly in the campaign's last weeks that returning Democrats to a majority in the House "would plunge our country into gridlock."
Journalists said the same thing.
On "Meet the Press," for example, Peter Baker of The New York Times was asked what it would mean if the election resulted in a Democratic House and a slightly more Republican Senate. "What we set up, then, is a two-year period of complete and total gridlock and fighting," Baker replied. "And you think the Kavanaugh thing was ugly?"
Once it became clear that voters had indeed delivered a split Congress, the G-word was deployed even more frequently. "Get Ready for Investigation Nation and Congressional Gridlock,"
Bewailing Washington's inability to accomplish much because government is divided between competing parties is nothing new. It was common during Barack Obama's second term to heap scorn upon "the least productive Congress ever," just as it was popular during George W. Bush's second term to hear laments that "gridlock has seized control of Washington." Americans can't stand the way Congress does its job, and when pollsters ask them why, they overwhelmingly cite partisan gridlock and the failure to compromise and get things done. Writes Gallup editor in chief Frank Newport: "A dysfunctional government remains, month after month, Americans' pick as the number one problem facing the nation."
But however much Americans may claim to dislike the impasse that ensues when different parties control different branches of government, their votes say otherwise. With Democrats about to assume a majority in the House, Trump becomes the sixth president in a row to face a Congress in which at least one chamber is controlled by the opposite party. Divided power has become the norm in Washington.
Hallelujah.