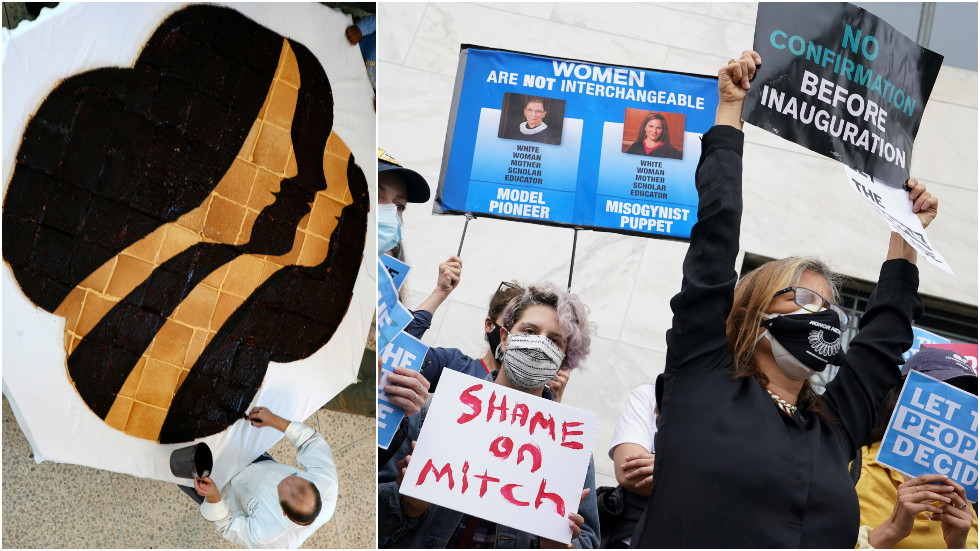 On Wednesday, Girl Scouts of America celebrated the accession of another woman to the US Supreme Court.
"Congratulations Amy Coney Barrett on becoming the 5th woman appointed to the Supreme Court since its inception in 1789," it tweeted, followed by an emoji of hands raised in celebration. Beneath the message was a large graphic titled "Female Supreme Court Justices," depicting Sandra Day O'Connor, Ruth Bader Ginsburg, Sonia Sotomayor, Elena Kagan, and Barrett — the five women who have (so far) been elevated to the nation's highest court.
There was nothing even faintly political or partisan about the Girl Scouts tweet. Nor was it the first time that the organization has taken to Twitter to celebrate the achievement of women raised to the Supreme Court, just as it celebrates the notable achievements of other women, including — to mention a few recent examples — singer Gwen Stefani, actress/producer Reese Witherspoon, and the recipient of this year's Nobel Prize in physics, Andrea Ghez.


Yet the innocuous tweet about Justice Barrett triggered an insane backlash from the left.
"What kind of patch does one earn," sneered Representative Ayanna Pressley, a Massachusetts Democrat, "for uplifting a woman who is the antithesis of justice?" Actress Amber Tamblyn fired off a tweet blasting the Girl Scouts for a message that "won't age well when access to safe abortion and the healthcare needs of millions of women and girls is gutted in this country because of Barrett's addition to the court." Noah Michelson, editorial director of HuffPost Personal, chewed out the Girl Scouts with a "reminder" not to "celebrate someone as a hero to women simply because she identifies as a woman, especially when the thing she did was actually done for her by a gang of disgraceful goons and when she is poised to destroy the lives of so many people."
Unhinged these attacks may have been, but it took only a few hours for the Girl Scouts to cave to the mob. The original tweet was deleted, and two others were posted instead:
Earlier today, we shared a post highlighting the five women who have been appointed to the Supreme Court. It was quickly viewed as a political and partisan statement which was not our intent and we have removed the post.
Girl Scouts of the USA is a nonpolitical, nonpartisan organization. We are neither red nor blue, but Girl Scout GREEN. We are here to lift up girls and women.
In short, the leaders of Girl Scouts — which urges young women "to be aware, alert, and active against bullying" — was mocked and browbeaten by woke bullies, and capitulated without a fight. No anti-bullying patch for them.
Sign up for the daily JWR update. It's free. Just click here.
The Girl Scouts' original tweet congratulating the fifth woman to reach the Supreme Court.
Even after the Girl Scouts knuckled under, the Barrett-bashers continued to lambaste them. Left-wing activist (and two-time failed congressional candidate) Brianna Wu of Boston posted a tweet denouncing the new justice as "the reason today's Girl Scouts won't have access to health care, equal pay or any of the other rights we take for granted" and saying that she would be "skipping [Girl Scout] cookies over this shameful decision."
As Christine Rosen observed in Commentary, this wasn't a case of Left Twitter targeting a foe on the right — many Girl Scout chapters have been promoting a liberal agenda for years:
After Hillary Clinton lost the 2016 election to Donald Trump, the Girl Scouts tweeted, "Thank you for continuing to lead @HillaryClinton. Never stop believing! #LikeaGirlScout." And when Justice Ruth Bader Ginsburg died, they tweeted condolences, including their hope that she would "Rest in Power, Notorious RBG." In other words, the Girl Scouts are already pretty woke. Why attack them?
Because the logic of an energized progressive left demands it. It is a sign of a larger and more worrisome cultural shift that even institutions like the Girl Scouts, which have functioned largely outside the hothouse of online partisan politics, can now swiftly be brought to heel by it. . . .
Going forward, the Girl Scouts can no longer claim to be surprised. On the woke left, no institution can be a noncombatant in the culture wars. Not taking an ideological stance is interpreted as a vote for the other side.

In the politicized culture clash that is roiling American life, there are extremists, fanatics, and haters on both sides. But one aspect of this ideological conflict is overwhelmingly to be found on the left: the determination to suppress any speech or expression — even an anodyne tweet — that is seen as giving support to the other side or that fails to comply with the latest intersectional judgment on what is offensive.
(Another recent example was the alacrity with which Merriam-Webster changed its definition of "preference," labeling the word as "offensive" when used in regard to sexual orientation. That had never been part of Merriam-Webster's definition, but the change was made on the spot as soon as Democrats attacked Barrett for using the term "sexual preference" during her confirmation testimony.)
"When the Girl Scouts can't even congratulate a woman for helping to break a longstanding glass ceiling, we know that we are in trouble," wrote Alan Dershowitz over the weekend. Dershowitz opposed Barrett's confirmation, but as an old-fashioned liberal — i.e., a liberal who still believes in a robust marketplace of ideas and in the importance of allowing all views to compete — he knows that Barrett isn't the real issue here.
The issue is intellectual and political intolerance, and it grows more stifling and totalitarian by the day.
=