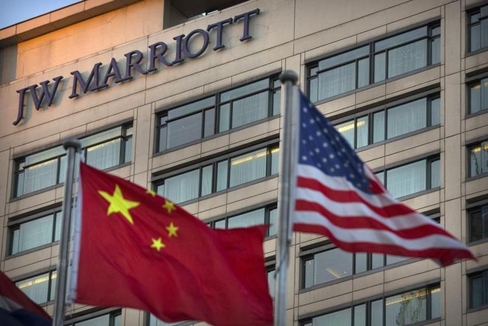 The job Roy Jones landed at Marriott International's "customer engagement" center in Omaha didn't pay much. He got $14 an hour to work the night shift monitoring Marriott's accounts on Twitter and other social-media platforms. On a typical night, Jones might see 300 tweets mentioning the hotel chain, and would respond as seemed appropriate. So when he saw a tweet from Friends of Tibet on Jan. 9 praising Marriott for including Tibet (along with Hong Kong and Taiwan) in a survey it had mailed to members of its rewards program, he did the natural thing: He "liked" it on behalf of Marriott Rewards.
Five days later, he was fired.
Jones's "like" had offended China's communist dictatorship, which goes ballistic at any suggestion that Tibet is separate from China. Marriott's survey was already being denounced on Chinese social media because it referred to Tibet as a country, and the praise from Friends of Tibet, a group that supports Tibetan independence, added fuel to the bonfire. Chinese authorities summoned Marriott officials for some blunt re-education. They ordered the company to halt bookings at its 300 Chinese hotels for a week, demanded a self-abasing public apology, and, according to The Wall Street Journal, required Marriott to "seriously deal with the people responsible."
Marriott hastily complied. Reaching for a decided Maoist term, the company announced an eight-point "rectification" of its corporate policies. CEO Arne Sorenson apologized for the favorable reaction to Friends of Tibet in a statement that repeated Chinese propaganda verbatim. The Canadian contractor that had prepared the rewards-program survey was terminated. And Jones — a hourly worker in Nebraska who had never been trained in the finer points of Asian geopolitics — lost his livelihood.
"This job was all I had," he told the Journal. "I'm at the age now where I don't have many opportunities."
Marriott's shameless rush to prostrate itself before Beijing's totalitarian overlords is not, alas, uncommon. Delta Air Lines and fashion brand Zara were also castigated for referring to Taiwan and Tibet as countries on their websites, and they too dropped to their knees to make amends. Delta apologized for its "grave mistake." Zara promised a "self-inspection" of its website and apps.
When Mercedes-Benz posted an innocuous quote from the Dalai Lama on Instagram ("Look at situations from all angles, and you will become more open"), it was besieged by China's army of social-media trolls, furious at the mention of the beloved Tibetan leader. Mercedes didn't wait for an order to kowtow. On its Chinese social-media account, it posted a contrite apology for the "wrong information" that "hurt the feelings of Chinese people." Springer Nature, which publishes Nature, Scientific American, and other academic journals, recently shut off access from China to hundreds of articles on its website — those mentioning topics blackballed by Beijing, including Tibet, human rights, and the Cultural Revolution.
Xi Jinping's regime is ruthlessly adept at stifling free speech, crushing dissidents, and trampling the human rights of China's people. But as these examples show, it has also grown adept at exploiting its economic clout to demand complicity of powerful Western corporations. Companies wishing to operate in China are expected to say and do nothing that deviates from the Communist Party line — within China's borders or beyond them. Such appeasement is rationalized as the price of doing business in one of the planet's largest markets, and corporate leaders claim that they are simply complying with the law. What they are really doing is collaborating with the world's foremost tyranny, thereby entrenching its rule, abetting its crimes, and repressing its beleaguered subjects.
And doing so, sometimes, with nauseating hypocrisy.
When Apple CEO Tim Cook accepted the Newseum Free Speech award last spring, he emphatically declared that Apple has no higher value than the promotion of free speech and robust debate. "We work to defend these freedoms by enabling people around the world to speak up. And . . . we do it by speaking up ourselves," Cook said. "Companies can and should have values."
But when it comes to China, Apple's values vanish. Last year Apple scrubbed hundreds of virtual private network applications, with which Internet users can bypass government censorship, from its App Store in China. It thereby denied hundreds of millions of Chinese residents their only realistic means of accessing the Internet without restriction. "This App Store purge just created one of the biggest setbacks for the free Internet in China's history," commented TechCrunch, an industry publication.
Apple claimed it was simply adhering to Chinese regulations, but the company isn't forced to cooperate with the regime's brutality. It chooses to do so. Cook made that plain in December, when he traveled to China to speak at a conference promoting Beijing's doctrine of "cyber-sovereignty" — the view that governments have the right to control the content of the Internet within their borders. Cook assured his hosts that the theme of the conference "is a vision we at Apple share." Human-rights advocates were dismayed by his appearance, which amounted to an endorsement of Chinese censorship and control.
Cook brushed their criticism aside. "I never base my actions on how people will feel about it," he said. Unless those people are Xi Jinping and his lieutenants.
Every time a corporation kowtows to China's outrageous bullying, it ensures that more bullying will follow. Every time a company silences itself to avoid Chinese wrath, it plants the seeds of future intimidation and makes it harder for the next company to stand up to such bullying. China is not ruled by enlightened and progressive visionaries, but by totalitarians. Yes, there are fortunes to be made doing business in China. But isn't there a point at which the price — in self-respect, in abandoned values, in cruelty to others — becomes too high?
=