Jewish World Review /June 10, 1998 /16 Sivan, 5758
Don Feder
Planning Clinton's China itinery
HOW FITTING THAT BILL CLINTON should be the first president to visit the People's Barbed Wire Enclosure since the infamous slaughter nine years ago.
In terms of China policy, Clinton has made his own long march -- from berating George Bush for "doing business as usual with those who murdered freedom in Tiananmen Square" to doing business in Tiananmen Square.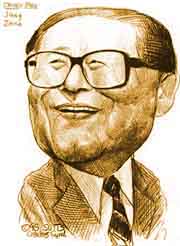 White House flack Mike McCurry pleads out that declining to be received at the site of the '89 massacre would "diss" the butchers. Why, it would be like a foreign head of state refusing to appear with the president on the South Lawn of the White House, McCurry suggested.
The analogy breaks down, somewhat, when one asks where the tank tracks are on the South Lawn.
Still, Beijing Bill will not be deterred from giving enormous face to those wonderful folks who threatened to lob missiles at us during the 1996 Taiwan Straits crisis.
And so, Mr. President, in order to maximize your visit later this month, I would like to offer the following suggestions for your itinerary and travel tips:
Lay a wreath in Tiananmen Square to commemorate the brave tank drivers whose vehicles were dented by the bodies of pro-democracy demonstrators.
Have a fund-raiser in the Forbidden City. See if you can exceed the take at Al Gore's 1996 Buddhist temple bash. Don't forget to visit the Chinese branch of the Clinton-Gore re-election campaign, aka, the People's Liberation Army.
With a bottle of rice wine, christen the latest generation of Long March missiles -- the ICBMs whose guidance systems your campaign contributors at Loral Corp. helped improve, 13 of which are now targeted on American cities. As part of the ceremony, have National Security Adviser Sandy Berger give one of his famous lectures on how missile-technology transfers to the Chi-Coms promote U.S. security. Rumor has it he's perfecting this routine for Comedy Central.
In keeping with your decision to once again extend Most Favored Nation trade status to the People's Gulag, toured one of the many factories that are contributing to China's $49-billion annual trade surplus with the United States -- destroying American jobs as they build Beijing's military might.
Avoid the Laogai prisons, where slaves labor and inmates' organs are harvested for foreign buyers. These Asian Dachaus are a stark refutation of your inane assertion that MFN and other forms of appeasement are moving the Chinese politburo "in the direction of democracy and human rights."
Inspect one of the country's mobile abortion clinics, vans equipped with the latest technology in feticide. Note that they are an important part of China's one-child-per-family policy. Surely, a leader who defends partial-birth abortions can appreciate their contribution to keeping abortion safe, legal and ubiquitous in China.
Decline an invitation to worship at one of the thousands of underground churches. Explain that the refusal of these contrary Christians to be under the authority of official "patriotic churches" is, well, unpatriotic. Besides, dissident Christians are probably part of the religious right and thus dangerous extremists who threaten the unification of church and state in China.
Bring along a delegation of American fallout-shelter manufacturers. Given Beijing's contribution to the nuclear arms race on the Indian subcontinent (even now, weapons materials and electronics from China are in transit to Pakistan, destined for that nation's nuclear program), these products of American ingenuity will be in demand.
See if you can arrange for any other territorial transfers to the People's Republic, like the lease of the Long Beach naval base you're trying to arrange for the gunrunners in the Chinese Overseas Shipping Co. Perhaps your hosts would like a vacant Strategic Air Command base in the Midwest or part of the Pentagon.
Check out the Shanghai stock exchange to see if there are any investment opportunities for T. Boone Hillary, queen of commodities futures trading. Is Tysons Chicken doing business in the People's Republic? With Monica Lewinsky's new lawyer, Plato Cacheris, saying he "very much" wants to cut a deal for her with independent counsel Kenneth Starr and congressional Republicans promising a "thorough investigation" of whether the Chinese traded campaign cash for the export of missile technology, you might want to prolong your stay in the Middle Kingdom at least through the November elections.

6/8/98: Republicans' Custer offers advice
6/4/98: Oh, Dems Christian-bashers!
6/2/98: Goldwater did conservatives more harm than good
5/27/98: A Clinton-hater confesses
5/15/98: Giuliani's assault on marriage
5/13/98: Hillary knows what's best for everyone
5/11/98: To honor her would not be honorable
5/6/98: Conservative chasm: pragmatism vs. worship of marketplace
5/4/98: Anglo-saxon me
4/29/98: Needle exchange programs are assisted-suicide
4/27/98: Chretien's mission of mercy to Fidel
4/22/98: School-choice is a religious freedom issue
4/20/98: Corporate execs deliver body parts to Beijing
4/14/98: National sales tax --- looks better all the time
4/13/98: The U.N. sinister? Hey, where did that idea come from?
4/8/98: Unions fight workers rights in 226 campaign
3/30/98: Africa's leaders should apologize
3/25/98: GOP shouldn't look to media for advice
3/22/98: You should care about Clinton's 'private life'
3/19/98: Color-coded reading, product of obsessive minds
3/16/98: Amendment will end exile of G-d from our public lives
3/9/98: Havana will break your heart
3/2/98: Vouchers Terrify Teachers' Union
2/25/98: Presidential politics starts at a resort hotel
2/23/98: Hillary's support comes at a price
2/18/98: How many times must we say "no" to gay rights?
2/16/98: Enoch Powell spoke the truth on immigration
2/11/98: Bubba behaving badly
2/9/98: A conservative dissent on the flag-burning amendment
2/5/98: We get the leaders we deserve
2/2/98: Send a signal that could penetrate boardroom doors
1/27/98: State of the president: hollow rhetoric
1/25/98: For Monica's playmate, we have no one to blame but ourselves
1/22/98: At Yale, bet on yarmulke over gown
1/19/98: Commission tackles America's fastest-growing addiction, gambling
1/15/98: Capital punishment and the hard case: no exceptions for Karla Faye Tucker
1/12/98: Partial-birth abortion and the GOP's future: the "big tent" meets truth in advertising
1/8/98: IOLTA: the Left's latest scam to crawl into our pockets
1/5/98: Connect the dots to create a terrorist state
1/1/98: The Unacceptables of 1997: Long may they rave
12/28/97: Hypocrisy is a liberal survival mechanism
12/23/97: Chanukah is no laughing matter
12/22/97: No merry Christmas for persecuted Christians around the world
12/18/97: Bosnia, Haiti, and how not to conduct a foreign policy

---

©1998, Boston Herald; distributed by Creators Syndicate, Inc.