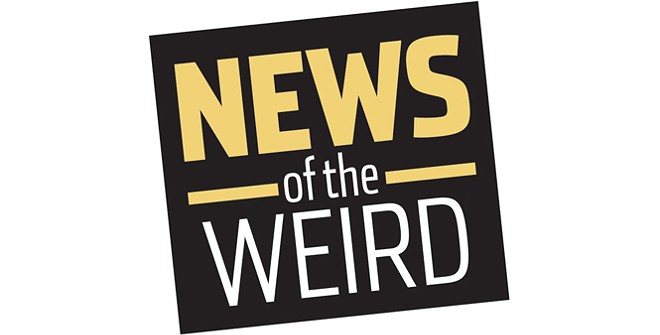 •
David Weaver, 37, of Nelson, British Columbia, glibly avoided becoming dinner for 14 sharks at Toronto's Ripley Aquarium on after stripping naked and jumping into a 3-million-liter tank and swimming about as other patrons looked on and recorded his stunt.
Weaver arrived around 10 p.m. and quickly climbed to an overlook of the "Dangerous Lagoon," where the sharks and other animals are displayed. Onlookers exclaimed as he made several attempts to climb out of the tank, exposing both his front and back sides.
"I thought he was a worker until I noticed he was naked," said one witness. The sharks "seemed angry but also frightened of him. They are fed daily, so I guess they had no reason to attack him."
The National Post reported police also connected Weaver to an assault a few hours earlier outside the nearby Medieval Times dinner theater. He was later arrested near Thunder Bay. [National Post, 10/15/2018]
• Two unnamed Marine Corps flyers have been grounded pending an investigation after they flew a penis-shaped flight pattern over the Salton Sea on Oct. 23, the Los Angeles Times reported.
The pilots were outed by a Twitter account called Aircraft Spots, which tracks flight patterns. Josef Patterson, a Marine Corps spokesman, said the jokesters are assisting with other duties in their squadron at Air Station Miramar in San Diego.
They can't take credit for the idea, though: In November 2017, a Navy jet crew flew in a similar pattern over Washington, D.C. [LA Times, 11/6/2018]