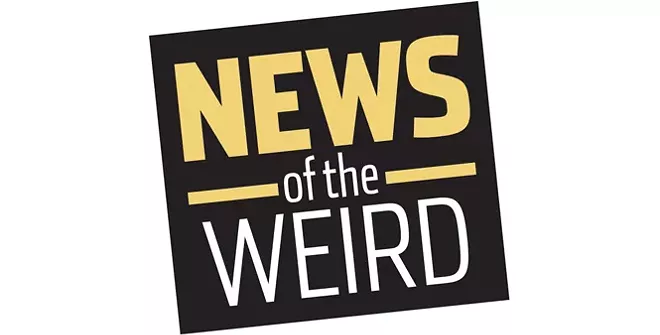 • Three years ago, Emma Aldenryd, 18, of Aarhus, Denmark, discovered she had a rare condition called dermatographia, which causes her skin to temporarily swell up when touched. Oddity Central reports that the teen has decided to use her skin as a canvas on which she traces artwork with a pencil and posts the images to Instagram.
"I started by drawing quite random stuff like a bunch of words," Aldenryd said. "Lots of people question whether it hurts, but my dermatographia has never hurt."
Antihistamines treat the itch associated with her condition -- but they also stop the swelling, so she doesn't take them. [Oddity Central, 8/24/2020]
• Drivers on U.S. 70 in southeast New Mexico have wondered about the 18 wooden chairs set up six feet apart in rows on a hill between Clovis and Portales.
KRQE reports they are the work of three local sisters who wanted to express their feelings about socially distanced learning as schools struggle to open.
"I have a daughter that's a teacher and both my sisters have kids who are in school and this is really, really difficult for them not to be in school," said Alyssa Idsinga, who created the art installation along with April Rutter and Abigail Pritchett.
"It's just so lonely."
She had the chairs in a shed and said the installation would remain as long as the pandemic continues or until the weather destroys it. [KRQE, 8/27/2020]