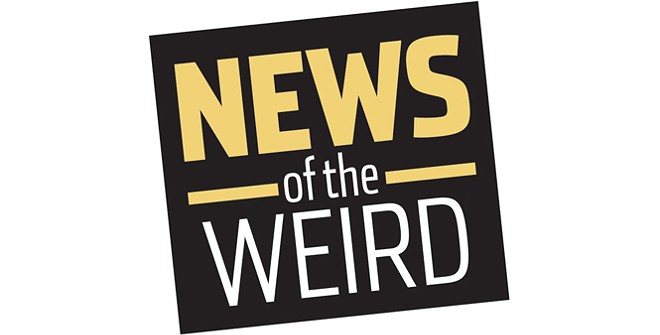 • The Tennessee Titans were all fired up for their NFL home opener on Sept. 15 at Nissan Stadium in Nashville. Accordingly, so was some of their pyrotechnic equipment -- which caught fire during player introductions, spreading flames and thick, black smoke near one end zone.
According to Bleacher Report, no one was hurt, and flames were extinguished quickly. But the NFL, taking its usual proactive stance, placed a ban on "all flame effects and pyrotechnics used on its playing fields" until an investigation can be completed. [Bleacher Report, 9/20/2019]

• Police arrived at the home of Vernelle Jackson, 83, in Norway, Maine, on Sept. 17, inquiring about the whereabouts of another unnamed woman in her 80s who had reportedly lived with Jackson.
As police excavated the back yard and the story unfolded, Jackson admitted to authorities and WMTW News 8 that she was the one who buried the woman, about 18 months ago. "She begged me when she passed away that she didn't have enough insurance to bury her, and I don't have it. And she said, 'Will you promise me to bury me in your yard so I'll be close?' ... I finally agreed to do it to satisfy her," Jackson explained. "I put her in a tarp. I didn't carry her. I have COPD. I couldn't breathe that good."
She was surprised to learn that she would have needed a permit to legally bury her friend in her yard, and she's still unclear whether she's in trouble with the law. The State Medical Examiner's office is working to ID the body and determine the cause of death. [WMTW, 9/18/2019]