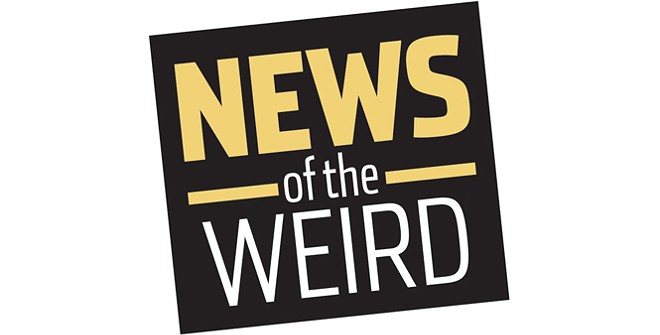 • In the overnight hours of Sept. 17, thieves targeting Prime Trading Hair and Wigs in Miami Gardens, Florida, rammed the front door repeatedly and eventually made off with $70,000 to $80,000 worth of wigs, some worth as much as $800 apiece, reported WFOR.
Business owner Rakib Hossain said the thieves "knew where the expensive products were, and they knew everything about the stock room."
Thankfully, he was insured for his losses.
In a strange twist, the burglary at Prime Trading follows a similar incident two weeks earlier, right across the street at Subi Training Inc., where criminals stole up to $100,000 worth of products including many wigs. [WFOR, 9/17/2019]

• In their booking photos, Aaron Seth Thomas, 31, and Megan Lynn Mondanaro, 35, are both sporting sly little grins, and no wonder: After they were detained near midnight on Sept. 13 for drunk bicycling in Fernandina Beach, Florida, the couple passed the time in the back of the patrol car by stripping down and having sex.
Nassau County Sheriff's deputies pulled Thomas, who was fully naked, out of the car, but he escaped, The Florida Times-Union reported.
He was later found hiding behind an ice cream store nearby.
The two were charged with lewd and lascivious exhibition, threats against public officials, attempted escape, resisting arrest with violence, exposing sexual organs and theft, along with DUI. [Florida Times-Union, 9/16/2019]