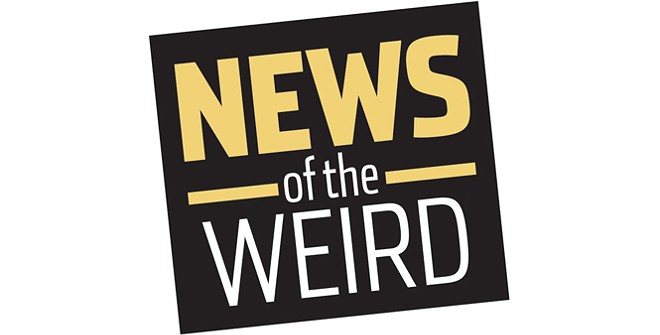 • It's springtime in Australia, which means if you're headed outside down under, you'll want to carry a big stick with you.
September and October are the height of magpie swooping season, when nesting magpies are known to attack walkers, runners and bike riders in defense of their young.
While they're only 12 inches long or so, 7News reported, the black-and-white birds can cause a lot of pain with their sharp beaks.
Last year, a toddler was nearly blinded, and this year a man who was attacked as he rode his bike veered off the path and crashed, later dying of head injuries.
"They're never trying to hurt anyone or be malicious," ornithologist Gisela Kaplan said. "It's all about risk assessment." [7News, 8/26/2019]

• Thomas Barnes, 58, got an unpleasant surprise in his bill from DirectTV in August after his dog, Marino, jumped up on Barnes' bed and pressed a remote button that mistakenly ordered pay-per-view from the Hustler channel.
Barnes immediately called his service provider and explained the snafu, and he was assured that the charges would be removed. But the X-rated content remained, so after making a second call and getting no satisfaction, Barnes paid his next bill -- minus $70.
Then his service was canceled altogether.
Finally, Barnes complained to the Federal Communications Commission, which prompted a call from DirectTV, promising a credit on his next bill.
"There's a problem when there's a mistake and you expect me to pay for the mistake," Barnes told the Raleigh News and Observer. [Raleigh News and Observer, 9/1/2019]