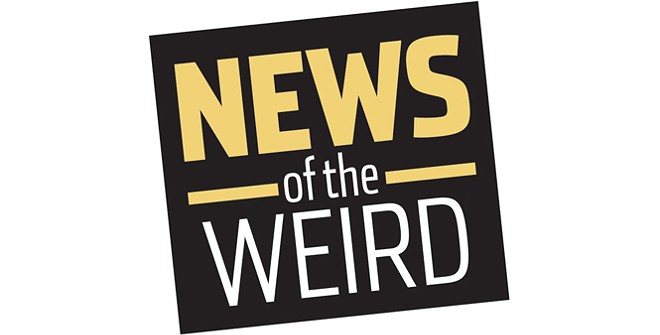 • Police in Wilton, Connecticut, told WVIT they scored a two-fer, thanks to 64-year-old Ellen Needleman-O'Neill.
The woman was arrested after a caller alerted police of a driver who hit a parked car in a parking lot. Officers conducted field sobriety tests, which they said Needleman-O'Neill failed, and she was charged with operating a motor vehicle while under the influence of alcohol and/or drugs, along with possession of a controlled substance (for the Tylenol 3 found in her bag).
Police released her, but hours later she was seen driving away from a liquor store in her car.
Officers stopped her again and found her to still be under the influence, they said. Police also said they learned Needleman-O'Neill didn't have a valid driver's license, hadn't registered her vehicle, and had lost her right to drive after the first offense earlier in the day.
She was charged with additional crimes and is scheduled for two court appearances on Sept. 17. [WVIT, 9/9/2019]

• A Texas motorcyclist with the memorable nickname "Baby Jesus" taunted Blue Mound police as they tried to pull him over.
Police posted dashcam video of Jesus Sebastian Gomez doing wheelies and standing on his motorcycle while weaving in and out of traffic, eventually getting away from officers.
Fox News reported that witnesses viewing the video helped identify the rider, and police issued a statement urging Gomez to turn himself in.
"(Y)ou need to come speak with us regarding this incident or we can come to you. (We could have a come to 'Baby Jesus' meeting)," they offered.
Gomez surrendered to the Tarrant County Sheriff's Office on Sept. 4 and was charged with evading arrest. [Fox News, 9/6/2019]