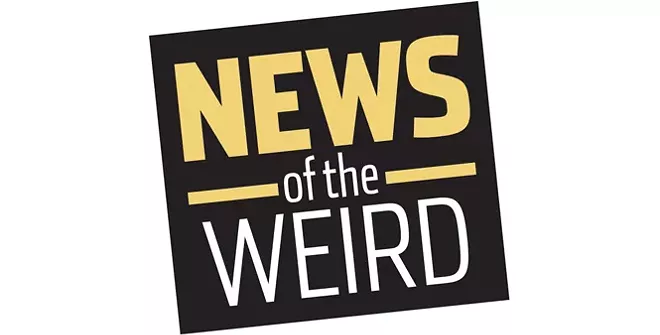 •
Infamous South Beach street artist Jonathan Crenshaw, 46, attracts a lot of attention in Miami among tourists, who watch him paint on a canvas -- using his feet.
Crenshaw does not have arms and is homeless. Profiled in a local newspaper in 2011, Crenshaw told of a difficult childhood (he also claimed Gloria Estefan had given birth to 200 of his children).
He landed in the headlines again after stabbing a Chicago man with a pair of scissors on July 10.
According to the Miami Herald, Cesar Coronado, 22, told police he had approached Crenshaw to ask for directions, when Crenshaw jumped up and, using his feet, stabbed Coronado.
Crenshaw's story is that as he lay on the pavement, Coronado punched him in the head -- so he stabbed him, tucked the scissors into his waistband and walked away.
Police found Crenshaw, who has a lengthy arrest record, nearby and arrested him. [Miami Herald, 7/12/2018]
• Faith Pugh of Memphis, Tennessee, had a date to remember on July 14 with Kelton Griffin. Her casual acquaintance from high school "just out of the blue texted me and asked me to go out," Pugh told WREG-TV.
They took her car and stopped at a gas station, where Griffin asked Pugh to go inside and buy him a cigar. But while she was inside, "He drove off. I came outside and my car was gone," Pugh said.
Shortly, Pugh received a text from her godsister, telling her Griffin had just asked her out on a date. He picked up the godsister in Pugh's car and headed to a drive-in movie. "He didn't even have any money," Pugh said. "She actually paid their way to get in the drive-in just so I could get my car back."
Pugh alerted the police to the car's location, and they arrested Griffin for theft of property. "I hope he's in jail for a long time," Pugh said. [WREG-TV, 7/17/2018]