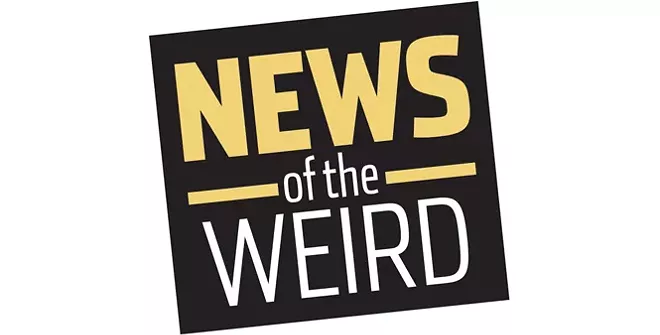 •
Before Chuck E. Cheese was a thing, it was ShowBiz Pizza, complete with the Rock-afire Explosion Band, an animatronic combo that is still the stuff of nightmares. On May 24, the Rock-afire Explosion Band was reunited at a new arcade bar in Kansas City, Missouri, also called Rock-afire. The band's inventor, Aaron Fechter of Creative Engineering in Orlando, Florida, refurbished the band members with new masks, skin and costumes, and the playlist is set to include old standards as well as more contemporary hits.
Bar owner James Bond was a huge fan of the band as a child: "You didn't know whether they were fake or real," he told The Kansas City Star. [Kansas City Star, 5/23/2018]
• Rowdy Lapham, owner of Old to Gold Hardwood Floors in Grand Rapids, Michigan, arrived at work May 21 to find that someone had broken in. Surveillance footage showed that around 2 a.m. the day before, a burglar had thrown a rock through his store window, apparently tempted by the "gold" bars stacked in the window.
Unfortunately for the thief, the bars are promotional items made of foam rubber and stamped with the store's logo, reported WZZM TV.
The squeezable bars are meant for stress relief, employee Nick Butler said, supporting the company's motto of "stress-free flooring. ... I think this falls under you can't fix stupid." [WZZM, 5/23/2018]