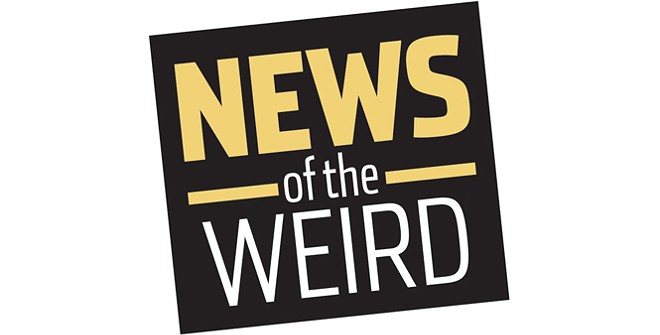 •
In the Arctic region of Murmansk in Russia, an abandoned railway bridge was the quarry of ambitious metal thieves who removed the 75-foot-long center span, leaving only the support structures near either shore.
Locals noticed the section was missing in May, reported the BBC. And while the span would have weighed about 62 tons, it was estimated to be worth only about $9,000.
Russian law enforcement is looking into the theft, but locals are nonplussed: One mused that the remaining structures would be "eyesores" for a long time to come, then shrugged: "Ah, who cares -- this isn't Germany, and restoring order to the vandalized landscape is not high on the agenda." [BBC, 6/4/2019]
• In Caddo Parish, Louisiana, sheriff's deputies responded to a call on June 10 about an alligator in the middle of Highway 1.
As they waited for wildlife removal experts to arrive, the gator, which was about 8 feet long, bit off a section of bumper on one of the patrol cars, WBRZ reported, and moved into the grass with a rectangular piece of the car's front grill.
It dropped its prize and escaped before the animal handlers got there. [WBRZ, 6/12/2019]