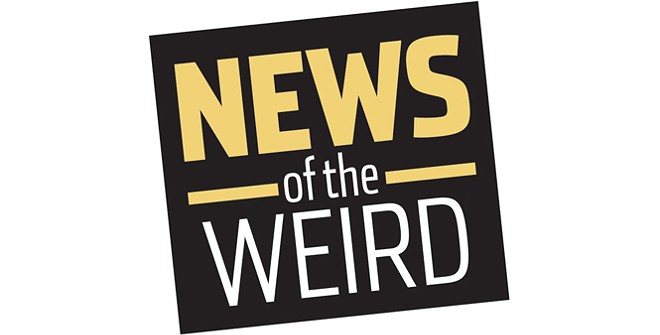 •
May 17 wasn't the first time Dan Smith of Seattle found a Car2Go vehicle left in thFor reasons that remain unclear, a local police officer drove a beach patrol ATV into a marsh on Tybee Island, Georgia, on May 31, where it became stuck in the mud.
Officials with the Georgia Department of Natural Resources say the officer then used a City of Tybee pickup truck to try to free the ATV, but the truck also became stuck.
City workers next attempted to pull both vehicles out using two backhoes, which also succumbed to the marsh.
An excavator was finally able to free one of the backhoes from the muck, but the Coastal Resources Division of the DNR reported to WSAV that it will likely take a barge and crane to extricate the other three vehicles
. Tybee city officials are conducting an investigation. [WSAV, 6/3/2019]
• Don't mess with Texas ... or with 41-year-old Doris Vallejo-Godoy of Austin, Texas, who pulled a gun on a man at La Catedral del Marisco, a Mexican restaurant, according to an arrest affidavit.
The June 2 scuffle began as a disagreement about who would be up next for karaoke, the Statesman reported.
The man told police that as they argued, Vallejo-Godoy struck him, then pulled out her gun and pointed it at him. She also threatened a waitress who tried to intervene, the affidavit said.
Police arrived as Vallejo-Godoy was arguing in the parking lot with her girlfriend; she was arrested for aggravated assault with a deadly weapon and unlawful carrying of a concealed weapon. [Statesman, 6/3/2019]