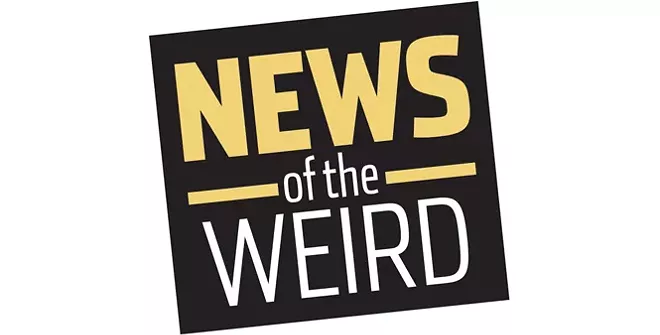 • Three neighbors of Cara Louise, 28, of Bedfordshire, England, became alarmed on May 12 when they noticed what appeared to be a corpse wrapped in trash bags and duct tape lying in Louise's yard.
While Louise was picking up her 5-year-old from school, seven police officers descended on her home. When she returned, she provided an explanation: "The prop in the garden was part of our theme" for Halloween, she said, but she had neglected to dispose of the fake corpse after the autumn holiday.
"He" was kept behind her trash bins, but she moved him as she worked in the yard and forgot to put him away.
"I have a tip for all parents who go all-out at Halloween like myself -- dispose of props or put them away safely," Louise told the Daily Mail.
Laughing with officers, she wondered who might have such short legs, and an officer responded, "You might have cut them."
"I was so embarrassed I couldn't believe people thought I was capable of it," she said. [Daily Mail, 5/13/2021]
• Ever stepped off a curb unexpectedly or run into a pole while looking down at your phone?
Minwook Paeng, an industrial design student at London's Royal College of Art and Imperial College, has invented a device that will alert you to obstacles in your path: the Third Eye.
A small translucent case shaped something like an eye affixes to the forehead with a thin gel pad, DeZeen reported, and "the black component that looks like a pupil is an ultrasonic sensor for sensing distance," Paeng explained.
When the gyroscope senses the head angled downward, the plastic "eyelid" opens and warns the wearer of obstacles in their path with a buzzer.
Paeng believes humans are evolving into "phono sapiens," developing "turtle neck syndrome" and a curved pinky finger from holding our phones.
"I hope that the act of ironically pointing out what we are doing with our smartphones can help people take time for self-reflection," Paeng mused. [DeZeen, 5/6/2021]