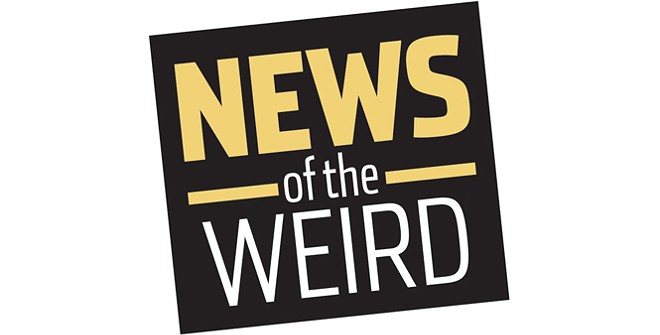 • Dylan Bryant found more adventure than he expected on Feb. 23 as he explored a bayou in southwest Houston.
Bryant told KTRK his exploration took him about 100 yards down a sewer line before he became trapped. "I can't go back because of how I had to scooch through," Bryant said. "I'm in the middle of raw, open sewage in this little bitty box."
From under the street, Bryant yelled for help and a man heard him, then asked a passerby to call 911.
Firefighters arrived and pulled Bryant out of his smelly predicament. [KTRK, 2/24/2020]
• An Oklahoma City homeowner hearing noises in his attic suspected squirrels might have gotten in, but when he went to inspect, he found instead ... a man, lying on a mattress.
KOCO News reported on Feb. 28 the unnamed homeowner called 911 and reported a "stranger in my house. ... I have a gun on him right now."
Police responding to the call told reporters "there was actually somebody that appeared to have taken up residence in (the) attic," and the home has a staircase "that goes up the side of the house with attic access."
The homeowner escorted the squatter at gunpoint to the driveway, where officers were waiting. [KOCO, 2/18/2020]