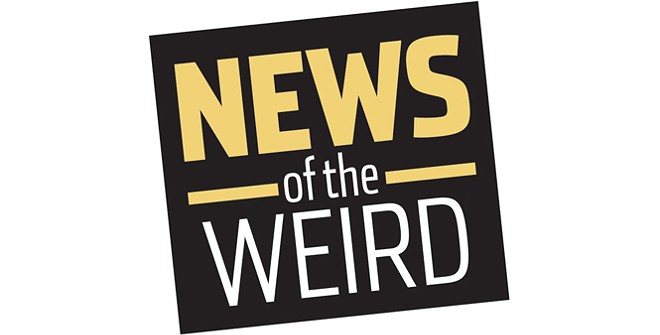 • Residents of an apartment building in Kerala, India, were surprised on Feb. 3 when a pungent mixture of beer, brandy and rum began flowing from their faucets instead of water.
Officials told the BBC that about 6,000 liters of alcohol confiscated on court orders had been buried in a pit nearby, but it seeped through the soil into the well used as a water source for the building.
"The children couldn't go to school, and even their parents couldn't go to work," Joshy Malyiekkal, the building owner, said. [BBC, 2/6/2020]
• Housepainter Dean Reeves of Bolsover, England, came to a slow realization that his client, Terry Taylor, was never going to pay him the rest of what he says he is owed for painting Taylor's building.
So in January, Reeves took his complaint public and painted a graffiti message on the building's exterior: "Want your house painting? Don't be like Terry. Pay the bill! Now you will!"
According to Oddity Central, Reeves said Taylor "changed the job, kept asking me to do extra work. ... He kept saying, 'I'll pay you tomorrow,' but tomorrow never came."
For his part, Taylor denies Reeves' accusations and is threatening to press criminal charges. [Oddity Central, 2/7/2020]