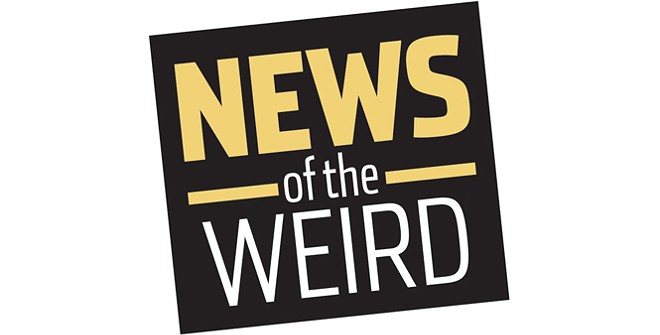 • Callie Elizabeth Carswell of Morganton, North Carolina, and her fiance, Clarence Moore III, allegedly staged an elaborate crime, all in the name of love, just before Thanksgiving.
Around 10 p.m. on Nov. 25, while Carswell worked at the Big Daddy convenience store, Moore entered the store carrying an ornamental sword and wearing a hat and bandanna to disguise his identity. He "demanded" money from Carswell, leaving with $2,960, the Morganton Department of Public Safety told The News Herald.
When the "robber" left the store, she called 911. Police went on to work the case overnight, while Carswell and Moore made an early morning stop at Walmart to buy a ring and get engaged on the spot, documenting the big event on Facebook.
But details of Carswell's story didn't add up, and investigators found evidence in her car and at their home that led them to arrest the couple.
Moore confessed to the crime, but Carswell shouted at reporters as she entered the courthouse: "I will assault you! I didn't do it. ... Watch the (expletive) video and you'll see that I was (expletive) terrified. I wasn't involved."
The couple were charged with armed robbery, misuse of 911 and filing a false police report. [News-Herald, 11/29/2019]

• After a decade of wrangling through the court system, Bela Kosoian has been awarded $20,000 (Canadian) by the Supreme Court of Canada. It all started in the Laval, Quebec, Montmorency Metro station in 2009, when Kosoian was riding an escalator while looking through her purse and, pointedly, not holding the handrail.
According to CBC News, a police officer told her to respect a sign asking riders to hold the rail, but Kosoian declined and then would not identify herself to the officer, who slapped her with two tickets: one for disobeying the sign and another for obstructing the work of an inspector.
Kosoian sued, and the highest court agreed with her, saying: "A reasonable police officer should have known that people didn't have to hold the handrails."
They called the sign a "warning" and not a law.
"I knew that I didn't do anything wrong," Kosoian said. "It was the principle of it." [CBC, 11/29/2019]