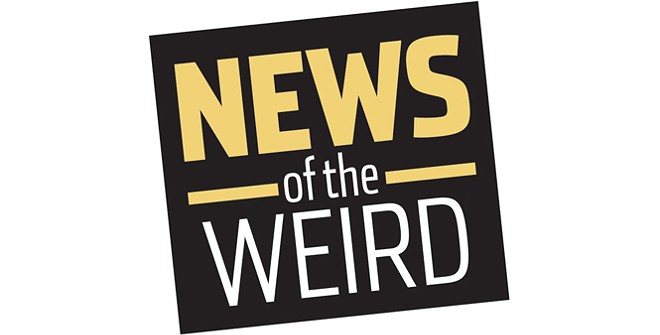 •
A man identified only as Leo visiting Miami for Art Basel, a contemporary art show, over the weekend of Dec. 8 got an unwelcome extra in his Uber Eats delivery. He had ordered some Japanese food using the app, but when the driver handed Leo his food bag, "she took off running," Leo told WPLG TV, which he thought was odd.
Odder was what he found along with the food he had ordered: a pair of thigh-length underwear, stained with what appeared to be human feces.
Leo contacted Uber, the restaurant and the police, but all three said they couldn't help him. "Disgusting, unhealthful, it's potentially deadly," Leo told WPLG.
Uber later said the driver had been removed from the app pending investigation, and Leo was provided a full refund. [WPLG, 12/10/2018]
• Science teacher Margaret Gieszinger, 52, at University Preparatory High School in Visalia, California, was captured on video chopping off students' hair with scissors on Dec. 5, while loudly, and incorrectly, singing "The Star-Spangled Banner."
The Visalia Times-Delta described the video showing Gieszinger starting with a male student seated in a chair at the front of the room as she cuts portions of his hair and tosses them behind her. When she moved on to a female student, other teenagers started screaming and ran out of the classroom.
Lilli Gates, one of Gieszinger's students, told the Times-Delta the teacher "is a loving and kind lady. She is usually all smiles and laughs. This is not the Miss G. we know and love."
After Gieszinger's arrest on suspicion of felony child endangerment, the district notified parents that she would not be returning to the classroom. [Visalia Times Delta, 12/6/2018]