Jewish World Review Nov. 17, 2003/22 Mar-Cheshvan 5763

Richard Z. Chesnoff
French fried: From its economy to its cinema and cafés, France is losing that certain je ne sais quoi
http://www.jewishworldreview.com |
PARIS The French are finally figuring out what most everyone else has known for years: La Belle France ain't so belle any more.
French President Jacques Chirac and his musketeers may still swagger about the glory of France and the righteousness of its "independant" (read: anti- American) foreign policy, but the French public sees little but gloom staring it in the face.
Consider this: The current unemployment rate is double-digit; economic growth is at a dying snail's pace and a red-faced France recently had to beg the European Union to excuse its steady GDP deficit. No one sees much hope for improvement.
Even those old faithfuls of French pride - art, music and cuisine - are in a slump.
"Want to see or hear something really new," says one Paris arts critic, "go to New York or London." As for those mouth-watering haute cuisine meals, some of France's top restaurateurs complain the salt (if not the pepper) has gone out of French cooking.
"Our 30 years of glory are over," moaned Jean-Claude Vrinat, owner of the Michelin three-star Taillevent, in a recent article titled "The Crisis in French Cookery."
In fact, France, for all its arrogant posturing, is wallowing in "economic, political and social stagnation," says best-selling French author Nicolas Baverez.
That may be why Baverez's recent book, "France Is Falling Down," and several other similar doomsday tomes are this autumn's hot topics of conversation from Normandy to the Riviera.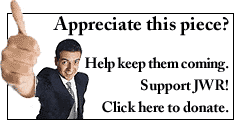 If anything, the French, who suffer from inborn suspicions of change and initiative, may be their own worst enemies. Last year, this nation of 60 million people saw more bankruptcies than the U.S. French life continues to be regularly paralyzed by a new high in strike action by people who think welfare benefits grow on grapevines.
Even new socioeconomic ideas are proving a disaster. A revolutionary French move to a 35-hour workweek was supposed to generate new jobs and give workers more free time. Instead, it screwed up production and made those with jobs poorer.
Political commentator Alain Duhamel, another leading "declinist," argues in his book "French Disarray" that the malaise is so deep, French democracy itself is at stake.
Crime - once sniffed at as an American phenomenon - is on a rapid rise in France, where suburban housing projects have become gangland battlegrounds. France's large Muslim minority seems increasingly alienated, and there has been an upsurge of attacks on its Jewish minority. In fact, violence in France has become so bad that magistrates recently demanded extra security in their courtrooms.
Even France's most cherished social institutions are in disrepute. The nation's health care system was supposed to be the world's best - but 15,000 old people died this summer, clearly proving it was nothing of the sort.
Adding insult to injury, France is now asking workers to give up one vacation day a year to pay for improvements - hardly an outlandish request in a country where people enjoy five full weeks of paid vacation a year PLUS at least 10 national holidays.
Baverez says that without shock therapy, France faces ruin. He points to a disastrous brain drain: 250,000 of France's finest entrepreneurs and professionals have packed and left since 1993.
As for France's military, some consider it a joke - with more than half of its helicopters, ships and light troop carriers reportedly out of commission - and its global influence impotent posturing. In "French Arrogance," journalists Romain Gubert and Emmanuel Saint-Martin argue that France looks silly because of its "sermons" and "empty gestures" - especially over Iraq.
Even French culture has seen better days. They may still boast Renoir and Toulouse-Lautrec, but these days there's more innovation in the art worlds of New York, London and Berlin than in Paris. Pop culture is in the doldrums. Instead of turning out Yves Montands and Edith Piafs, the best the French can offer are bad copies of Britney Spears and an aging poor-man's Elvis named Johnny Halliday.
To be fair, there are still occasional French film triumphs. Still, for the most part, French cinemas rely on Hollywood fare. As for French television, it's overwhelmed by U.S. sitcoms and dramas dubbed in French. (French TV's "Le West Wing" doesn't refer to the Elysée Palace.)
Alors, what to do? In "Adieu to a Departing France," novelist Jean-Marie Rouart, a member of the august Academie Francaise, says the French have lost their esprit and need a great de Gaulle-like leader to restore their grandeur.
Perhaps.
But until he or she comes along, they still make pretty good cheese and wine.
Every weekday JewishWorldReview.com publishes what many in Washington and in the media consider "must reading." Sign up for the daily JWR update. It's free. Just click here.

JWR contributor and veteran journalist Richard Z. Chesnoff is a senior correspondent at US News And World Report, a columnist at the NY Daily News and a senior fellow at the Washington-based Foundation for the Defense of Demoracies. A two-time winner of the Overseas Press Club Award and a recipient of the National Press Club Award, he was formerly executive editor of Newsweek International. His latest book, recently updated, is Pack of Thieves: How Hitler & Europe Plundered the Jews and Committed the Greatest Theft in History. (Click HERE to purchase. Sales help fund JWR. )
© 2003, N. Y. Daily News