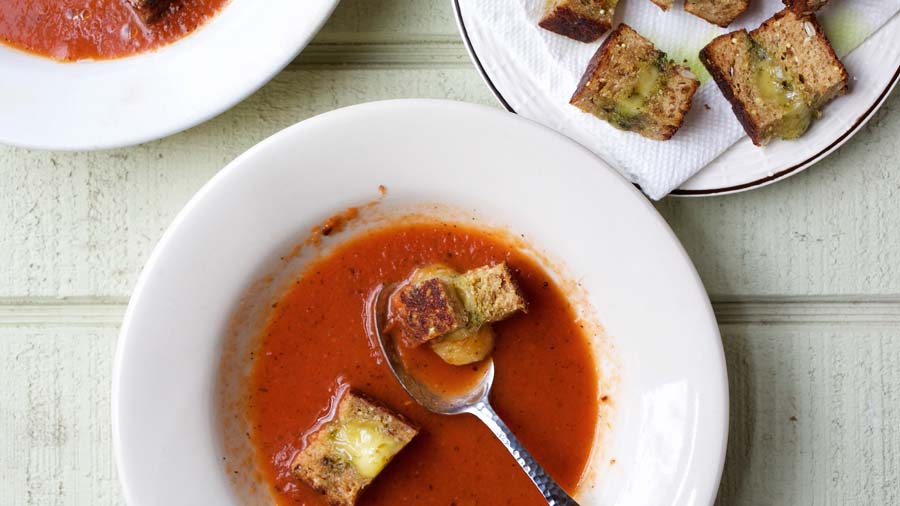 Tomato Soup With Grilled Havarti Cheese Croutons
SERVINGS: 3 (makes about 4 1/2 cups)

• 1/2 medium white or yellow onion
• Whole peeled fire-roasted plum tomatoes from one 28-ounce can (10 or 11)
• 1 tablespoon olive oil
• 1/4 to 1/2 teaspoon kosher salt
• 1 teaspoon ground Aleppo pepper (may substitute hot or sweet paprika)
• 1/2 cup dry white wine
• 2 cups no-salt-added vegetable broth
• 2 tablespoons unsalted butter, at room temperature
• 2 thick slices multi-grain or whole-wheat bread
• 2 ounces havarti cheese, preferably with caraway seed (may substitute Leyden cheese with caraway)
• 1 1/2 tablespoons pesto (basil or spinach; optional)
• 1/2 lemon
Steps
Preheat the oven to 400 degrees.
Coarsely chop the onion. Place the tomatoes in a medium bowl; use your hands to gently crush them. Reserve the can juices for another use, if desired.
Heat the oil in a medium saucepan over medium-high heat. Once the oil shimmers, stir in the onion. Cook for 3 to 4 minutes or until the onion begins to soften. Add the tomatoes, 1/4 teaspoon of the salt and all the Aleppo pepper; cook for about 3 minutes, stirring a few times, then add the wine and broth. Bring to a boil, then reduce the heat to medium-low and cook for 15 minutes, stirring once or twice.
Meanwhile, spread a total of 1 1/2 tablespoons of the butter on both sides of each slice of bread. Cut the cheese into small pieces; place them on one slice of bread, then drizzle with the pesto, if using. Top with the other slice, pressing gently to form a sandwich. Melt the remaining 1/2 tablespoon of butter in a small, ovenproof skillet over medium heat. Place the sandwich in it and cook for 3 minutes on each side, until lightly browned, then transfer the skillet to the oven; bake for about 6 minutes.
Turn off the heat under the saucepan. Use an immersion (stick) blender to puree the soup mixture for 1 to 2 minutes, until smooth. Taste, and add some or all of the remaining salt, as needed. Squeeze the lemon half into the soup (to taste), being careful not to introduce any seeds.
Use a spatula to transfer the grilled cheese sandwich to a cutting board; cut into bite-size pieces.
Divide the soup between wide, shallow bowls. Garnish with the grilled cheese pieces. Serve hot.
Nutrition | Per serving: 350 calories, 9 g protein, 30 g carbohydrates, 19 g fat, 10 g saturated fat, 40 mg cholesterol, 610 mg sodium, 2 g dietary fiber, 5 g sugar
JewishWorldReview.com publishes delicious -- mostly nutritious -- recipes. Sign up for the daily JWR update. It's free. Just click here.
(COMMENT, BELOW)