Jewish World Review May 25, 2006 / 27 Iyar 5766

George Will
A vote for English

http://www.NewsAndOpinion.com | "Of course not." That was Attorney General Alberto Gonzales's answer Sunday on ABC's "This Week" when asked whether he would favor prohibiting bilingual ballots.

"Of course not"? Did he mean, "This is not something about which decent people differ"?

To understand why millions of conservatives do not trust Washington to think clearly or act reasonably about immigration, consider bilingual ballots. These conservatives, already worried that both the rule of law and national identity are becoming attenuated because of illegal immigration, now have another worry: The federal government's chief law enforcement official may need a refresher course on federal law pertaining to legal immigrants.

In 1906, the year before a rabbi in a Passover sermon coined the phrase "melting pot" during torrential immigration from Eastern and Southern Europe, Congress passed, and President Theodore Roosevelt signed, legislation requiring people seeking to become naturalized citizens to demonstrate oral English fluency. In 1950 the requirement was strengthened to require people to "demonstrate an understanding of the English language, including an ability to read, write, and speak words in ordinary usage in the English language."

Hence, if someone needs a ballot written in a language other than English, that need proves the person obtained citizenship only because the law was not enforced when he or she sought citizenship. So one reason for ending ballots in languages other than English is that continuing them makes a mockery of the rule of law, including even the prospective McCain-Kennedy law that pro-immigration groups favor.

It contains several requirements that those aspiring to citizenship demonstrate "a knowledge of the English language" or "English fluency" in order "to promote the patriotic integration of prospective citizens into the American way of life" and into "American common values and traditions." How can legislators support language such as that and ballots in multiple languages?

Fifty-six House Republicans have sent a letter, instigated by Rep. Steve King of Iowa, asking that Section 203 of the Voting Rights Act be allowed to expire. When the measure was enacted in 1965, it said nothing about bilingual ballots. Section 203, requiring bilingual ballots in jurisdictions with certain demographic characteristics, was added in the 1975 extension of the act. The King letter was sent to Rep. James Sensenbrenner of Wisconsin, chairman of the House Judiciary Committee. He favors extending Section 203 and the rest of the act until 2032 because it helps facilitate "the participation of language minority citizens in the political process."

But what public good is advanced by encouraging the participation of people who, by saying they require bilingual assistance, are saying they cannot understand the nation's political conversation? By receiving such assistance they are receiving a disincentive to become proficient in English.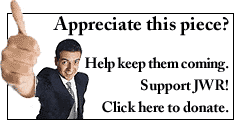 It takes political bravery to propose pruning the Voting Rights Act, given the predictable charges of racism that are hurled so promiscuously nowadays. Senate Minority Leader Harry Reid, for example, has a liberal's reflex for discerning racism everywhere and for shouting "racist" as a substitute for argument. During Senate debate last week on a measure to declare English the national language, he said: "While the intent may not be there, I really believe this amendment is racist."

Questions crowd upon one another. Was his opaque idea — well, perhaps it is not opaque to liberals — of unintentional racism merely a bow to Senate rules against personal slurs? What "race" does Reid think is being victimized? Are Spanish speakers members of a single race? Evidently Reid thinks something like that, because his next sentence was: "I think it is directed basically to people who speak Spanish." Indeed, it is, but what has that to do with racism?

FREE SUBSCRIPTION TO INFLUENTIAL NEWSLETTER



Every weekday JewishWorldReview.com publishes what many in in the media and Washington consider "must-reading". HUNDREDS of columnists and cartoonists regularly appear. Sign up for the daily JWR update. It's free. Just click here.

Declaring English the national language is a mere gesture. But by ending bilingual ballots, American law would perform its expressive function of buttressing, by codifying and vivifying, certain national assumptions and aspirations. Among those is this: The idea of citizenship becomes absurd when sundered from the ability to understand the nation's civic conversation.


What makes Americans generally welcoming of immigrants, and what makes immigrants generally assimilable, is that this is a creedal nation, one dedicated to certain propositions, not one whose origins and identity are bound up with ethnicity. But if you are to be welcomed to the enjoyment of American liberty, then America has a few expectations of you. One is that you can read the nation's founding documents and laws and can comprehend the political discourse that precedes the casting of ballots.


Is this unreasonable? Of course not.

Every weekday JewishWorldReview.com publishes what many in Washington and in the media consider "must reading." Sign up for the daily JWR update. It's free. Just click here.


George Will's latest book is "With a Happy Eye but: America and the World, 1997-2002" to purchase a copy, click here. Comment on this column by clicking here.




George Will Archives
© 2006, Washington Post Writer's Group