Jewish World Review March 18, 2004 / 25 Adar 5764

Steve Young
"This was the unkindest cut of all": Teaching Shakespeare and integrity in Los Angeles schools
http://www.NewsAndOpinion.com | "Something is rotten in the state of Denmark"
..and the state if California.


When school budgets are being squeezed and teachers are being asked to do far more with far less, any extraordinary efforts by our public school teachers should be hailed....except, it seems, in the Los Angeles Unified School District.


"O! she doth teach the torches to burn bright"


A teacher for 20 years, Christina Gordon, teaches a combination 4th and 5th grade Gate (gifted) class at Justice Street Elementary School in West Hills, CA. With far more students than any other at Justice, Gordon's efforts do not cease at the door of her class. She has been the school's award-winning comp squad (drill & dance) coordinator for the past ten years and led them to this year's California State Championship, all while spending years as gate coordinator and union representative.


"All the world's a stage,
And all the men and women merely players."


For the past thirteen years Gordon has directed her students in creating original educational videos, the last eight offering Shakespeare-inspired performances. High school students might find the Bard's words difficult to comprehend, but Gordon's 4th and 5th graders actually understand the works they perform. For their efforts, Gordon's classes have accumulated seventeen VIC (Video in the Classroom ) LAUSD awards, eight California State Media Awards, two Channel LA 36 Awards and last year received the National School Board Honor for their rendition of "Julius Caesar."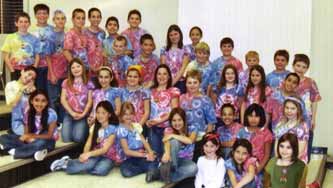 Christina Gordon's Shakespeare Stars
This year, Gordon had her students work on "Hamlette," with ten year old Lucia Fasano playing the lead as a female. From rewrites and rehearsals through performance/taping and editing, the students, parents and other volunteers worked for months on the project, culminating with a finished piece that, by LAUSD "Video In The Classroom" and KLCS-TV award guidelines, must have been submitted by Friday, March 5.

"The play's the thing"?

On Friday afternoon, with the work complete except for the download to a VHS tape, the computer with the information on it crashed. The video editor attempted to contact the KLCS office to explain and ask for what action he should take, but no person nor machine answered. Hard to imagine that with the deadline, a firm one at that, the editor found that there was no person or machine answering on the final day. So difficult to believe that I've followed up and called a number of times during normal office hours, including as I write this note, letting the phone ring over 20 times on each attempt. No answer.

"To be or not to be, — that is the question..."

It wasn't until the following Monday morning with VHS in hand that Gordon was able to reach the KLCS office when she was told by Victor Lamkay (Director of Instructional Television Services and VIC coordinator) that her class's work would not be accepted. There would be no exceptions.

"The quality of mercy is not strain'd."

School Board member Jon Lauritzen's office contacted Lamkay who gave them the same answer. Lauritzen's chief of staff, Ed Burke, told me that he felt that if Gordon was not able to get the VHS to KLCS because she were in a car accident, the Video in the Classroom's decision was just. He equated it to his having to pay taxes by April 15th. He did not mention that even the IRS grants extensions, though my guess is that they might have someone manning the phones to deal with them.

"Good night, good night! Parting is such sweet sorrow."

Lamkay told Gordon that any extension of the deadline would hurt the integrity of the program, yet it seems that when a deadline extension benefits LAUSD there is a different standard of integrity.

"Here's ado to lock up honesty
And honor from th' access of gentle visitors."

When publicity fell short for a LAUSD Outstanding Teacher Candidate Program, the deadline was extended

Application deadlines for the LA Educational Partnership Excellence in Education Awards were extended in two different years.

Deadlines for school hiring are frequently extended.

"The devil can cite Scripture for his purpose"

So while there are no extenuating circumstances for the kids to be considered in the LAUSD's VIC program, exceptions are a dime a dozen for the school district themselves. Good lesson for the graduating fifth graders to take with them to middle school.

"I have no other but a woman's reason"

"I don't care about honors for me," said Gordon. "I have plenty. I was told to re-enter the video in next year's competition but my fifth graders would all be gone by now. Instead of allowing their work into VIC, they talked about giving certificates to the students. But my kids aren't stupid, yet it's not easy to explain to nine and ten year olds who put so much into the project why something that was completely out of their control could cause their dreams of the competition to go down the drain."

"L-rd, what fools these mortals be!"

Part of the purpose for the program as stated on the entry form is "...to create an engaging, multifaceted, technology-based learning environment." Are those in charge more interested in the integrity of the guidelines, or in helping make happen what they are said to encourage? Is that the spirit in which the competition was first conceived? And what about allowing the LAUSD to modify deadlines when it suits them. Perhaps only the students need to adhere to strictly held to guidelines; when you get older and in a position of authority you can bend the rules. Perchance that's the integrity Victor Lamkay spoke of.


JWR contributor Steve Young, is an award-winning television writer, author of "Great Failures of the Extremely Successful: Mistakes, Adversity, Failure and Other Stepping Stones to Success," and a parent of a student in Christina Gordon's class. Comment by clicking here.

© 2004, Steve Young