Jewish World Review Sept. 15, 2004/ 29 Elul, 5764

Wesley Pruden
An artless scam for an eager buyer
http://www.NewsAndOpinion.com | The fierce excuses and imaginative explanations are dying in gleeful laughter, but Dan Rather still can't find the frequency. Kenneth seems to have disappeared, too.

Rarely has a media organ been so shamefully exposed, publicly ridiculed, and, against a tsunami of evidence, so stoutly (and less believably) defended.

The documents that Dan and CBS attempted to sell to the gullible as proof that George W. Bush was a slacker, shirker and goldbrick during the Vietnam War are already regarded by everyone but Dan and perhaps one or two of his CBS colleagues as "the National Guard forgeries." The forgeries join a jolly list of literary scams that unraveled because the editor of any reasonably good high-school newspaper would have recognized them as too good to be true.

Prudent editors — and presumably even prudent television producers — get a wake-up call every time one of these scams surfaces in the media. Jayson Blair made fools of Howell Raines and his senior editors at the New York Times, and sent shivers down the spines of newspaper editors from Portland in Maine to Portland in Oregon.

Forgeries, even artless forgeries like the National Guard memos, infuriate a viewing and reading public whose faith in the mainstream media, so called, has dwindled to the vanishing point. CBS News, once the mighty pillar of "television journalism," seems particularly vulnerable to temptation.

When Clifford Irving sprang his fraudulent autobiography of Howard Hughes on the public 30 years ago, a fraud that in hindsight bore the easily visible signs of a scam in search of an eager mark, Mike Wallace and "60 Minutes" couldn't wait to sign him up for an interview.

Irving spent 17 months as a guest of the U.S. Government after he dispatched his wife to Switzerland to cash royalty checks made out to "Howard Hughes," and he relished the rue of those who should have recognized his con for what it was. He boasted that the reclusive billionaire had picked him as his biographer after he read and admired Irving's earlier book, "Fake," about the art forger Elmyr de Hory. (There's no passion like the passion of an author for cataloging admiration for his own work.) Irving clearly had a taste for rascals — no crime in that — and hinted that he might even aspire to rascality himself. Elmyr de Hory was a prince of flummery. He once conned a Rockefeller. He was a failed painter, driven to painting still lifes for discount furniture stores in backwater towns — "buy a three-piece living-room suite and we'll throw in an antique linoleum rug and a hand-painted scene of apples, kittens and a vase of gladioli."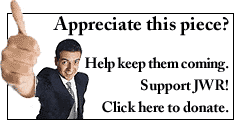 But de Hory could masterfully copy anything, and he sold his fake Picassos, Chagalls, Toulouse-Lautrecs, Matisses, Degases and Modiglianis to rich art collectors who risked getting caught buying stolen goods for the sheer joy of owning a masterpiece, even a masterpiece that had to be kept out of sight. De Hory's fakes were so good that once, when confronted with a real Modigliani and a de Hory copy, Swiss art inspectors kept the fake as a national treasure forbidden for export and sent the authentic Modigliani off to London as a worthless copy.

Clifford Irving was not quite so talented, but he was talented enough to flummox big "media organs" with his fake of a book. So were the authors of the "Hitler Diaries," which the German magazine Stern breathlessly presented to its readers a decade later as work from the hand of der Fuehrer himself. Several American magazines and newspapers rushed to bid for reprint rights. The diaries were said to have been recovered in "a metal-lined container" from the wreckage of a Luftwaffe fighter, piloted by Hitler's trusted "Major Gundlfinger," shot down in 1945. The Hitler diaries, like Irving's "autobiography" of Hughes, were good enough that everyone wanted them to be true. But they weren't, and Stern's reputation hasn't been the same since the author of the diaries was consigned to a basement in oblivion.

Dan Rather, regarded as the world's greatest journalist (you only have to ask him) and the successor to Walter Cronkite as the foremost impresario of self-importance, hasn't been quite the same since he was discovered, disheveled and confused, on a Manhattan street babbling to "Kenneth," otherwise unidentified: "What is the frequency?"

Neither he nor his bosses at CBS will say where they got the National Guard memos. Not yet. Perhaps the memos, like the Hitler diaries, were preserved in "a metal-lined container" discovered in the crash of the Kerry campaign and delivered to CBS News by Major Gundlfinger. As an explanation this would be pretty thin soup, but more believable by far than the stew of artless bluff and blarney Dan and CBS have offered so far.
Enjoy this writer's work? Why not sign-up for the daily JWR update. It's free. Just click here.
JWR contributor Wesley Pruden is editor in chief of The Washington Times. Comment by clicking here.
© 2004 Wes Pruden