Jewish World Review July 25, 2001/5 Menachem-Av, 5761

MUGGER

Anti-Americanism in America; A rare tribute to the Yankees




http://www.jewishworldreview.com -- WHILE Chandra Levy's body lies at the bottom of the Chesapeake, 58-year-old George Harrison prepares for an imminent and dignified death. Think of all the rock stars who wish they'd written pop classics like "Only a Northern Song," "Taxman," "Apple Scruffs," "Long, Long, Long," "Think for Yourself" or "While My Guitar Gently Weeps." No one can bother George anymore.

On to last weekend. Junior and I usually take a livery car home from Yankee Stadium-the subway is less hospitable to fans wearing Bosox hats-and he always has to be reminded to keep his trap shut when I horse-trade with the driver. Last Saturday afternoon, after a poignant, two-inning Old Timers' Day game commemorating the '61 Yanks and then the regularly scheduled contest with the Blue Jays, I had my hands full with this character who chased us down at a beverage cart. He wanted $50 for the ride, and after being waved off like a Mark Green shill, came down a measly two bucks. He was told to scram, that I never pay more than $40, and we eventually sealed the deal.

But once that exchange was over, Felipe-who's been living in New York just over a year, relocated from San Juan-and I had a pretty spirited conversation while my bushed son read the latest issue of MAD. Felipe didn't know squat about local geography, but paid strict attention to my directions, unlike some smart-aleck drivers who don't believe the customer's always right. He was eager to chat about politics. Make Puerto Rico the 51st state! he told me, as if I had some influence with Chuck Schumer and Hillary Clinton. Seņor, I'm with you, and why not add Cuba as well. He agreed. Where Have You Gone, Jake Gibbs? My dad and I went to an Old Timers' Day back in '67, when the Yanks had blessedly descended into a lengthy skein of second-division finishes. Mickey Mantle was on his last legs and so Dooley Womack, Horace Clarke, Roy White, Tom Tresh and wife-swapping Fritz Peterson were the also-rans who represented a team that had dominated the Major Leagues for decades. I saw Joe DiMaggio at the Stadium for the first time, along with Allie Reynolds, Phil Rizzuto, Vic Raschi and Tommy Henrich; the rest were a blur that've been lost in a jumble of memories, although perhaps in my sunset years I'll be able to recite the exact lineup.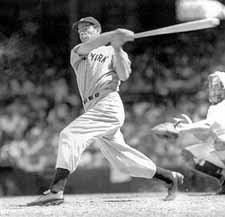 DiMaggio
I despise the Yankees, like any Red Sox partisan, but you can't deny their history, and the pageantry on this sunny 2001 afternoon was spectacular. I could've done without Billy Crystal at the microphone, mostly delivering a commercial for his HBO movie 61*-which I liked very much-but the rest was terrific. One after another, the old stars were introduced and jogged to the field: Whitey Ford, Clete Boyer, Hank Bauer, Yogi, Don Larsen, Jim Bouton, Moose Skowron, Joe Pepitone (by far the hippest 60s Yank), Ralph Houk, Graig Nettles, Goose Gossage, Reggie Jackson and Bobby Murcer. There were tributes to teammates who'd died in the last year, and when David Mantle and Kevin and Richard Maris were introduced, looking just like their dads, two fellows in front of us had tears in their eyes. Bauer was coaching first, and if it was a little strange seeing Doc Gooden, so recently retired, playing first, well, they had to make up two teams.
Pepitone, traded to the Houston Astros in '69, told the Daily News' Bill Madden about the Yankees' quick dismissal of players who they deemed no longer useful. He was less bitter than Johnny Blanchard, Murcer and Bauer, and said: "Even though Houston was a culture shock for me-can you imagine me in that cow town?-and I had to leave my hairstyle salon, it was good for me to get away from the Yankees. All my friends, Mickey, Clete (Boyer), Roger, had either retired or been traded. I was the same, but the team wasn't."
Bouton had some choice remarks for Spencer Fordin, site manager of Yankees.com. He recalled players back in the 60s: "Vietnam? That was an annoying thing going on somewhere else. They didn't even know where it was on the map. Baseball players didn't read the front page of the newspaper. [They'd go] right to the sports section, and they didn't even like what was written there."
His opinion of the sport today? "I don't like the runs. They've destroyed the subtle beauty of the game... When was the last time you saw a squeeze bunt?Š You don't need a squeeze bunt in a 16-12 game... The players are better-the game is worse."
I'm not a baseball purist, longing for the era of eight teams in each league, but here's an example of one superior aspect of the old days. There was just one song played in between innings of the veterans' game: "Duke of Earl." When the current Yanks went up against the Jays, we were blasted back to reality in the bottom of the first with a deafening "Welcome to the Jungle" by Guns N' Roses, followed by the standard assortment of pop atrocities.
In that vein, the best sports article I've read all year appeared on The Wall Street Journal's July 10 front page, a piece by Jonathan Eig about the dying ritual of fans vigilantly scoring the game. It wasn't that long ago that you'd see a slew of guys in the ballpark, transistor radio attached to one ear while they scribbled baseball hieroglyphics, lost in their own world. I remember a roommate of mine in Baltimore, back in '77, keeping score of a Pirates game at home, even though he had two final exams the next day.
Eig writes: "These are cruel and lonely times for baseball's die-hard scorekeepers, fans who wouldn't dream of attending a baseball game without keeping a written record of every hit, walk, out, error and run scored. Theirs is a tradition that dates back more than 150 years. But at tonight's All-Star Game in Seattle, as at most Major League Baseball games these days, old-fashioned scorekeeping will be scarcely seen...
"Team officials and others who watch the game closely say that the scorecard is vanishing faster than the $2 hot dog. At many ballparks, the humble cardboard sheets, which typically sold for a dollar, have been replaced by thick, glossy magazines, often selling for $4 or $5. The new programs include a page or two for keeping score, but vendors say most customers are interested only in the pictures and rosters. The evidence: Fewer requests for pencils."
WHEN IN DOUBT, SMEAR BARTLEY
The abrupt announcement last week that Paul Gigot will replace Robert Bartley as The Wall Street Journal's editorial page editor this September was met with predictable derision in the mainstream press. The worst article was found in the July 19 Daily News, in which Eric Herman hunt-and-pecked this imaginative lead sentence: "Wall Street Journal's orchestra of conservative editorial writers is about to get a new conductor." Herman repeated the accusation that the Journal's series of critical editorials about Hillary Clinton's former Rose Law Firm partners was a cause for one of them, Vince Foster, to commit suicide. Bartley responded: "We set out to say there was something wrong with the character of the administration, and I think that's been amply vindicated."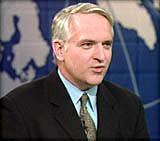 Gigot
Herman also quotes retired Baltimore Sun columnist Jack Germond-"who many consider a liberal," which is like saying of Tom DeLay "who many consider a conservative"-and the cranky old-school pundit proved that he's as nasty as ever. "A lot of editorial pages are really bland and no one would ever accuse Bartley of being bland," he said, and then speculated that Gigot would "be more mainstream conservative" than Bartley, who's "way off far beyond even the normal fringe."
That's nonsense. In his weekly column, "Thinking Things Over," Bartley has recently advocated "fringe" ideas like lengthy congressional debate on stem cell research; encouraging the expansion of free trade in Latin America; and accelerating the rate of immigration, especially from Mexico. His July 16 piece, headlined "Let the Economy Recover," contained this sensible conclusion: "The biggest threat is that recessions reduce government revenues and create deficits or, currently, reduce surpluses. The classic blunder is to raise taxes, as in 1932 and 1990 and in the drumbeats we hear today. Nothing is better calculated to thwart the natural momentum of recovery than taking money out of the private sector. But then, ever since mankind came down from the ice floes, tribal chiefs have always looked for any excuse to claim more of what the people produce."
Smarmy Slate editor Michael Kinsley told The Washington Post's Howard Kurtz, apparently without irony: "[The Journal's editorial page is] a central cog in the vast right-wing conspiracy," and that the paper's editorials are often "irresponsible" and "intellectually dishonest." As opposed to the "intellectually honest" editorials of The New York Times, I suppose.
Gigot, 46, whose Friday "Potomac Watch" column in the Journal is among the most influential in the country, wasn't buying any of this talking-points criticism. He told Kurtz: "I'm elated, excited, a little daunted. It's a big challenge... Bartley is probably, with Abe Rosenthal and Ben Bradlee, one of the most important editors in the last 30 years. He's left a tremendous legacy and it's impossible to replace him."

JWR contributor "Mugger" -- aka Russ Smith -- is the editor-in-chief and CEO of New York Press (www.nypress.com). Send your comments to him by clicking here.

© 2001, Russ Smith