Jewish World Review May 25, 2001/ 3 Sivan, 5761

MUGGER

He ain't Perry Como, babe; Remembering Bob Dylan




http://www.jewishworldreview.com -- BOB DYLAN's "Like a Rolling Stone"-not only the greatest Top 40 song of 1965, but rock 'n' roll's angriest statement-was my first experience with an hallucinogen.

Long Island summers, years before the terms "global warming" or "environmentalism" muddied the country's political debate, were sticky, humid and sultry. Air-conditioning, at least in our split-level Huntington house, was still in the future. I was the youngest of five brothers, and rock, folk and early Motown hits were a constant backdrop at 123 LaRue Dr.: I fondly remember harmonizing at an early age with the boys in the playroom, as the early 60s lumbered along, on songs like "Maybe Baby," "La Bamba," "I'll Try Something New," "Hats Off to Larry" and, when the Beatles blindsided America, "She Loves You," "All My Loving" and "Do You Want to Know a Secret?" just to mention a few of that group's astonishingly rapid string of singles. Dylan's "protest" albums popped and hissed on our cheapo record player, and if I didn't quite get the significance of social indictments like "Masters of War" or "The Lonesome Death of Hattie Carroll," I earnestly sang along with the words, instinctively comprehending that Dylan was no Ricky Nelson. But who was prepared for "Like a Rolling Stone"? Although I was just 10 when the groundbreaking 5:59 single was released on July 20 of '65, the gut-kick of Bobby Gregg's opening drumbeat, followed by Dylan's relentless "vomit of words," as he later called it, was a Polaroid of that cultural confusion of U.S. history. Belligerent lines like, "When you ain't got nothin', you got nothin' to lose," and "Ain't it hard when you discover that he really wasn't where it's at," mocked the tame electric versions of Dylan songs covered by other artists like the Byrds and the Turtles, who transformed them into catchy pop ditties. (I don't mean to minimize those groups, especially the Byrds; and '65 was a transistor radio dream, with hits like "Stop! In the Name of Love," "Help," "You've Lost that Lovin' Feeling," "Go Now," "She's Not There," "Goin' Out of My Head," "Just a Little," "Concrete and Clay," "You Really Got Me" and "Nowhere to Run.")

"Like a Rolling Stone," Dylan's first mainstream success, endures: even today, after hearing it thousands of times-like that other classic from the summer of '65, "Satisfaction"-it's barely dated. When Highway 61 Revisited, a Dylan masterpiece eclipsed only by the following year's Blonde on Blonde, was first released, one look at the album told even a relatively innocent kid that an extraordinary event had occurred. Dylan on the cover-with a distracted, sunken-eye gaze, wearing a day-glo blue and pink mod shirt, unbuttoned to reveal a motorcycle t-shirt-was the epitome of cool. Forget James Dean, Elvis and Marlon Brando: instantly, Dylan had transformed himself from a shrewd folk-singer (although he'd first previewed his electric sound months earlier on Bringing It All Back Home) into an intellectual bad-boy icon with an LP containing songs that were jaw-dropping in intensity.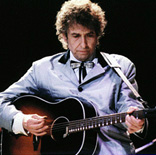 Dylan
As I write, three days before Dylan's 60th birthday, there have been countless articles assessing his mythic career. (I've never advocated the tough-guy Dylanologist stance that the Minnesota native would've prospered, historically, if he'd died in that sketchy motorcycle "accident" in '66. Still, there's no doubt-hear-no-blasphemy disciples to the contrary-that his songwriting has been spotty, and often downright silly, since 1975.) The recent onslaught of retrospectives is a sorry waste of newsprint, typified by Ann Powers' May 11 New York Times piece. Powers' long takeout, except for the rudimentary facts of Dylan's NYC arrival in January of 1961 and of his early career, is bogged down by a discussion of all the "New Dylans" over the years. Too many artists to name here were ruined by that impossible label-with the exception of Bruce Springsteen, who aped Dylan and then created his own persona-but how Powers comes up with Tracy Chapman (excuse me, but who?) and Lucinda Williams in that category escapes me.
Powers is clearly out of her field when writing about Dylan. Read the following two paragraphs, the first from her Times article, the other the lead from Edna Gundersen's May 18 USA Today round-up, and it's hard to tell who wrote what.
Sample #1: "This son of semi-rural Hibbing has transformed himself regularly from the beginning of his career, when he abandoned the surname Zimmerman and said he was part Sioux. The protest singer quickly gave way to the gnomic rocker [actually, the several-years-long artistic evolution of a man in his early 20s was hardly "quick"], who became the country squire, the soul-baring romantic, the fervent Christian and returning Jew, the devil-may-care Traveling Wilbury, the dedicated archivist of Americana and now the attendant at mortality's gates."
Sample #2: "Bob Dylan's catalog, 42 albums spanning 35 years, is the Great American Novel set to music. From before The Times They Are A-Changin' to beyond Things Have Changed, Dylan plots the path of a young folk singer struggling to make sense of the world. In the process, he supplies a multigenerational soundtrack for the Everyman [huh?] in search of self and purpose. And, most amazing, he charts the course of music through the latter half of the 20th Century, not by chronicling history, but by making it."
MOST JUST DON'T GET HIM
New Yorker editor David Remnick wrote a lengthy assessment of Dylan's career in the May 14 issue, and while it's certainly more learned than Powers', I can't fathom his enthusiasm for the just-released Positively 4th Street, a dull and largely irrelevant book by David Hajdu about Dylan's early days with Joan and Mimi Baez and Richard Farina.
Remnick-who hosted an evening devoted to Dylan last Saturday night at Town Hall, a benefit for the dubious writers' organization PEN-inexplicably praised Greil Marcus' gibberish-laden Invisible Republic as one of the better books about Dylan in recent years. Frankly, it seems unlikely to me that Remnick, back in the 60s, lived and breathed the Dylan myth, for his article is fairly antiseptic, that of a scholar as opposed to a rabid fan. While he rightfully lauds Dylan's incredible explosion of creativity in the mid-60s, and names a few other songs from the 70s, 80s and 90s as evidence of the legend's still-flowering talent (such as "Not Dark Yet" and "Every Grain of Sand"), Remnick ignores far worthier gems like "Dear Landlord," "All Along the Watchtower," "Tears of Rage," "Something There is About You" and "Abandoned Love."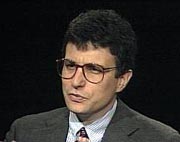 Remnick
The inclusion at The New Yorker/PEN event of Christopher Ricks, a sloppy critic who takes Dylan a notch too seriously-lumping the songwriter with poets like Milton, Wordsworth and Tennyson-is proof enough that this 60th birthday jazz is fairly meaningless. Equally irritating were the remarks of the off-putting novelist Rick Moody (as quoted by Jon Pareles in this past Monday's Times), saying that Blood on the Tracks was "the best album ever made." Silver-age, Ricky. Moody calls it "the truest, most honest account of a love affair from tip to stern ever put down on magnetic tape." Honest? I don't think so: Can anyone cite lyrics from Blood on the Tracks that even alluded to Dylan's wife-beating of Sara?
In any case, not one of these writers gets to the point as did the prophetic writing of Paul Williams, the prescient founder of Rolling Stone precursor Crawdaddy. In July of 1966, in a review of Blonde on Blonde, Williams was concise in describing the significance of "Like a Rolling Stone," both to Dylan and to his fans.
He wrote: "[Dylan] was straining at the bit of folk music's accepted patterns, and fearing, perhaps rightly so, that no one was interested in what he wanted to say anymore. But then 'Tambourine Man' caught on, and people began responding to him as a man and not as a politician. The light was green: he'd been working very hard on a very important song, and he decided he was going to sing it the way he heard it. That was 'Like a Rolling Stone,' and its success meant that from now on he could do a song any way he wanted. 'I knew how it had to be done,' he says; 'I went out of my way to get the people to record it with me.'"
And perhaps the definitive Dylan article was Nat Hentoff's March '66 Playboy interview. Dylan-with his "never-ending tour," his meanderings from one religion to another, the gossip about his love life, love children and the unexplainable-but-for-nepotism success of his son Jakob's group the Wallflowers-is nowhere near as enigmatic as he was back then. As is shown, for example, in the following excerpt: Hentoff: "In their admiration for you, many young people have begun to imitate the way you dress-which one adult commentator has called 'self-consciously oddball and defiantly sloppy.' What's your reaction to that kind of put-down?"
Dylan: "Bull----. Oh, such bull----. I know the fellow that said that. He used to come around here and get beat up all the time. He better watch it; some people are after him. They're going to strip him naked and stick him in Times Square. They're going to tie him up, and also put a thermometer in his mouth. Those kind of morbid ideas and remarks are so petty-I mean there's a war going on. People got rickets; everybody wants to start a riot; forty-year-old women are eating spinach by the carload; the doctors haven't got a cure for cancer-and here's some hillbilly talking about how he doesn't like somebody's clothes. Worse than that, it gets printed and innocent people have to read it. This is a terrible thing. And he's a terrible man. Obviously, he's just living off the fat of himself, and he's expecting his kids to take care of him. His kids probably listen to my records. Just because my clothes are too long, does that mean I'm unqualified for what I do?"
Rickets, hillbillies, Nashville-before-it-was-fashionable, taunting audiences with amphetamine-powered wit, paranoia mixed up with more-than-fleeting genius, circus dwarfs, and reducing journalistic hacks like Ann Powers to pitiful puddles of self-loathing. That was the Dylan of '65-'66: the caustic, visionary, vengeful and corruptive misanthrope who stood above talented peers in a ludicrously over-romanticized decade. Whatever his subsequent deep-dives into cartoonland might've been (playing with Ben & Jerry's-era Grateful Dead!), no one can ever take away his King-of-Hip reign. No one will ever top "Like a Rolling Stone."

JWR contributor "Mugger" -- aka Russ Smith -- is the editor-in-chief and CEO of New York Press (www.nypress.com). Send your comments to him by clicking here.

© 2001, Russ Smith