Jewish World Review May 9, 2001/ 16 Iyar, 5761

MUGGER

Lost in Conason's funhouse




http://www.jewishworldreview.com -- LIGHT A CANDLE for Salon contributor Joe Conason. He got them old blues, soldier, 'cuz nobody, I mean nobody, wants to know the Clinton propagandist when he's down and out.

Writing in the May 7 New York Observer, Conason lamented what he alleged was the favorable coverage George W. Bush has received from the media. Conason used as an example the benign White House Correspondents' Dinner on April 28, where the President was lightly roasted and spared the "reliably obnoxious personal disparagement" that the Clintons received at the annual event in the Golden Years of 1993-2000. Conason digs deep to support his theory, quoting the Chicago Tribune's James Warren on the subject: "We have been effectively emasculated... It's a natural tendency of people, including reporters, to want to be liked, and that, combined with some pretty impressive early discipline from the Bush people, means that he is having a great honeymoon. So far, we've made a virtue out of his shortcomings."

As one who nearly plotzed last year upon seeing a howling press corps yukking it up while watching Clinton's home video of him riding a bicycle in the White House and fetching Hillary's lunch while she prepared for a day of campaigning, not to mention the former President making jokes about the cover-up being worse than the crime, I think Conason is just out of sorts because he doesn't have access to the Oval Office anymore.

And last week's complete, and deserved, humiliation of his buddy Sid Blumenthal, who dropped his multimillion-dollar suit against Internet pioneer Matt Drudge-actually having to fork over $2500 to Drudge lawyers for travel expenses-must've been the straw that broke this donkey's back. As JWR's Michael Leeden wrote: "The suit against Drudge was never about 'damage' to the Blumenthals' reputation; the accusation that Sidney beat his wife was quickly withdrawn, accompanied by a full apology (a lot better than most public figures get under like circumstances). The Blumenthal/Drudge skirmish was part of the Clinton campaign to intimidate administration critics by any and all means. It goes under the name of the politics of personal destruction."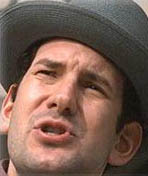 Our man, Matt
Conason, poor fella, advertises his state of denial-it's as if he's testifying at an AA meeting-when he blames the current state of political commentary on "the powerful rightward tilt of the American media in recent years." The following excuse is not to be believed: "While the influence of network newscasts and newspaper editorial pages shrinks, most political discussion is relegated to cable television [where Conason frequently appears], an environment where Mr. Bush benefits from an unprecedented ideological advantage... The 'Democrats' and 'liberals' who offer their commentary on cable, strangely enough, often tend to be Bush admirers who reserve their harshest remarks for their own party."
Let me set the record straight. The sad truth is that The New York Times, a cultural embarrassment, is still the most influential newspaper in the United States. Its editorials, op-ed columnists (and remember that William Safire's not a huge fan of Bush) and "objective" news articles are incoherently anti-Bush. The Washington Post, second in line in terms of political clout, is almost as biased in favor of the Democratic Party and its 1960s agenda. Ditto for the Los Angeles Times, Time, Newsweek and The New Yorker. As for television, CBS, NBC, ABC, CNN and MSNBC are all in the tank for Democrats like Tom Daschle and Dick Gephardt.
Conason says no liberals (or worse) appear on cable political shows? What about these regulars: James Carville, Paul Begala, E.J. Dionne, Robert Reich, Bill Press, Al Hunt, Eleanor Clift, James Warren, Clarence Page, Geraldo, Lawrence O'Donnell, Katrina vanden Heuvel, Jonathan Alter, Howard Fineman, Thomas Friedman, Bill Schneider, Margaret Carlson, Jake Tapper, Michelle Cottle, Alan Colmes, Howard Kurtz and Peter Beinart? Just because the stench of Jesse Jackson has finally started to turn off tv programmers, which means he has to explain his tax and mistress problems to rallies that number about five attendees, it's absurd to say that the above-mentioned media luminaries "tend to be Bush admirers."
While it's true that talk radio, led by Rush Limbaugh, remains the province of conservative hosts, the American media is largely dominated by an elite group of affluent men and women who intermarry, frequent the same Washington, Manhattan and Los Angeles soirees and tut-tut the state of public education while they send their own progeny to private schools.
YOU TELL 'EM, JOE
Conason's distress seems to be rooted in the fact that his cronies (at least most of them) are no longer focusing on the Florida recount and have decided that Bush isn't as mentally challenged as they once believed. I pity this man, who's lost in time, when he writes: "There is no real majority backing this president-and now it is past time for someone to stand up and declare the honeymoon over."
Gene Lyons, Conason's co-author of the Clinton whitewash The Hunting of the President, is, not surprisingly, of the same mind. On May 2, Lyons wrote in the otherwise respectable Arkansas Democrat-Gazette: "So yeah, things are quieter in Washington. The GOP smear machine has shut down. What's amazing is that something so obvious needs saying. With a Republican of impeccable social pedigree in the White House, reporters act as deferential as butlers. If only they'd spare us the bit about Bush's wonderful 'family values.' Show us a rich, handsome playboy who drank heavily until age 40, and we'll show you somebody with a lot of secrets. Lucky for him, there appear to be no Democratic operatives willing to pay for them."
That's tellin' 'em! The "butlers" in the media didn't dog Bush and every known acquaintance of his from the time he was in his mother's womb to find evidence of a cocaine problem? The GOP candidate wasn't the object of more preelection scrutiny-led by The New York Times-than any other presidential aspirant in modern times? If the press had subjected Bill Clinton to the same level of dirt-digging as they did Bush, the narcissist from Arkansas never would've been elected back in '92. William Powers, writing in the May 4 National Journal, has a more dispassionate view of the frustrations that myopic pundits like Conason face in these trying times. He cites The Washington Post's Richard Cohen (on the liberal side) and the irritating David Brooks (representing the conservatives) for their remarks about how dull Bush is. Dullness is a character flaw that those hard-living Beltway live wires, who thrilled to the sounds of Fleetwood Mac and Judy Collins back in the good old days, just can't abide.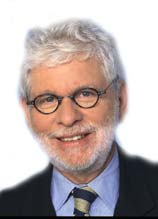 Cohen
Powers, in setting up his deft analysis of Bush's "triangulation" of the media, writes: "This sort of thinking is everywhere, and it's understandable. If Presidents were foreign countries, Bill Clinton would be Brazil: a place where the party never stops, everyone wears a thong, and nothing is embarrassing except embarrassment. Bush feels more like Belgium, maybe even Canada. After eight years of carnival, we woke up in a clean, quite place where rules are respected and people are nice to each other. For journalists, we're talking major hardship post.
"But in letting ourselves spiral downward, I think we're missing something important. Think about it. The White House has convinced the media that the President of the United States is boring. The most powerful of all humans, an individual whose every utterance can affect people around the world, the guy who could push 'The Button.' Dull, empty, a so-so story best relegated to inside pages.
"Pulling this off wasn't easy for the Bush people. It required tremendous skill, and a pitch-perfect understanding of the cultural climate and the media. Which is why Bush's boringness isn't boring at all, or shouldn't be to alert journalists. It's an extremely interesting boringness, much more interesting, ultimately, than the nonstop, out-there excitement of the previous regime. Because it's subtle, hidden, not obvious. And because it's working."
Joe Conason, despite his descent into Clinton-defending purgatory, is not a stupid man, although I have my doubts about his friend Gene Lyons. But he's an example of the snookered journalist whom Powers writes so convincingly about. Devastated by Gore's loss, Conason and his ilk have spent so much time on the "disenfranchisement" of minority voters-never mind that the Missouri Democratic machine did its best to defeat Bush on Election Day, and succeeding in knocking off former Sen. John Ashcroft-and the supposed "rollback" of Clinton's pristine environmental record (another myth), that they're blind to the Bush administration's strategy.
So who's the "moron"?

JWR contributor "Mugger" -- aka Russ Smith -- is the editor-in-chief and CEO of New York Press (www.nypress.com). Send your comments to him by clicking here.

© 2001, Russ Smith