Jewish World Review Dec. 13, 2004 / 1 Teves, 5765

Michael Medved
Abstinence works, every time
http://www.NewsAndOpinion.com | New federal statistics show a continued decline in the rate of out-of-wedlock birth — suggesting the potent, positive impact of the recent federal emphasis on abstinence education.

As Dr. Wade Horn of the Department of Health and Human Services sagely observes: "We don't need a study, if I remember my biology correctly, to show us that those people who are sexually abstinent have a zero chance of becoming pregnant."

Supporters of condom distribution remain unconvinced, however, and James Wagoner of Advocates for Youth responds: "The only 100 percent way to avoid a car collision is not to drive, but the federal government sure does a lot of advocacy for safety belts."

What he doesn't mention is that we strictly limit driving privileges to citizens over age sixteen — even if fifteen year olds used seat belts — and we strongly discourage driving without a license.

Doesn't it make similar sense to discourage intercourse without a wedding license?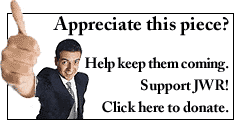 Appreciate this writer's work? Why not sign-up for the daily JWR update. It's free. Just click here.
JWR contributor, author and film critic Michael Medved hosts a daily three-hour radio talk show broadcast in more than 120 cities throughout the United States. His latest book, written together with his wife, is Saving Childhood : Protecting Our Children from the National Assault on Innocence . You may contact him by clicking here.
© 2004, Michael Medved