Jewish World Review Oct. 27, 2004 / 12 Mar-Cheshvan, 57645

Michael Medved
What Israel understands about Bush
http://www.NewsAndOpinion.com | Polling from around the world shows only one nation on earth with an overwhelming preference for President Bush over John Kerry. Surveys in Israel indicate public support for Bush by a ratio of about four-to-one.

Israelis see that the U.S. President views Islamic terrorism in the same way they do: As an implacable evil that must be destroyed, not as a "nuisance" that demands sensitivity, nuance or negotiation.

Kerry has not only won support from Arafat and Muslim radicals in America; he has closely associated himself with the foreign policy "experts" who, under Clinton, pushed Israel into the disastrous Oslo Accords — and who demand endless concessions from the Jewish State even as the Palestinians continue to support terrorist outrages.

This approach ought to alarm any voters who care about Israel — or America, for that matter.

Rewarding terror assaults anywhere —especially in the Middle East — will only make such attacks more likely on American soil. I'm Michael Medved.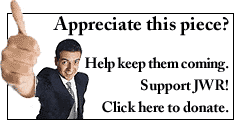 Appreciate this writer's work? Why not sign-up for the daily JWR update. It's free. Just click here.
JWR contributor, author and film critic Michael Medved hosts a daily three-hour radio talk show broadcast in more than 120 cities throughout the United States. His latest book, written together with his wife, is Saving Childhood : Protecting Our Children from the National Assault on Innocence . You may contact him by clicking here.
© 2004, Michael Medved