Jewish World Review Oct. 18, 2004 / 3 Mar-Cheshvan, 57645

Michael Medved
Even with U.N. approval, Kerry wouldn't confront a dictator
http://www.NewsAndOpinion.com | John Kerry's bewildering contradictions and evasions on the issue of the Iraq war, offer only one consistent element: his outspoken emphasis on multilateral alliances.

The centerpiece of his much-touted plan for cutting back the U.S. commitment involves his promise to persuade European powers to send troops - without explaining what mysterious inducements could lead already reluctant governments to commit their resources to a conflict Kerry calls "the wrong war, at the wrong place, at the wrong time."

In fact, his focus on forging alliances only reveals his underlying hypocrisy: during the first Gulf War, when the first president Bush built a powerful coalition that Kerry now says he admired, the Massachusetts Senator still voted no on liberating Kuwait.

That embarrassing failure to back a war unanimously authorized by the UN Security Council shows that Kerry's real problem isn't some "global test," it's his shabby 20-year refusal to confront Islamic terrorists and tyrants who menace world peace.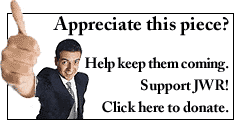 Appreciate this writer's work? Why not sign-up for the daily JWR update. It's free. Just click here.
JWR contributor, author and film critic Michael Medved hosts a daily three-hour radio talk show broadcast in more than 120 cities throughout the United States. His latest book, written together with his wife, is Saving Childhood : Protecting Our Children from the National Assault on Innocence . You may contact him by clicking here.
© 2004, Michael Medved