Jewish World Review Feb. 28, 2005 / 19 Adar I, 5765

Michael Medved
More fanatical intolerance — by secularists
http://www.NewsAndOpinion.com | TV comedian Bill Maher has provided new proof that today's secularists display far less tolerance, and far more fanaticism, than their counterparts among people of faith.

On MSNBC, Maher baldly declared: "We are a nation that is unenlightened because of religion…. I think it justifies crazies…I think religion is a neurological disorder… The future does not belong to religion."

Even those who share Maher's left-leaning politics must recognize that religious celebrities who railed against non-believers in similar terms would face an avalanche of criticism. Imagine the reaction if James Dobson suggested, "atheism is a neurological disorder!"

Of course, religious leaders seldom denounce non-believers as "sick" since they hope to encourage their faith — and millions of uncommitted Americans have indeed recently embraced traditional religious practice.

The ongoing, undeniable revival in Bible-based Christian and Jewish families gives the lie to the unmarried and childless Maher's smug declaration that "the future does not belong to religion."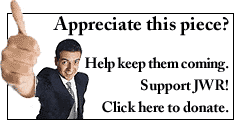 Appreciate this writer's work? Why not sign-up for the daily JWR update. It's free. Just click here.

JWR contributor, author and film critic Michael Medved hosts a daily three-hour radio talk show broadcast in more than 120 cities throughout the United States. Comment by clicking here.
© 2005, Michael Medved